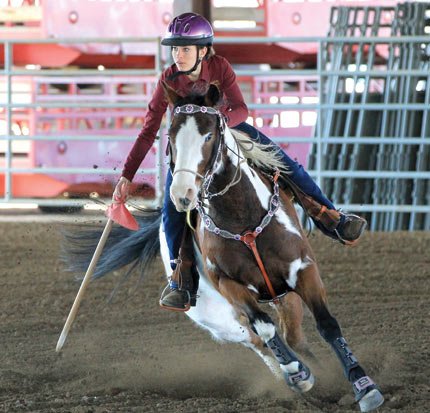 Roster
TDW EQUESTRIAN ROSTER
Coaches and Associates
Debi Ferrer ........................Advisor
Sally Temple ......Associate Coach
Holly Griswold ...Associate Coach
Liz Turner ...........Associate Coach
Hew Hillis ...........Associate Coach
Hannah Olheiser ....Assoc. Coach
Neil Slater ..........Associate Coach
Lee Ann Olheiser ....Assoc. Coach
Event Participants
Carsen Cordell ..........................12
Thomas Richman ......................12
Lauren Thalhofer .......................12
Mackenzie Urness .....................11
Jacob Richman .........................11
Hannah Simmons .....................11
Sara Treichel ...............................9
Emma Treichel ............................9
Aimee Treichel .............................9
Morgan Hammond-Rodriguez ...9
Rachel Chamberlin .....................9
2014 Schedule
Meets held in Redmond
Meet 1 ...........................Feb 21-23
Meet 2 .......................March 28-30
Meet 3 ..........................April 18-20
State Championships ..May 15-18
With a revamped roster of 11 equestrian athletes, the largest group ever to join forces at The Dalles Wahtonka High School in recent memory, lead advisor Debi Ferrer is counting down the days for the start of what could be a memorable 2014 varsity Oregon High School Equestrian team campaign.
Of the cast and crew, there are veterans returning including team captain and four-year starter, Carsen Cordell, and second-year up-and-comers Thomas and Jacob Richman.
That trio is bookended by first-year senior Lauren Thalhofer and a pair of junior newcomers Mackenzie Urness and Hannah Simmons.
Added to the mix are young core of freshmen who are poised to build a bright future.
"As you can see, we have the largest team we have had in several years," Ferrer said. "The kids are planning to do a wide variety of events, some focusing on performance, others focusing on cattle and gaming events. All are working very hard at our weekly Sunday practices, and many are putting in extra time on their own."
Sara Treichel, Morgan Hammond-Ramirez, Emma Treichel, Rachel Chamberlin and Aimee Treichel represent five freshmen who are not exactly new to the equine game by any stretch.
"It's very exciting to have five freshmen, most of them with some experience in 4H and other horse activities," Ferrer added. "It is exciting because it's an indicator that our team is likely to get stronger over the next few years."
Practices started the beginning of December and the team has been busy learning and practicing new skills on their horses with their coaches, including assistant Hew Hillis.
The team has now received the equitation patterns for this next year of competition and they are learning those along with some of the team-timed events like Canadian Flags.
With the numbers increasing from last season, this Eagle Indian group will be able to have three groups compete in Team Penning this year, with alternates and two Canadian flag teams (four member team relay picking up flags).
"Also almost everyone on the team has been practicing pairs (where two members ride a pattern to music together)," said assistant advisor Marie Cordell.
Marie Cordell said that TDW would also have a four-member drill team, as Carsen Cordell designed the drill pattern and assistant Glenn Harding has been helping them practice.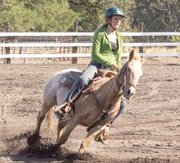 "It has been years since we have had enough riders for drill," Marie Cordell said. "Another team event that we haven't had in years, but have been state champions in the past is IHOR, In-Hand Obstacle Relay (a four member team follows on in-hand pattern through trail obstacles and is timed and scored) Debi Ferrer has been working with the team on that."
In order to enjoy success this season and in the future, both Ferrer and Marie Cordell said it is a collaborative effort between community, athletes and supportive parents.
Along with Hillis and Harding, Sally Temple, Holly Griswold and Liz Turner have been helping the riders with Equitation and Dressage.
Hillis and the mother-daughter duo of Hannah and Lee Ann Olheiser have been lending a helping hand with gaming events and Neil Slater is expected to be tabbed to assist with team penning and roping.
"It takes a huge group of volunteers to keep this many kids working on so many different events," Marie Cordell said. "It is great to have all this amazing help and expertise."
This group has an even split talented members and that gives reasons for some optimism.

It is coach Cordell's hope they can continue their upward swing as they set their sights on attaining equestrian supremacy across the state against competitive teams hailing from Madras, Redmond, Bend, Hood River Valley and Dufur to name a few.
"It is always tough to compete in our district," added coach Cordell. "We have the top teams in the state and many of them are very large. I believe the Redmond team is bigger than their football team. Summit and Bend have amazing teams with a lot of talent. They live in horse country. Those teams are always the ones to beat."
In all, TDW is scheduled to participate in three regular season meets in Redmond, starting with the season-opener from Feb. 21-23.
After that, the team hits arena grounds from March 28-30 and April 18-20, before the state championships from May 15-18.
TDW practices every Sunday morning at the Fort Dalles Rider's Club.
The work is ongoing and when the dust settles, both Ferrer and Marie Cordell have optimism that is bubbling over into excitement.
"I feel confident that we are going to have a strong team this year," Marie Cordell added. "And the best is that all the kids are so willing to learn and try so many new events. And they are all so supportive of each other at practice. I especially look forward to team penning, we have been so close in years past and this year I think we might rock it."
Traveling to Redmond for meets and stall fees gets expensive, so the team is doing a Texas Hold 'Em Fundraising Tournament at 5 p.m. on Saturday, Jan. 25 at Clock Tower Ales.
There is a $50 buy in.
Poker tickets can be purchased at Clock Tower Ales, Gorge Farm & Feed or from any team member.
The team is available to do chores or short-term jobs for donations as well.
Interested parties can call 541-980-2047 if they would like to hire team members.