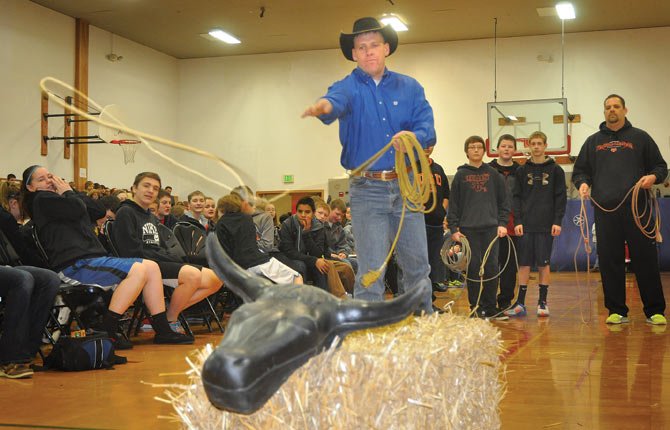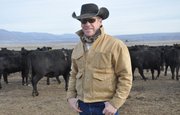 YAMHILL — Maupin rancher Keith Nantz challenged more than 350 students at Yamhill Carlton Intermediate School Wednesday to a roping contest.
Prior to engaging in the competition, he taught a large group of enthusiastic fifth through eighth graders how to handle and control the rope. Although none of the students were able to best him, they had fun testing their skills on bales of straw that sported either a plastic cow or sheep head.
Nantz drew applause when he invited teachers to try their luck. Their struggles brought bouts of laughter from students.
"We are trying to close the gap between where food comes from and how it is produced," he said after being introduced Jan. 22 at the "Know Your Farmer, Know Your Food" event. Yamhill is located about 11 miles east of Newberg.
He talked briefly about how the increasing burden of regulations from the state and federal governments is making it more difficult for farmers to stay financially afloat in their operations.
Nantz serves as president of the North Central Livestock Association, which represents both Wasco and Sherman counties. He is also co-chair of the Private Lands Committee for the Oregon Cattlemen's Association, a member of the Water Resources Committee, and vice-chair of the state Young Cattlemen's Committee.
In a follow-up interview, he said: "Many of these students are four or five generations removed from food production and we want to teach them that food doesn't just come off a grocery store shelf. That it is important to support the people who feed this nation." He had been invited by Jane Gullet, food service coordinator for Yamhill, to take part in the kick-off of a farm-to-school program called "Oregon Beef, a Wholesome Choice." She partnered with Lauren Montgomery, communications officer for the cattlemen's association, to plan the assembly, which was followed by a lunch featuring barbecued pulled-beef sandwiches and question and answer sessions for different age groups.
"It feels really good to be able to do this for you guys," Montgomery told the students. "We wanted to have a good time — so thanks for being here and getting so involved."
Other partners in the educational outreach that will continue through the remainder of the school year are: OCA's Young Cattlemen's Committee, the Oregon Beef Council, Oregon Cattlewomen's, Inc., Oregon Agriculture in the Classroom, and the Agri-Business Council of Oregon, which organizes the Adopt a Farmer program in public schools. A representative from each organization was present at the assembly.
Gretchen Brunner, principal of Yamhill's intermediate school, said 18 farmers in the grass and seed industry are involved in the new program, along with two dairymen and Nantz as the sole rancher.
She wanted students to meet Nantz before taking a field trip this spring to the Dillon Land and Cattle Company in Maupin, of which he is the general manager and business partner to John Dillon, the landowner.
Gullett, with 30 years in the nutrition industry, applied for a grant from $500,000 allocated by House Bill 2649 for agriculture-related education. She received about $24,000, with 80 percent to be used toward providing students with beef lunches at least once each week and the remaining 20 percent for educational activities.
Rep. John Huffman, R-The Dalles, voted in favor of the legislation not only because of its educational potential but nutritional value and economic development possibilities.
"It's healthy, we're getting some good quality foods and supporting Oregon businesses," he said.
The Yamhill Carlton district has many farm families among the 1,170 students and Gullet said all ages are participating in the program. She said Carlton Farms, a nearby ranch, will be providing the beef for school lunches.
"Child nutrition programs are the second largest purchaser of food – right behind the military – in the nation," she said. "The number one supplier of these programs is Schwan's (a food service company) but I like the idea of getting to know who we're getting our food from — and helping Oregon's ag community as well." High school students will explore beef nutrition and learn about the agricultural community as an economic sector from their peers involved with the Young Cattlemen's Committee.
"We have a lot of kids that are in the industry so I'm hoping they can share with their friends who are not," said Brunner, whose family has a century farm in Amity that grows cherries, plums, wine grapes and, soon, hazelnuts.
"We're looking forward to visiting the Maupin ranch so the kids can see the differences in what Oregon has to offer."
One of the students asked Nantz what tools he used in hay, wheat and cattle production besides a tractor.
"I use all kinds of tools and one of the most important is that dog right over there," Nantz replied, pointing to Poncho, his border collie that herds cows. "He responds to hand signals and verbal commands and, on top of that, he's a really good friend."
He then explained the types of equipment used in the Oak Springs Road operation and showed a video that provided clips of machinery in action.
Another student asked how farmers made money from their operations.
"That's always a challenge," replied Nantz. "We grow more than we need so we can sell it; we're not just farmers working with cows, plows and horses, we also have to be really smart businessmen."
He replied to a question about his favorite thing to do on the ranch by saying: "That a pretty tough one but I really like to get up in the morning, have a cup of coffee and watch the sun come up."
Nantz laughed when asked what he did to keep cows from getting "out of control."
"I try not to let them get out of control," he said. "You have to be slow and thoughtful about what you do so they don't get riled up — that's the best way to deal with them."
He looked surprised when asked the question: "What happens when your horse gets stuck in the fence?"
"Well, I haven't had that happen yet, my horses don't get stuck in the fence," he said.
"What happens if your cows get out and Poncho can't find them?" was the next question.
"That's a really good thing about living where we do because we have lots of neighbors, so if the cows get out they help us find them," Nantz said before giving a brief explanation of the branding process that identifies ownership of cattle.
"Do you hunt predators?" he was asked.
"Yep," he replied. "Sometimes we need to take care of those kinds of things so we do hunt."
Nantz said drought was one of the toughest challenges now facing farmers in the drier parts of Oregon this year. He said the lack of snow this winter was setting the stage for some production hardships this summer.
He summed up the visit to Yamhill by saying, "It was a great success and something that can be set up through the Agri-Business Council for any interested school."
For more information on the Adopt a Farmer program, call the council at 503-595-9121 or access the Agri-Business website at www.aglink.org.