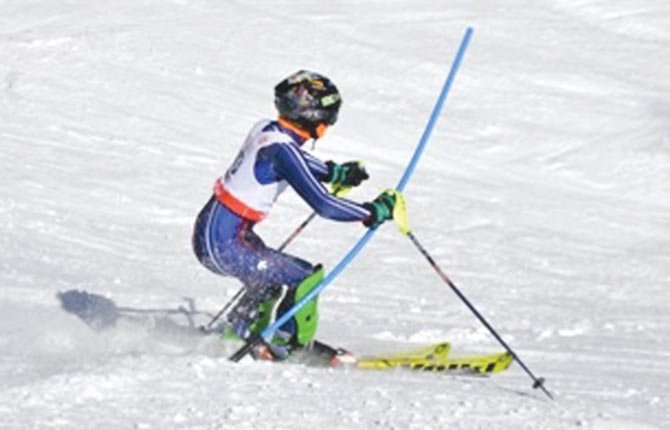 With an extra week to hone their skills on the slopes, The Dalles Wahtonka ski team finally put itself to the grind with a pair of second-place outcomes for the start of Mount Hood Ski League varsity action in a slalom event held at Mount Hood Meadows on the Gemini Run.
TDW head coach Jeff Cordell categorized the course as in good shape on a cold afternoon with conditions hard and grippy.
The girl's team had six competitors churn out times, four in the top-20, led by Bailey and Carsen Cordell, as it amassed a combined marker of five minutes and 3.95 seconds for second place behind Hood River Valley (4:14.87).
Bailey Cordell had the fastest two runs of the Eagle Indians, a career-best, with outputs of 44.53 and 43.22 seconds for her 1:27.75 for third place.
"Bailey just took charge of things Saturday," said the Eagle Indian coach. "She is skiing with so much more confidence and now it's really showing in her results."
Carsen Cordell motored home in sixth place, another career-best and her first time in the top-10, with roundups of 51.51 and 49.74, so her total read at 1:41.25, just 29.51 seconds behind overall winner, Hood River Valley's Lucy McLean (1:11.74).
HRV teammate Kelli Clarke followed up with a two-run rally of 1:21.84.
"Carsen is a very solid skier and can ski anything," coach Cordell added. "She is faster every week in training and I think she's going to have a great season."
Alyssa Carrico notched 18th place in 2:02.60, Robin Pashek coasted home in 2:03.86 for 20th in the standings, and up-and-coming sophomore Timarra Roth cut through the powder in 2:04.53 in one spot behind in 21st place.
Emma Ell-Smith rounded out the two-turn finishers in 2:09.25 at 23rd place.
After HRV and TDW, Cleveland put up a good fight for third place in a combined 5:18.38.
Grant (5:50.43), Sandy (6:16.55) and St. Mary's Academy (6:30.95) completed the team field.
There were 15 individuals and teams participating Saturday, but only four boy's teams had the necessary starters to accumulate markers.
Led by Austin Keillor's final time set at 1:07.29, paced the Hood River Valley squad for top honors (3:40.42) and The Dalles Wahtonka (4:27.50) wound up 47.08 behind for second place.
With the time of Dylan Perimon (1:30.66), Grant High School amassed a combined tally of 4:48.33, and Sandy totaled 5:01.92 for fourth place.
All told, TDW had all six of its competitors end up in the top-24 out of the 34 racers.
Eli Holeman ended up in second place with two clean, aggressive runs, behind Keillor with turns of 37.95 and 33.55 for his 1:13.50, as he ended up 6.21 seconds behind the Hood River Valley standout.
"Eli is skiing well and we will see good results from him the entire season," coach Cordell said.
Preston Klindt, a newcomer to the boy's team, had a starting time of 50.79, but displayed improvements on his second run with a marker of 46.80 for his 1:37.59.

"In his first league race, and as a freshman who had never raced before, that's pretty incredible," coach Cordell said of his prized specimen. "He's really enjoying racing and works hard at practice."
Xavier Michel had times of 55.48 and 48.80 for a 1:44.28, Mark Johnson, a senior, had a 1:14.91 on his initial try, but rebounded in a huge way with a 40.93 and a 1:55.84 for 19th place.
Griffin Martin had a 1:57.67 and ended up in 22nd place, and Martin Carter capped the boys' day at 2:00.79 to chalk up 24th place of the 34-person slate.
For the first league event against impressive fields of talented skiers, coach Cordell was pleased by what he saw.
With some added elbow grease and determination, the times should drop considerably as the skiing season progresses.
"Both boys and girls teams took second place and we are happy with that result, but still can do better," coach Cordell said. "If we can get all of the varsity kids to finish both runs with no big mistakes, I think should do well."
TDW next hits the slopes for a 10 a.m. slalom event on the Gemini Course.