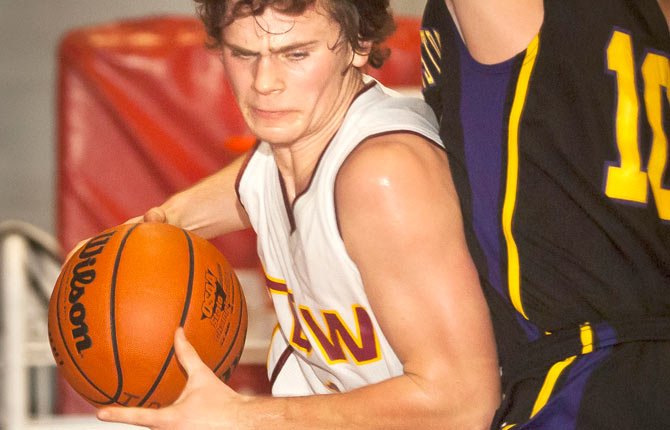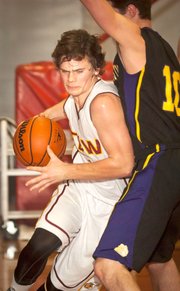 The Hermiston Bulldogs jumped ahead by 11 points with six minutes and nine seconds left in the fourth quarter and needed to hold off a late charge by The Dalles Wahtonka to sneak out for a 53-46 win Thursday in Columbia River Conference boy's basketball play at Kurtz Gym in The Dalles.
In visualizing what transpired through the course of 32 minutes, TDW head coach Bob Townsend pointed to six breakaway layups coming off steals and 15 offensive rebounds.
"We played hard enough at times and we competed like we should have, but we gave them 12 easy points on breakaway lay-ins and gave them 15 extra possessions; you are not going to win," Townsend said. "That is really the difference in the game."
Just two minutes into the fourth quarter, the Bulldogs got a three-point play on a layup and a foul shot from Ramon Contreras to make it 46-35.
TDW senior Zach Nerdin then sprang into action in a quick stretch with a putback, a free throw and a steal and a layup to draw the Tribe to within a 46-40 deficit with 5:13 left in the game.
After a Hermiston timeout, Keegan Crafton shot down any momentum TDW was building, as he corralled a loose ball and banked home a short layup to move his squad ahead for good.
Over the next 3:28, both teams traded a basket each along with two free throws, as Hermiston still were afloat at 52-44 with 1:10 left in the fourth period.
Down 53-44, TDW point guard Steven Bartells sank a jump shot to inch his team to 53-46 with 20 ticks left on the watch. After a Bulldog turnover, TDW had another opportunity to climb closer, but a long-range shot misfired and the Bulldogs ran down time.
In his 10 seasons as head coach at Hermiston, Larry Usher calls it a rare occurrence that his group comes out on the winning end at Kurtz Gym.
This is the second time in that span.
"It is big for us. We have a hard time winning here," Usher said. "For our program to come out and show enough composure to finish the game on the defensive end of the floor, even though we did not look good on the offensive end, was a pretty good win for us."
Through the first 16 minutes of competition, Hermiston went on runs of 13-12 and 11-8 to lead 24-20 at the break.
In the first 3:50 of the third frame, Hermiston began to create distance with a 9-3 run, until the 6:09 mark of the fourth quarter, where the lead grew to as much as 11.
Contreras scored 12 of his team-high 14 points in the second half, and teammates Lucas Wyant and Jake Flyg tallied 10 points apiece, as the Bulldogs drilled 22 field goals and went 6 for 13 from the line.
"Our effort wasn't bad. They got a couple of rebounds and hit some shots. We got to work on the fundamental stuff and that is about it," said junior center Coby Conlee, who scored 11 points. "I think the rebounding thing has been going on this whole season. It happens on a regular basis. It affects the game a lot and we need to change it."
Nerdin paced the Eagle Indian offense with 15 points, all in the second half and seven in the fourth quarter.
Austin Wilson added 14 points, Conlee had his 11 and Clay Copper nailed two shots for four points.
While his team is engaged in a string of five losses in the past six games, Tribe head coach Bob Townsend still wants to see his athletes place extra emphasis on the basics of the game from pregame practices, taking extra shots and extra ball handling drills to sharpen up some areas that affected Thursday's outcome.
There are still eight league contests to get back in the thick of the CRC race.
"When you talk about close games at home, the differences are small," Townsend said. "I am hoping they take away that they have the ability to compete with these teams in our league. I want them to get into the realization that they have just as good of a chance on any night to beat Hermiston, Pendleton or Hood River and it is in our control. We don't have to hope that they play bad, we can control it, but what is the next step for them individually and as a team."
TDW (2-11 overall, 0-1 league) are in La Grande for its final non-league contest at 5 p.m. Saturday. At 7 p.m. Tuesday, the Eagle Indians head to Pendleton.