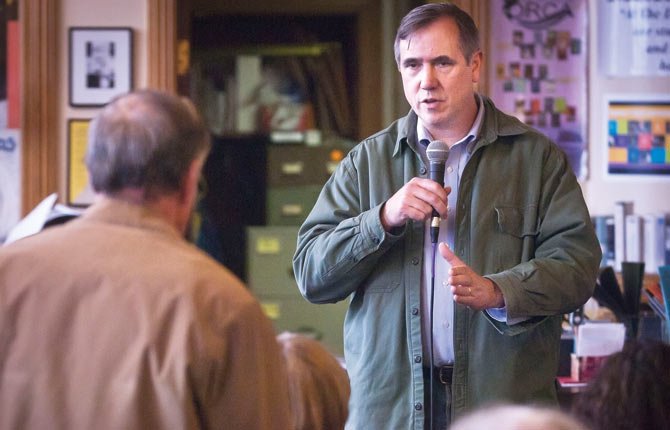 U.S. Sen. Jeff Merkley, D-Ore., congratulated Cole McDowell, student body president at The Dalles Wahtonka High School, Thursday for raising money to help citizens in the storm-ravaged Philippines.
The federal official gave McDowell and principal Nick Nelson a flag that had been flown over the capital for the students' efforts. More than $800 was donated by area youth and their families for the Lion's Club International Relief Fund. The money was then used to supply residents of a small village called Bontac with rice, noodles, soap and kerosene.
After thanking Merkley for the flag, McDowell asked why he could not weigh in on local, state and national elections as a high school senior.
"I am a taxpaying American, why can't I vote?" he asked.
Merkley said there had been attempts to lower the voting age from age 18 in Oregon but these had not succeeded because "the sense is that citizens are in training in their youth to learn about issues."
He said by the time teenagers reached the voting age they had an understanding of how government was supposed to work and the rights granted to them by the constitution.
"In my five years as a senator, you are the first person to ask that question," Merkley told McDowell.
He encouraged the teen and other students to show their support for causes until they reached voting age by being politically active.

The primary focus of Merkley's visit with local students and community members in the high school library was the importance of creating jobs. He also championed having wealthier citizens contribute more tax dollars to provide services for the less fortunate.
The town hall was attended by representatives from the city, county, port, school district, gorge commission and college, all of whom were commended by Merkley for being "on the front lines of setting standards" to aid economic development.
He said 16 percent of the nation's jobs had been lost during the Great Recession of 2009 and only 40 percent of those lost jobs had been recovered since that time.
Five million jobs have been lost since 1998 and 50,000 factories have quit operating in the U.S.
He said more Americans than ever were working at low-income or part-time jobs than ever before, a situation made more untenable by the rising cost of living.
According to Merkley, 95 percent of new income is being earned by the top 1 percent of the population, which he felt was unfair. He said wealthier citizens had a responsibility to pay more taxes so their less fortunate counterparts could also benefit.
"We need to change that to have more growth in our country restore jobs," he said.
To fill the gap until policy changes have been made to bring manufacturing jobs back to the U.S., he said Congress needs to extend unemployment benefits and other social programs to help struggling families.
He said senior citizens also need to be protected by having cost-of-living adjustments made to social security that keep up with growing costs. Retired persons should also be spared any drastic changes in Medicare and he opposed reforms that reduced services.
"These programs are more important now than ever," he said.
Merkley said the national minimum wage should be increased from $7.25 to $10.10 per hour and then automatic annual increases provided to cover higher living expenses.
In his role as chair of the Senate Economic Policy Subcommittee, Merkley has introduced the "Level the Playing Field in Global Trade Act." The legislation seeks to hold foreign manufacturers to the same standards as their American competitors.
He said Jan. 23 that measure, or something similar, was needed to stop the practice of other nation's undercutting American markets by paying sub-standard wages, failing to provide workplace safety and harming the environment.
"If we don't make things in America, we won't have a middle class in America," he said.
He said nearly a third of Oregon's economy was tied to manufacturing jobs, which paid better wages and benefits than other types of employment requiring similar levels of education.
Merkley said the Job Creation through Energy-Efficient Manufacturing Act he proposed would provide low-cost loans for upgrades in manufacturing facilities, which would lead to greater productivity and more jobs. His Made in America Manufacturing Act would set up a revolving loan fund to help the producers of goods expand or establish new operations.
He said infrastructure around the nation needed to be replaced or upgraded to meet the demands of commerce. He said Europe spends 5 percent of its Gross Domestic Product, the market value of all goods and services, maintaining bridges, roads, and utility systems and China 10 percent.
"The U.S. spends 2 percent and we have a tremendous amount of infrastructure built after World War II that is reaching the end of its life," he said.
Merkley is advocating for the federal government to provide low-cost loans for local water infrastructure improvements and has succeeded in getting the Democrat-controlled Senate to pass the Water Infrastructure Financing Innovation Act. The legislation has not moved forward in the House due to budgetary concerns.
The senator said it was important to prepare a skilled workforce to meet job requirements by investing more in education. Toward that end he said action needed to be taken by Congress to undo damaging budget cuts that have threatened funding for schools. And more low to middle-income children need to be given access to pre-kindergarten services to prepare them for a lifetime of learning.

He also wants to bring back career and technical programs in middle and high schools and make college more affordable by keeping student loan rates low.
The Pay It Forward legislation he proposed sets up state pilot programs that implement a tuition-free model that is paid for by graduates. Once they have a career, Merkley said they could pay 2 to 3 percent of their wages over a two year period into a special fund to continue the program.
"It's a very different way of looking at it because students wouldn't have a debt burden," he said.
Three of the people in attendance asked Merkley to weigh in on the issue of more coal trains passing through the gorge if export terminals are built in Oregon and Washington. Opponents have challenged construction of these facilities on the basis that coal dust will pollute communities along the railroad tracks and contribute to global warming if coal is used for fuel in less regulated foreign nations.
Merkley said he joined Gov. John Kitzhaber in calling for air quality around the world to be factored into the environmental review of proposed coal export facilities. He said all of the issues that would affect communities along railroad lines, including traffic problems at at-grade crossings, needed to be explored before the projects moved forward.
"This is a very big decision that will have a huge impact on communities so it needs to be thoroughly studied," he said.
He was asked by one resident why, in a market with so few jobs, there were so many roadblocks being thrown up against siting of a Walmart super center in The Dalles.
"That's really a local issue and outside my realm of influence," he said, deferring to City Councilor Dan Spatz, who was acting as moderator at the meeting, for an answer
Spatz said Wal-Mart had made it though 99.9 percent of the regulatory hoops and was close to being given the green light for construction.
The Dalles Port Director Andrea Klaas referred to the more than three years that Walmart plans have been stalled by regulatory authorities. She then asked Merkley what could be done to speed up the review process.
"It seems there have been agencies that don't have a 60 or 90 day timeline and that has been a little frustrating," she said.
Merkley said local government leaders should alert his office about any problems they were having with an agency and he would look into it.
He is on the final leg of his first term as a U.S. Senator and is being challenged in the May primary by Democrat Pavel Goverman of Beaverton. Republicans lining up for a bid at the junior senate seat are: Joe Rae Perkins of Albany and Mark Callahan of Salem. The nonpartisan candidate for the race is Karl King of Southeast Portland.