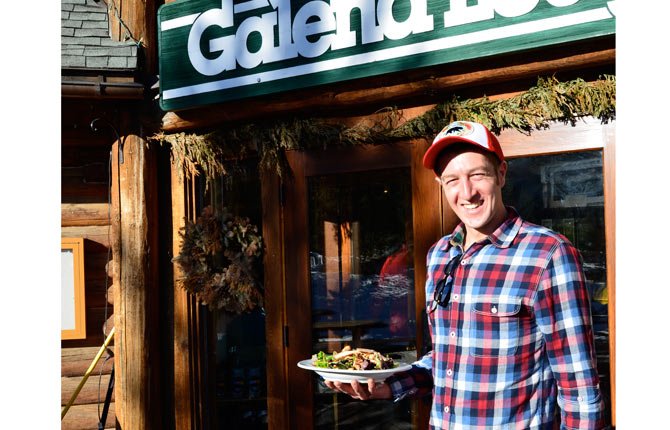 SUN VALLEY, Idaho (AP) — The really fun thing about cross-country skiing in Idaho's mountains is that you have all the excuses you need to sit down to a hearty meal after getting off the trail.
Nordic skiers can burn up to 700 calories skiing at a moderate pace during an hour's trek, according to Snowlink.com.
An adult snowshoeing at a moderate pace can burn up to 550 calories per hour, so bring on the Lava Lake lamb burger with creole aioli and spiced fries with a beer at Galena Lodge.
Or, sit down to pork medallions stuffed with wild rice, spinach and ginger-shiitake marmalade at Morels at Tamarack Resort.
You can start your day of skiing or snowshoeing with a hearty Basque scramble at Smiley Creek Lodge near the Alturas Lake trails south of Stanley.
I'm always looking for ways of combining food and the outdoors, and what better way than cross-country (ski) cuisine?
Here are some examples of where you can get some skate skiing or classic glide and Nordic nourishment.
PONDEROSA STATE PARK
Trails throughout the park in McCall offer the beauty of frozen Payette Lake, snowy trails going through hallways of ancient ponderosa pine trees, and dynamite views from Osprey Point.
The scenery is unforgettable at Ponderosa, but so will be dinner at Blue Moon Yurt located in the park.
The menu varies, but here is one example: Appetizers, sesame asparagus spears stuffed with harissa chili sauce. First course, grilled duck with cinnamon Cabernet sauce, with fried wontons and shredded mixed cabbage. The main course is grilled salmon with lemongrass mint sauce, with pistachio nut crunch and orange blossom forbidden rice. Dessert is saffron poached pear with vanilla cream and basil.
Reservations are a must. Go to bluemoonyurt.com.
TAMARACK
The ski resort near Donnelly offers about 9 miles of groomed Nordic trails that wind through the rolling hills and meadows of the resort. It also has a snowshoe trail system, and views of Lake Cascade go on forever.
Trails are open daily, but food is only served Thursday through Sunday.
Check out Morels Restaurant, which is located at the lodge at Osprey Meadows. It's the closest restaurant to the trails. Hours are noon to 9 p.m. for serving Northwest cuisine and a full bar. The menu includes bistro plates, such as a smoked salmon melt with a choice of fries, house salad or soup.
The resort also has other restaurants nearby: The Canoe Grill has cafeteria style food and a full bar, 8:30 a.m. to 3 p.m; and the Seven Devils Pub, which features pub-style food and a full bar, goes 11 a.m. to 9 p.m.
Go to tamarackidaho.com.
BOGUS BASIN
Full Moon Fridays are a blast at the Bogus Basin Nordic Center's Frontier Point Lodge.
With about 20 miles of groomed trails and 4 miles lighted for night skiing, there's plenty of terrain to work up an appetite. The neat thing is you can ski or snowshoe and come back to the lodge to hear music and eat.
The meals are provided by caterer Kanak Attack and feature Hawaiian-style pulled pork or teriyaki chicken bowls or sandwiches. They also provide a variety of soups during the evening starting at 5 p.m.
The lodge is open until 9 p.m. on Full Moon Fridays.
Kanak Attack also is up at the Nordic lodge every Saturday and Sunday from 11 a.m. to 2 p.m.
Full Moon Fridays this year are Jan. 17, Feb. 14 and March 14.
Group lessons and family rental packages are available. Call 332-5390 for more information.
On other days, Nordic skiers and snowshoers can head up to the nearby Pioneer Lodge for breakfast, lunch or dinner.
WOOD RIVER TRAILS
When fully snow covered, the Wood River trail follows an old railroad bed from Bellevue north beyond Sun Valley for roughly 18 miles, and there are too many restaurants and cafes in town to mention along the way.
It's an ideal way to ski and take in a variety of cafes or restaurants. You might scout dining places in your car and memorize the cross street so you can find a restaurant from the trail and make a side trip for lunch or dinner.
Go to bcrd.org for more information.
SUN VALLEY NORDIC
The Sun Valley Nordic and Snowshoe Center, just one mile east of Sun Valley Lodge, is a quick place to catch an afternoon of skiing or snowshoeing and lunch.
The center offers 26 miles of ski trails and 10 miles of snowshoe trails along the golf course and Trail Creek.
The menu includes such fare as a Kobe beef burger from Snake River Farms, or an apricot pork sandwich on brioche bread. The center is open daily for lunch from 11 a.m. to 3 p.m.; bar is open daily 11 a.m. to 5 p.m. Moonlight dinners are offered Feb. 14 and March 15. Call 622-2919 for more information and to make a reservation.
GALENA LODGE
At the north end of the Harriman Trail, north of Sun Valley, is Galena Lodge, a must stop for hungry snowshoers and Nordic skiers in the area.
You'll find more than 30 miles of trails adjacent to the lodge to work up an appetite.
Galena Lodge is open daily from 9 a.m. to 5 p.m. You can enjoy the fireplace and lunch, fresh baked goods, espresso drinks or a house made cocktail or craft brew. It's primarily a day lodge serving lunches, such as curried chicken wrap or Italian meatloaf sandwich.
Go to galenalodge.com.
ALTURAS LAKE TRAILS
Alturas Lake trails, about 20 miles south of Stanley, offers an up-close-and-personal view of the Sawtooth Mountains.
The skiing and snowshoeing is on groomed trails going through rolling timber along frozen streams.
But the neat thing is Smiley Creek Lodge is only 3 miles south of the trails on Idaho 75.
The lodge caters to snowmobilers, skiers and snowshoers and rents cabins.
It has a full restaurant, a deli for those on the go, and an ice cream parlor for the lodge's famous homemade milkshakes. You might think it's too cold for milkshakes. No way.
A full breakfast is served from 8 a.m. to 11:30 a.m. each day with lunch from 11 a.m. to late afternoon. Dinners are available from 11 a.m. to closing.
The Smiley Creek breakfast is a great way to power up for the trails. It includes two eggs cooked to order, served with hash browns and toast. You can add bacon, sausage and ham.
The restaurant also has dinner specials.
Bon Appetit, Nordic style.
---
The original story can be found on the Idaho Statesman's website: http://bit.ly/1hJf6lJ
---
Information from: Idaho Statesman, http://www.idahostatesman.com
Copyright 2014 The Associated Press. All rights reserved. This material may not be published, broadcast, rewritten or redistributed.