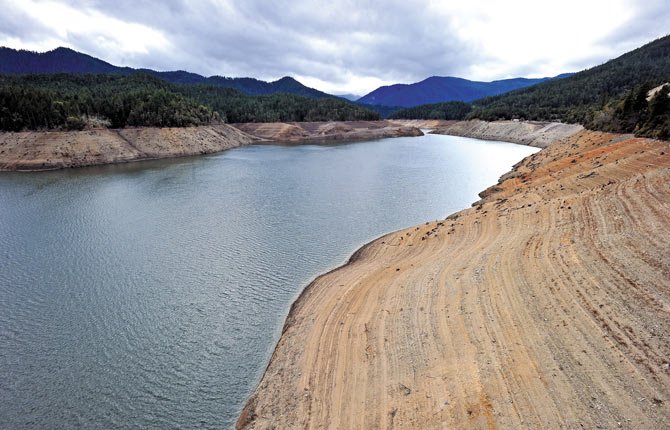 GRANTS PASS — Oregon's rainy reputation is being tested as dry grass and brush have prompted unprecedented red flag fire warnings in the southwestern corner of the state — a situation normally reserved for late summer.
National Weather Service meteorologist Ryan Sandler in Medford said the combination of dry fuels and gusty winds brought the warnings that started Thursday and ran through noon Friday.
The warnings cover Josephine, Jackson, Curry, Coos and Douglas counties, and extend south into California as far as the San Francisco Bay.
The last rain in the region was nearly two weeks ago. Since then an air inversion has clamped a foggy lid over the Rogue Valley, where the air is stagnant and temperatures have hovered around freezing.
The Dalles area has also been experiencing lower-than-average precipitation over the past year and particularly this fall, according to National Weather Service reports.
Precipitation in The Dalles measured 9.54 inches in 2013 — 3.88 inches below normal. Precipitation from October through December measures 2.89 inches — 2.64 inches below normal. Snowpack at The Dalles watershed won't be measured for January until next month, but a public works representative official said thre isn't much snowpack on the ground.
The red flag warnings apply to the sunny slopes and ridges above the fog, at about 2,500 feet, and below the snow line, around 5,000 feet, where temperatures can be in the 50s and winds can gust to 30 mph.
"If there was a flame near the grass, it would burn relatively easily and it would spread quickly," Sandler said.
Brian Ballou, fire prevention specialist for the Oregon Department of Forestry, said state and federal agencies normally conduct prescribed burns in the forests at this time of year to reduce fire danger in the summer.
But the weather has ended the burns, he said.
"It's just not a time to be doing any kind of burning," he said.
Any fires that do ignite are likely to be brush fires, which can be handled by local fire departments, he said.
"It's an awkward time for us," he said. "We've got plenty of hardware. We're just kind of short on people, we rely on seasonal firefighters so much."
A high pressure ridge stuck off the coast continues to block storms, starving ski resorts, reservoirs and forests of snow and rain. Mount Ashland Ski Area has yet to open for the year.
The U.S. Drought Monitor puts nearly all of Oregon in severe drought. The northern reaches of the state, including Clatsop County, the Columbia Plateau, and the mountains of the northeastern corner are in moderate drought. Extreme drought from Idaho's Snake River Basin extends into northeastern Malheur County. Even in normally soggy Clatsop County, officials warned residents to be careful with fire.
The Jan. 1 report from the Natural Resources Conservation Service notes that October, November and December were the driest on record for many parts of the state, leaving snowpack statewide at 32 percent of normal and major reservoirs at 28 percent of capacity.
Rainfall has been lowest in Southern Oregon, only 18 percent to 25 percent of average since October. The wettest part of the state is the northeastern corner, with 70 percent to 80 percent of average precipitation.
Another weak storm could get through to Southern Oregon around the end of the month, Sandler said. The high pressure ridge has a dent in it, and is building farther offshore, raising chances a storm could come down from the northwest.
"But it's not really a wet pattern," he said.
Copyright 2014 The Associated Press. All rights reserved. This material may not be published, broadcast, rewritten or redistributed.