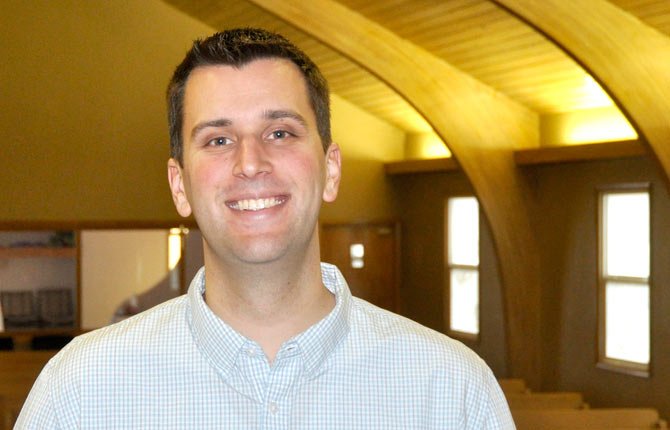 The Dalles Church of the Nazarene welcomed a new pastor in December, Aaron Mednansky, a South Dakota native who left a small church there to come here.
He said that about a year ago, he and his wife Callie both felt they were being called to move elsewhere. "We didn't know where that was. We knew where we were at, we were done, and we were supposed to be looking somewhere else," he said.
He talked to some mentors, who gave him a few connections. He ended up here and preached his first sermon Dec. 8.
"One of the things that I absolutely loved in interviewing here, was the care that they showed for everybody in the church. I would say one of the things we try to do and the people truly live is the love that Christ means for us to show everyone," he said.
Now 27, Mednansky got his bachelor's degree in youth ministry from Colorado Christian University, where he also played soccer for the university. He is working on his master's of divinity online through Northwest Nazarene University in Idaho.
Mednansky didn't start his college career at the Christian university, though.
"Looking back, I think I knew I was supposed to be in ministry in high school, but I tried to ignore it."
Instead, he started classes to get an electrical engineering degree from the South Dakota School of Mines and Technology."
But he found that every time he went to register for classes, he'd become physically sick at the computer, and have to go lie down. He decided to go home for a weekend, and at church, the pastor spoke on "What God's telling you to do and not running from it. I went, 'Crud.'"
So after a year at mining school, he went home and interned for a year at his home church, "to make sure that I was actually hearing God's calling, and it wasn't just something weird I ate at school."
After graduation, he finally found his first job after interviewing at seven or eight churches. What kept him from job offers? The fact that he was single.
"At the time I wasn't married, or even close to it, and that was a prerequisite for most of them."
But then he was hired at a Nazarene Church where the lead pastor believed in giving people a start. Mednansky, who grew up in a nondenominational church, researched Nazarene beliefs, and found the denomination's beliefs matched almost identically with everything he'd been raised to believe. "It was kind of a perfect fit."
A core Nazarene belief is that once you accept Jesus Christ as your savior, the old sinful self dies and a new self is reborn in Christ. "What we preach and one of the differences for us is you try each and every day to live a more perfect life and more holy life. The Bible calls us to be holy. So each day we try to live more and more like Christ, trying to be the image of Christ and sinning less."
It means making choices: "Am I going to do what's right in Christ's eyes or am I going to do what I want to do?"
Living a more perfect life seems like work. "it is and it isn't. Originally starting out it can seem that way. But once you have received Christ you have the working of the Holy Spirit in your life. It does make a difference and it does get easier. Christ living in us gives us that strength."
Mednansky is leading a congregation of about 40, and he hopes to increase the offerings at the church, which right now has a Sunday sermon at 10:45 a.m.
And making that sermon on time does require an effort for Mednansky who stressed that "I've never been a morning person, ever. Like, mornings would be great for me if they started at 11."
But mornings don't start that late, and all Mednansky can say is "It's a good thing for coffee."
He gets to church on Sundays at about 8, giving him time to pray, rehearse, and do any last minute things he needs to do.
The Nazarene Church went all out this winter and did a lighting display set to music, which took many hours of work to set up. But Mednansky missed all the setup work, and only had a role in taking it down. He used some of his rock climbing equipment to rig a ladder to climb up and take down lights.
He played soccer in college, and eventually married Callie, who is at home with their two and a half year old twins, Grace and Abigail, but also has a degree in communications and a master's degree in Christian leadership.
Asked why he wanted to be a minister, he offers an answer that gives an insight into the challenges of ministry and the true calling it requires to take up the job.
"I had a friend and fellow pastor kind of describe it best. He said, if there is anything else you cold possibly do, do it. He said that with all seriousness. I laughed when he said it. I said, 'You're basically telling me to run from what I'm doing.' Because the attacks and kind of the stress that comes from being a pastor, if You're not called by God and it's the only thing you can dream of doing, it will eat you alive."
Asked if being a minister is really that daunting, he said, "Yes and no. I absolutely love being a pastor and I can't imagine doing anything else, but there are stresses that come along with the job and different things that kind of go with the territory and if you're not well grounded in what you believe, if you're not grounded in prayer and studying the Bible, it can get to you."
While a number of other mainline denominations follow a three-year lectionary that sets out the sermon topics each Sunday, the Nazarene Church does not. Mednansky simply prays about it and thinks about what topic would be most helpful for the congregation to hear about that Sunday.
He's even contemplated a series of sermons based on the Super Bowl. He jokingly mentioned it at a past church only to learn few in the congregants even followed football.