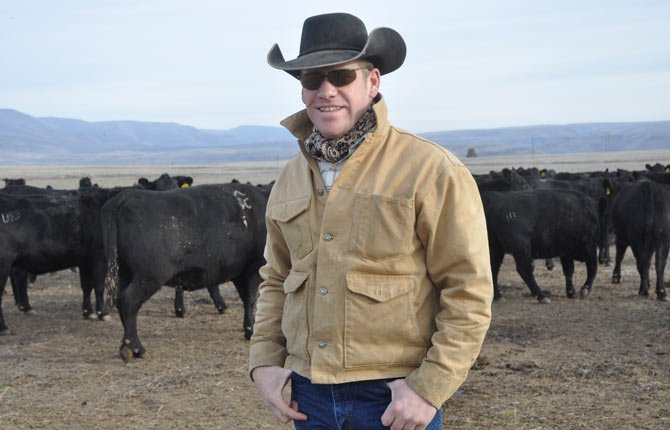 Cowboy Keith Nantz partnered with landowner John Dillon in 2008 to start the Dillon Land and Cattle Company, which is headquartered in Dufur.
The ranch itself is located on Oak Springs Road between Tygh Valley and Maupin and encompasses 1,500 acres, much planted in wheat and hay.
A herd of about 100 Angus and Angus-cross cattle graze that property and 120 acres along Fifteenmile Creek, as well as leased land on Eightmile Creek.
Another 2,000 acres of ground is leased from a nearby landowner for use in the enterprise.
Nantz is the operating manager for the business side of the company and works with Jason Ware in production and Craig Rutherford on mechanical issues.
He is proud to be among the 2 percent of the nation's population that works in the agriculture industry.
In addition to his professional responsibilities, Nantz serves as president of the North Central Livestock Association, which represents both Wasco and Sherman counties.
He is also co-chair of the Private Lands Committee for the Oregon Cattlemen's Association, a member of the Water Resources Committee, and vice-chair of the state Young Cattlemen's Committee.
"I'm a big picture person and I'm very, very involved with the political side of things," he said of his work on behalf of the 13,000 cattle operations in the state. "If I'm not out there actively pursuing change, how can I gripe about things?"
Nantz is on a continual learning curve by seeking to learn and implement new strategies for production.
A Rancher's Life is a year-long series by reporter RaeLynn Ricarte and photographer Mark B. Gibson of The Dalles Chronicle. Here are the stories so far:
A Rancher's Life and A 'big picture' outlook started the series January 25, 2014.
All in a Day's Work and Moving cows is just the beginning were published February 12, with Weathering the storms. An audio slideshow, Working cows, was also published in February.
March started with a look at wolves in two parts, Wolf trouble and Wolves on the move. It continues with Springs promise, a look at calves and spring on the ranch.
An editorial, "More defenses needed," wrapped up coverage on this issue.
May started with the story exploring the trouble faced by one ranch, whose story is told in new feature-length movie screened locally in Hood River. One family member currently lives in The Dalles, and in "A Place to call Home" she tells her story.
May also featured multiple stories addressing the issue of public grazing, an issue researched by reporter RaeLynn Ricarte for over four months. The issue is first explored in"Battle rages over grazing rights." Much of this battle has been fought in court, and "Taxpayers foot the bill of resource lawsuits" explores one aspect of this battle. Additional stories followed: Seeking balance on our public lands, A place for cattle, Activist disputes accusation of fee gouging, An embattled system,and Walden: Scrutiny need on species regulation.
The May presentation ended with an editorial expressing the need for public grazing in the western states, Resources to Thrive.
A special section, Farm and Ranch, further broadened and expanded the series in June. it is available as a .pdf document: Farm and Ranch.
As July brings hot dry weather, it's a great time to explore the impact water, and a lack of water, has on the ranch community. Water is a precious commodity in Eastern Oregon. Ditch walker Sam Cobb is in charge of how the water in water stored in Rock Creek Reservoir is distributed in the article "Ditch Walker: Water is gold, here"
In August, the second edition of Farm and Ranch explored the stories and people behind some of the brands in the region.
Water issues were further explored in August, with three-part presentation:
State and federal rules water rules impact ranchers throughout the region. Water dispute boils explores state regulations and how they impact ranch operations. A related story looks at a study launched by ranchers working with OSU to study water issues in arid and semi-arid lands.
Federal proposals to change or clarify what waters are under federal jurisdiction has many agriculturalists worried, and represents yet another clash over water.
Locally, efforts are being made to work collaboratively to improve water quality on 15-mile creek for both fish and farmers. The creek is used for irrigation.
He is a graduate of the Ranching for Profit School run by Ranch Management Consultants of Fairfield, Calif., and continues his education through the organization's Executive Link program.