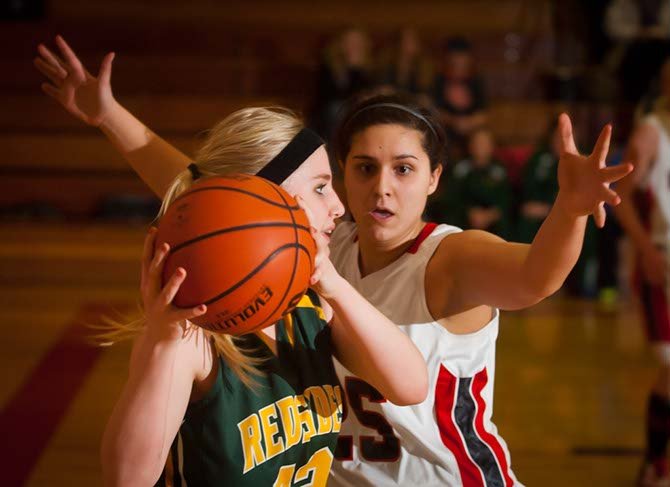 Photo Gallery
SWC girls versus Dufur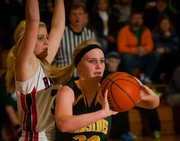 Girls varsity basketball game between South Wasco County and Dufur, Jan. 24.
Even with the return of previously injured players Teneille McDonald and Taylor Darden, Dufur junior Aimeelyn Miller showed that she could shoulder the scoring load when needed.
Miller netted a career-high 10 points, eight coming in the fourth quarter to go with five rebounds, three assists and a blocked shot to lead the No. 5 Rangers to a 54-35 romp over South Wasco County in Big Sky Conference girl's basketball play Friday in Dufur.
Dufur head coach Hollie Darden has seen a meteoric rise from one of his most productive reserve players.
When given ample minutes on the hardwood, Miller has produced in spades with a quick first step, dribble drives and a deadly mid-range jump shot.

"Aimee has gotten a lot better," coach Darden said. "She has played a lot of minutes all season, but I think that has really benefitted her in terms of confidence and being more aggressive on both ends, offensively and defensively. She really takes the pressure off our whole team because they know that all they need to do is play team basketball to get the ball in the right place to get a quality shot."
Things looked concerning early in action for the Lady Rangers, who missed nine of their first 10 shots, but once they got going, they erased a 6-2 deficit with two minutes left in the first quarter using a 10-2 run to jump ahead, 12-8.
Staked to a four-point cushion in the second quarter, Dufur landed the knockout blow with a 19-9 run to lead 31-17 at halftime.
In that quarter, Sammi Ghramm nailed three buckets, including back-to-back 3-pointers, Taylor Darden hit a free throw, Montana Ferres and McDonald sank a pair of shots and Miller hit a layup.
Even with the slow offensive start, of one field goal in the first 6:27, coach Darden said the defense held strong until the offensive continuity began hitting its fever pitch.
"We used an inside-outside attack, which is kind of what we strive to do as a team," coach Darden said. "It started to flow a little more in the second quarter. We started getting into a rhythm on both ends of the floor and we were able to get some separation in the second quarter."
Zoe Morelli rattled home three consecutive baskets at the start of the third frame to get her squad to within a 31-23 deficit with 3:51 left, but that was as close as the Redsides got, as Dufur finished the final 4:09 on a 10-2 rally to move out in front by a 41-25 margin.
Dufur ended play with a 13-10 output to produce the final spread.
"I thought our effort was pretty good overall," said SWC head coach Ron Townsend. "We just made too many mental mistakes, but we are still learning. I thought today was an improvement. I thought we competed well and I saw some improvements in some areas today that I was glad to see. We will go back, work harder and correct them."
The Redsides amassed 15 field goals and went 5 for 5 from the free throw line, as Morelli led her squad with six baskets and three free throws for a game-high 15 points.
Molly Foreaker and Roxanne O'Neal had six points each, and Kyra Shannon dropped in four points.
On the Dufur side, Ghramm had 10 points, Taylor Darden was good for nine points, and McDonald racked up all of her eight points in the opening stanza.
What makes the Rangers much more dangerous as the season progresses is the good health the team is showing as the team hits the meat of its schedule.
Hannah Harris and Ferres are threats at guard, Ghramm and Macias show versatility on both ends of the floor, and both Kelly Heemsah and Tianna Ellis bring some muscle to the forward spots as well for one the state's best defenses. McDonald and Taylor Darden are all-league caliber athletes, so they can climb right into larger roles to keep the winning trend going.
"Both those girls are gassed after tonight," said coach Darden of McDonald and Taylor Darden. "You can tell they are not where they want to be in terms of conditioning, but they will get it back pretty quick. Our goal is to ease them back into the rotation. Once we get everybody back, I think we are going to be really fun to watch. We want to get into a rhythm and get a good gel going here."
Dufur (13-2 overall, 7-0 league) was in Condon Saturday. At 6 p.m. Tuesday, the rangers travel to Portland for a non-league matchup at 6 p.m. Tuesday.
The Lady Redsides (7-10, 3-4 league) hosted Central Christian on Saturday, and then have a few days off before hosting Griswold for a league tussle at 6 p.m. Friday night in Maupin.