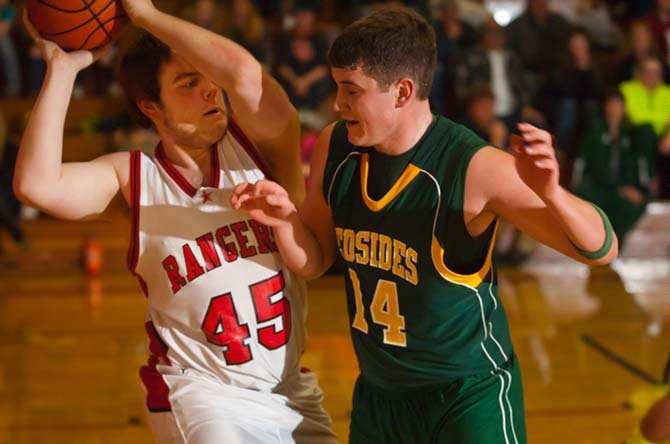 Photo Gallery
SWC boys versus Dufur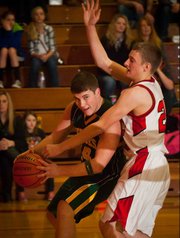 Boys varsity basketball game between South Wasco County and Dufur Jan. 24.
When push comes to shove, the South Wasco County basketball team can rely on its playoff-hardened veterans to help the team get through some pressure situations.
Redside seniors David Ocacio and Nathan Duling notched 17 of the team's 25 fourth-quarter points to break open a 47-all tie in a 72-57 road win Friday night in boy's basketball action at Dufur High School.
"It is good to have seniors. Down the stretch, it was pivotal for us to have that experience to get us making the plays we need to get this win," said South Wasco County head coach Jim Hull. "When you have those guys to rely on, it is pretty comforting as a coach. As the game got down, they wanted the ball. They did not shy away from the big moment."
In a game that featured five ties and 11 lead changes, the Rangers once held a nine-point lead in the first quarter, and SWC battled back in the third frame with five-point leads on six different occasions.
With the score 55-53 at the three-minute and 43-second mark of the fourth quarter, the Redsides used a 17-4 run using defense and an 8 of 9 split from the charity stripe to hold the Rangers at bay.
Ocacio started the run with a layup to make the score 57-53 with 2:41 left, and after a Dufur turnover, Duling swished a 3-pointer to make it 60-53.
Dufur's Connor Uhalde hit a layup to stop the run briefly, but 43 seconds later, Ocacio drilled two free throws to move the score out to 62-55.
Colton Nannini then grabbed a quick pass from Ocacio and drove the lane for a layup and a foul to swell the Redside advantage to 64-55 with 1:06 on the clock.
Dufur then missed seven of its next eight shots, and the Redsides finished the final minute with an 8-2 spurt.
"We got to playing too fast and maybe got a little too excited at some points, so some turnovers really hurt us and they capitalized on those," said Dufur coach Tony White. "They did a good job of spreading us out and playing more disciplined in the fourth quarter. That is a team that has been in the playoffs and you can definitely tell that there is a transition there that needs to happen for us to get in and play in that fourth quarter with that type of team."
Dufur led 15-14 after one quarter, and then the Redsides rebounded with a 16-12 output to lead 30-27 at the break.
The Rangers were behind 44-39 with 2:07 left in the third quarter, but Austin Olson hit a reverse layup and a foul shot, SWC's Travis Hayes sank a 3-pointer, and then Dufur's Bryson Caldwell made a layup and Caleb Morris rattled home a deep ball to tie the score at 47 entering the final frame.
SWC connected on 14 of 30 from the floor in the second half, as Hayes and Ocacio led all scorers with 24 points apiece.
Duling added 10 points, seven rebounds and five steals, and Devan Dammann added two points, five assists, three rebounds and a steal.
"Anything that can prepare you for postseason play is what we want from these games," Hull said of hitting the floor against any tough team from the Big Sky Conference. "It is a tough game night in and night out because when you get through that meat grinder, you are ready for the tough games. When you have those games, thankfully, we ended up on the right side; it just builds the confidence in the players. When you are playing with confidence, you can accomplish a lot of things."
Dufur shot 24 for 59 in the contest, and Caldwell's 14 points led them.
Jake Kortge had 12 points, Bailey Keever added 10 and Uhalde notched eight points.
"Our kids are getting there," White said. "They play their guts out. They are knocking on the door. We did not win, but you watch them play and you hope that at some point they are going to break through that wall. I do not feel any less of our team. I put us up against anybody. We play so hard that it will keep us in a lot of games."
SWC (9-7 overall, 4-3 league) hosted Central Christian Saturday.
After that game, they play at St. Paul High School versus Umpqua Valley Christian at 5 p.m. Tuesday.
Dufur (9-5, 4-3) was in Condon Saturday.
At 7:30 p.m. Tuesday, they go to Portland to play City Christian.