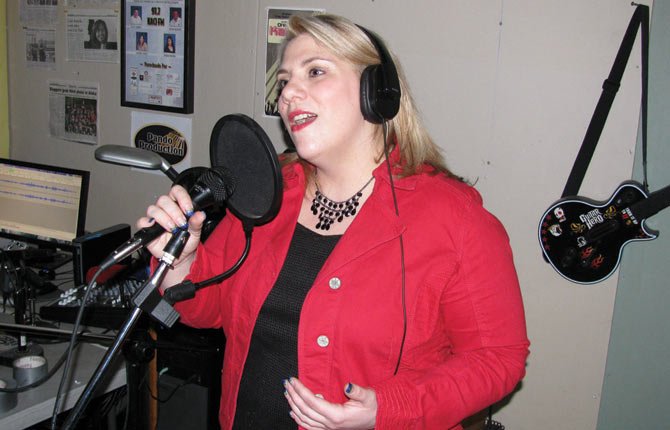 Dia Nickelsen had an agonizing decision to make about this upcoming Sunday: stay home with friends and family and watch her beloved Seahawks compete in the Super Bowl or travel to Nashville and audition for "The Voice."
In the end, there was really only one choice: The Dalles resident has always dreamed of becoming a professional singer, so she'll travel to Nashville Saturday and try to convince producers Sunday that she belongs with the stars on "The Voice."
Nickelsen won the opportunity to audition as a result of winning the Oregon Karaoke Challenge in 2012. Organized by producer Eloy Pando and based in The Dalles, the event has filled City Park in August the past two summers. Nickelsen was the first winner.
"I have to show up at the arena and be ready at 7 a.m.," Nickelsen said. She'll also have to be prepared to stand in line for much of the day and go through as many as three rounds of auditions.
"I don't know how long I'm going to be," she said. "There are different levels, but I'm hoping to be done before the Super Bowl starts. I'm a huge Seahawks fan. I've been following the Seahawks since I was a little girl."
Nickelsen grew up in Aberdeen, Wash., moved to the gorge and now works at Insitu, which she said has been very supportive of her singing aspirations.
She isn't sure what she'll expect from the audition process.
"NBC and 'The Voice' have not said much of anything about what to expect," she said, but she has been in touch with a Bend singer who warned her about the long lines that stretch outside the building. The first round of auditions, of which Nickelsen is a part, will be before a group of producers.
Nickelsen has prepared five songs. The first audition requires two abbreviated a cappella performances. If Nickelsen reaches the second round, she will be prepared with a trio of arrangements.
Her first performances will be of songs she competed with in the Karaoke Challenge, "Gun Powder and Lead" by Miranda Lambert, and "Broken Wing" by Martina McBride. The second song has been a longtime personal anthem for Nickelsen, helping her through break-ups and other difficult times. She said she will be singing it for her sister and best friend, who are both going through difficult experiences right now.
Nickelsen is excited about the level of competition she will meet at the auditions.
"There will be some amazing, amazing singers and musicians," she said. "That makes me want to push that much harder."
At least one of those musicians will have a familiar face. "Dakota Brown" of Hermiston, one of the finalists in the 2013 Oregon Karaoke Challenge, submitted a video audition tape to "The Voice" and will be in Nashville at the same time as Nickelsen.
Pando chose "The Voice" as the venue to pursue because of its positive approach.
"They have a very respectful show when it comes to the performers," he said. "They have very strong constructive criticism," added Nickelsen, a devoted follower. "If you take their advice and work, they've proven that people can come back to the show and get on the series."
Nickelsen has taken some of their advice, particularly about stage presence, feeling the music and interpreting it not only in voice but in movement and facial expressions.
She and her husband plan to stay in Nashville until Feb. 6 and hope to take in some of the sights as part of an early anniversary celebration (they were married in late February).
"I do have a bucket list of things I want to do," she said. Of particular interest is a trip to Ryman Auditorium, the original venue of the Grand Ole Opry. "There are tours available. I'm hoping I can break away. I want to hop on stage and sing 'Amazing Grace,' at least a couple of lines so I can cross that off my bucket list."
The Opry has special meaning to Nickelsen, because she used to Watch with her grandparents on TV when she was a child.
"My dad's father could yodel like a pro," she said. That grounding in classic country instilled in her a love for country music that remains today.
Nickelsen is getting financial help from a group of local sponsors including Gameopoly, Optimist Printers, Bob Stone Freeway Autocenter, West Second Food Mart, Dog Gone It, Allen's food Center, Gorge Glass & Contracting, Lines of Designs, Dennis Morgan-Copper West Properties, Maupin Hardware and Lumber, and Eloy and Maggie Pando.
In addition, family and friends donated to help her husband go along for the trip.
Find video of Nickelsen's karaoke performances online at www.oregonkaraoke.com.