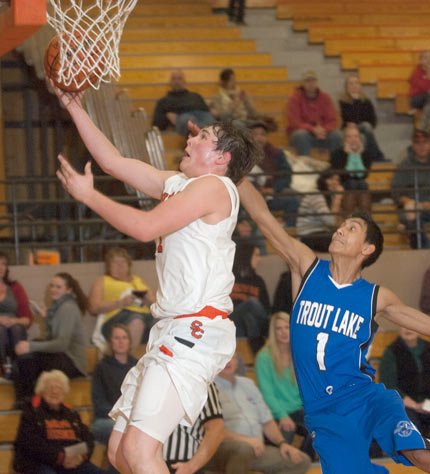 As they prepare for a Friday battle against the Dufur Rangers, the Sherman Huskies were in the throes of competition Tuesday in a road game against Arlington, using pinpoint free throw shooting in final frame to move to a 60-52 victory over the Arlington Honkers in Big Sky Conference boy's basketball action at Arlington high School.
Clinging to a close lead in the fourth quarter, Sherman junior Austin Kaseberg coolly sank 8 of 10 free throws in the final two minutes, a part of his 28 points, to help his team seal their sixth road win of the season.
"I felt we executed well and played within ourselves to earn a victory over a very disciplined team," said Sherman head coach Bill Blevins.
The Huskies led 15-8 through one period, and swelled their advantage to 32-24 at halftime after a 17-16 output in the second quarter.
Both teams ended the final 16 minutes with 28 points apiece.
In all, Sherman nailed 21 field goals, three from long distance, and made good on 15 of 19 free throw shots.
Added to Kaseberg's 28, freshman teammate Max Martin dropped nine points to help the cause.
The Honkers (6-15 overall, 3-8 league) totaled 23 baskets and went 4 for 7 from the stripe, as Kyle Wetherall paced the offense with 28 points.
Sherman (9-8, 3-3) heads to Dufur for a 7:30 p.m. matchup Friday against the Rangers (11-5, 5-3), who are at the No. 3 seed in the Big Sky West Division.