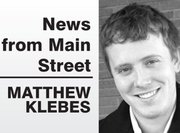 I hope that everyone had a wonderful holiday and welcome to the New Year!
The Downtown Christmas lights were truly beautiful. Thank you to the Port, Chamber, City and all of the volunteers for helping to fund, put up and take down the lights. The Main Street's, "Santa in the Downtown" event at the former Griffith Showroom on Third was also a tremendous success and really got us in the holiday spirit.
Looking to the New Year, I can't wait to let you know what's coming up for The Dalles Main Street Organization.
The Promotion Committee has a great package of events this year. To start off, believe it or not, we are already gearing up for Jammin' July. The first meeting will be Feb. 5 at 8 a.m. at Sigman's. If you are interested in getting involved feel free to contact me.
We are hoping to build upon the Jammin' July successes of last year and possibly include new attractions and activities such as a, "Dog Days The Dalles" where we invite everyone with a pet to come down and be a part of dog agility contests and a pet parade, and offer chances to adopt a new fuzzy addition to your family. If this is something you'd like to see or you have other suggestions, let us know.
The Design Committee also has several projects gearing up that could use your involvement and feedback. A "Downtown Greenery Project" will add more plants and flowers to beautify our downtown. This project could be expanded, with enough volunteers and support, to include a general spring cleaning of the downtown.
The "Slow Down in the Downtown Parklet Project" would involve an extension of the sidewalk where tables, chairs, greenery and even art can be placed. The parklet will improve the walkability of our downtown and increase the amount of public space where people can sit, relax; enjoy a cup of coffee, use the City wifi and interact with their fellow community members. There has been a lot of interest and desire to see these types of public spaces and we need your involvement to design, support, implement and care for these projects.
The Business Committee has several new members and will explore activities such as business retention and attraction, commercial start-up spaces, vertical development and creating a bike-friendly downtown. The Business Committee is also interested in bringing in speakers or hosting workshops to help local small businesses.
If you are interested in getting involved with any of these activities, please let me know at tdmainstreet@gorge.net or call me at 541-370-2966. For more information, please visit our Facebook Page, "The Dalles Main Street Program." Our Instagram name is, "thedallesmainstreet" and every Wednesday you can try and guess the, "Weekly Wednesday Where in The Dalles" picture.
Our meetings are open to the public and we would love to have you attend! The regular meeting times are noted below with February dates in parentheses:
-The Main Street Board meeting is the first Tuesday of the month at 5:30 p.m. in the Fire Bay Conference Room (Feb. 4).
• The Promotion Committee meets every third Tuesday of the month at 8 a.m. in the Fire Bay Conference Room at City Hall (Feb. 18).
• The Design Committee meets every third Thursday of the month at 6:00 p.m. at Westwind Frame and Gallery (Feb. 20).
• The Business Committee meeting time has not been permanently established, but in February will be Monday, Feb. 17, at The Whole Ball of Yarn.