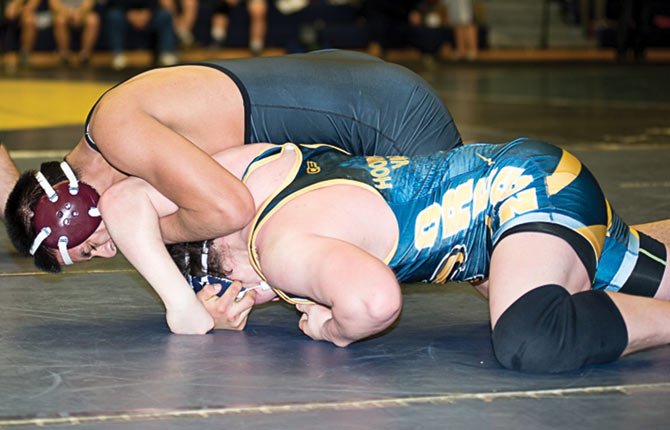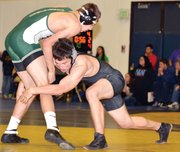 The Dalles Wahtonka wrestlers Joe Linebarger and Eric Morales continued their upward trend at the River Elks Invitational, as the duo chalked up top-3 finishes in tough weight classes this past weekend in all-day tournament at Hood River Valley High School.
Both Linebarger and Morales were ranked in the top-7 entering Saturday's action, and the No. 6-ranked, 195-pound sophomore Linebarger lived up to his billing with a pair of wins before losing in the title match by pinfall to Wilsonville's Justin Hamilton.
After a first round bye, Linebarger (20-6 overall record) hit the squared circle in the quarterfinals opposite Barlow's Hunter Boelow.
Linebarger racked up points with ease on his way to a 20-6 lead and a sudden victory.
That victorious output vaulted the Tribe sophomore into the semifinal rounds against Churchill's Mitch Hindrum, the state's No. 5 wrestler, in what turned out to be a closely contested bout.
When six minutes went into the books, Linebarger came away with a nip-and-tuck 5-4 decision to punch his championship ticket.
In his title match, Linebarger could not muster up the momentum needed to take down Hamilton, as the Wilsonville senior and No. 3-ranked 182-pounder notched a pin at 29 seconds of the opening round.
Morales, a former state qualifier who is No. 7 in the 182-pound classification, hit the mats at 170 pounds and won four matches to secure third place.
The Eagle Indian senior (22-7 record) started on the right foot in the opening rounds in a match versus South Eugene's Ike Jackson.
Morales did not need much time to impose his will on Jackson, as he reeled off a second-round pin 16 seconds into action to move on.
In the quarterfinals, Morales still had things working in his favor in his showdown against Crescent Valley's Garrett Worsch, picking up another pin, at the 3:05 mark of the second round.
Morales needed one more win to cruise into the finals, but he ran into Churchill's Gavin Carroll, losing in a close 6-3 match by decision.
Although his title hopes went by the wayside, Morales still had it in his mind to place, so he grappled with Steven Swafford in the consolation semifinals in an absolute slugfest where three rounds weren't enough to settle matters.
After regulation, each wrestler had notched five points in a 5-5 deadlock, but Morales came through in overtime for a 7-5 triumph.
With third place up for grabs, the Tribe senior fought tough versus West Albany's Jimmy Haralson.
Morales hardly broke a sweat in this matchup, working a 12-0 split for the major decision and third place.
At 152 pounds, TDW's Colton Lee put out a spirited performance with two pinfall wins in his four matches wrestled.
If he was going to place, Lee had to go the long route, starting in the preliminaries, and he had no issues taking his turn with a third-round pin at 4:45 over Wilson's Steffen Jacobsen.
In the next round, Lee went down by first-round pin to Wilsonville's Matt Dyer, but he came back strong in the consolation bracket in a quick match with Riverside's Roberto Peralta.
Lee worked a first-round pin at the 1:11 to keep his tournament journey alive.
However, Lee lost his next match at 1:00 of the opening period, as Churchill's Andy Bordeaux picked up the pin.
Luis Herrera (138 pounds) added two more wins to his slate on Saturday, but could not advance further than the consolation rounds.
Herrera kicked off action with a high-scoring affair against South Eugene's Logan Hirsch, with the Eagle Indian standout rushing for a 17-13 decision to advance.
Herrera then lost by pin in the quarterfinals, but restored order in the consolation rounds with a first round pin of Scappoose's Brandon Goodnight at the 1:35 mark of the opening frame.
Herrera had his run cut short in the next stage of the tournament in a second-round pin loss at 3:57 to Reynold's Colin Wells.
After a first-round bye, Samuel Tyler (113) went on to lose two matches by pin, the last setback coming versus Hood River Valley's Erik Cuevas in a second-round pin.
Cole Davis (120) had two matches and lost both by first-round pin, as the tournament-ending loss came at the 1:06 marker to HRV's Dylan Peterson.
TDW hit the mats at 6 p.m. tonight with a home dual with Columbia River Conference foe Hermiston.
After that, the Tribe heads to Pendleton for a dual at 6 p.m. on Feb. 5.