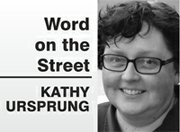 No one's ever achieved financial fitness with a January resolution that's abandoned by February.
— Suze Orman
Long anticipated: Golden shovels will send dirt flying this Friday, Jan. 31, in celebration of the groundbreaking at the future North Chenoweth Industrial Business Park.
"The project would not be possible without the support of the entire community and we would like to publicly thank all of our extended partners who helped bring this project to fruition," wrote the Port of The Dalles in its event invitation. "Together we are building a stronger, healthier economy for the Port District and beyond."
The noon event at 4350 River Rd. in The Dalles will celebrate 26 future shovel-ready sites totalling 60 acres.

For more information, call 541-298-4148.
More The Dalles growth: If you haven't been out West Seventh Street and seen the new motel rising next door to the Eagles Lodge, it's worth a look.
The future Fairfield Inn/Marriott hotel under construction by Escape Lodging of Cannon Beach looks to be midway or more through its estimated 12-month construction period. Construction of the $6.8 million project is expected to employ at least 100 and the motel would employ 25 people year-round and another five in the high season.
A plannign commission hearing is planned for Thursday, Feb. 6, at 6 p.m., to consider an additional sign on the southeast side of the building. It will be at City Hall Council Chambers, 313 Court St. in The Dalles.
Chamber future: The guest at The Dalles Area Chamber of Commerce Government Affairs Committee meeting this Thursday, Jan. 30, is Lisa Farquharson, Chamber CEO. She will be talking about Government Affairs group vision and Chamber goals.
The meeting starts at 7 a.m. at The Barbecue Restaurant.
Dock year gets rolling: Now is probably the time to be planning activities to attract tourists debarking off the tour ships scheduled to stop at Union Street dock during 2014.
The board schedule will be rolling starting March 5, according to an announcement from Julie Krueger at the City of The Dalles, who numbers general services director among her many titles.
The Queen of the West docks for its first trip of the year around noon on Wednesday, March 5. The American Empress joins the schedule March 26. And even more tour boats will start to arrive in April, May and through the summer.
The Fort Dalles Floozies and other visitors give the boats a warm welcome, but it's up to local businesses to come up with ideas to attract the tourists to their shops.
Find the full schedule online at www.thedalleschronicle.com.
Professional Women to meet: The Dalles Professional Women's Alliance has set its bi-monthly gathering schedule for 2014, starting with a Feb. 13, gathering at Windermere Real Estate, 207 W. Third St., from 6 to 8 p.m.
Find more information about future meetings at the group's Facebook page of the same name.