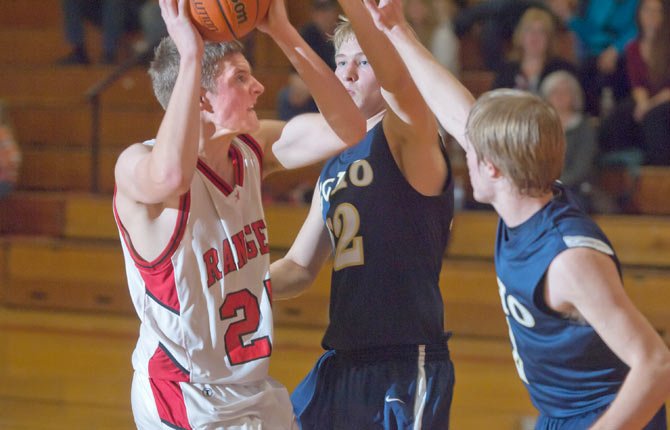 Bryson Caldwell scored a game-high 18 points, and Jake Kortge added nine to lead the surging Dufur Rangers to a 55-36 victory over City Christian Tuesday in a non-league boy's basketball matchup in Portland.
"We did a nice job pressuring them, but we had way too many turnovers in transition," said Dufur head coach Tony White. "We will try and clean that up a bit for Friday's game against Sherman. We have to have that game."
White also admitted that City Christian is still in a rebuilding phase for the program after their state championship season last year, but his team did not let up, finding a way to stake control early in play.
The Rangers came out swinging using their defense to set the trend for an 18-8 run in the opening period.
Both teams then notched 10 points apiece in the second quarter with Dufur riding a 28-18 cushion at halftime.
After the break, White had his troops rolling once again with a game-changing 15-6 rally to swell the lead out to 43-24 entering the final frame.
In addition to the scoring numbers put up by the inside presence of Caldwell and Kortge, freshman point guard Connor Uhalde broke loose for eight points.
Dufur (11-5 overall, 5-3 league) remains at third place in the Big Sky Conference and holds the final district spot with seven games remaining.
However, the stakes grow higher at 7:30 p.m. Friday with a home contest against Sherman (9-8, 3-3). On Tuesday, the Huskies dropped Arlington with a 60-52 tally on the road.