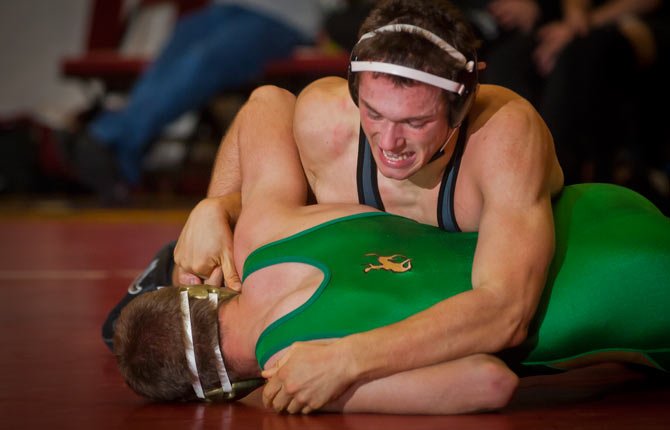 While the overall numbers have been dwindling some, there remains a strong group of The Dalles Wahtonka wrestlers still working diligently for an opportunity to chalk up regional berths for a shot at the state tournament.
"There is a really good core group of guys here," said Tribe sophomore Joe Linebarger. "We started out with 30 and now it is down to seven or eight, so a lot of people have dropped out or quit, but the people that are still here are going strong. That is very inspiring."
Much of that cast was on hand Wednesday at Kurt Gym in a Columbia River Conference dual versus defending champion Hermiston.
While TDW took a stand with four wins, the visiting Bulldogs picked up four wins and five forfeits to secure a 48-14 victory in The Dalles.
"Hermiston is a really tough team, so I was hoping to get a good match tonight to show everyone that we could win some matches," Linebarger added.
Damion Morris got the Tribe off to a rousing start in the second match of the night in his 152-pound bout against Brock McDonough.
Morris battled through a close first round, but then finally worked his magic at the midway point of the second frame with a pinfall winner.
Colton Lee then added a decision over Hermiston's Jordan Turners to add points to the Tribe side of the scoreboard.
After a 6-4 decision loss by TDW's Eric Morales in a 170-pound match versus Jess Rodelo, there was a forfeit at 182 pounds.
Up next came Linebarger at 195 in a physical tussle with Hermiston's Mitchell Lincoln.
Staked to a slim lead entering the third period, Linebarger notched an escape and a takedown to tally all the points needed to score a 6-1 decision.
"This guy was in a weight class below me, but he was strong," Linebarger said. "So, I just rode him out, took him down and was able to get a win."
Hermiston then rattled off six consecutive wins from 220 to 126, four by forfeit.
Isaiah Aguilar picked up a 21-6 technical fall at 113 pounds, and at 120, C.J. Hendon followed with a 21-7 major decision.
After another forfeit, TDW senior Mason Bansch set to send his team off the mats on a proper note.
Bansch tallied a pair of two-point takedowns and a nearfall on Hermiston's Jacob Dodge as part of a 7-2 cushion through one round.
Dodge rallied briefly to creep to within a 7-5 deficit, but Bansch had an escape with time running out to go out in front by an 8-5 margin entering the final round. Early in the third, Bansch racked up a 3-point nearfall to swell his lead to 11-5, but then Dodge rebounded with four consecutive points to make it 11-9 with one minute and seven seconds left.
Bansch then pinned his ears back with an escape, a two-point takedown and a three-point nearfall to run the count to 17-9.
Dodge scored the final three points in his 17-12 decision loss.
"My plan was to try to keep the pressure on and keep him on the outside," Bansch said of his gritty match.
"I try to keep it move-to-move back like I did before. My front headlock worked well for me tonight. I was able to get the low single a few times. The cradle was one thing, I couldn't get him down on, but I think the most important part was for me to wrestle hard for all three rounds. That is what helped me win the match."
TDW hits the mats again for a critical CRC road dual starting at 6 p.m. next Wednesday versus Pendleton.