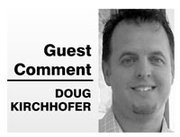 Over the last generation, it has been bothersome to many that our community falls relatively silent on Independence Day.
The one day of the year we should celebrate our country as a community instead is an annual reminder that our town of 14,000 is a town that can't or won't come together, while much smaller communities can repeatedly accomplish local festivals and fireworks displays.
The Dalles is host to the Oregon National Guard and home to the only veteran's long term care facility in the state, where many who defended this country spend their final days. Both venues offer stunning daytime views of silent streets and dark skies at dusk on a day meant to honor their service and celebrate our freedoms.
After nearly 30 years of silence (not one local under 30 I can find remembers celebrating a local Independence Day), I thought there must be a reason for the void. I approached the city and Mid-Columbia Fire and Rescue to attempt to uncover some ordinance or issue that would prevent a professional fireworks display. Nothing. In fact, the city does provide money in their budget for the purpose of generating commerce and tourism and offered guidance on who and what to ask.
So, is it simply a lack of interest from the community that has prevented Independence Day for an entire generation? I put feelers out via social media to gauge the community's interest.
Within a few days, The Dalles Chronicle came out to write an article about our effort. A few days following the article, an individual got in touch and offered a $7,500 donation once we raised the first $15,000. This accompanied multiple offers of various forms of support. Clearly there was support enough to begin the process.
I researched the best pyrotechnic companies in the nation, companies that design displays for the White House, Macy's, etc. I was surprised at their enthusiasm for our venue. After researching our location, they discovered that the river's width offers the ability to use the largest rockets in their inventory, a rare opportunity for smaller communities. To see the inventory involved for The Dalles' display in the Northwest, you'd have to travel to Seattle or the Tri-Cities. They all deemed the venue "regionally significant" for a fireworks display.
Our Fort Dalles Fourth committee chose Western Display Fireworks in Canby, a company with a strong relationship to our local Bernert Barge Lines on the port. Their quote came in 35 percent less than the more distant companies and they boast Fort Vancouver, Portland Blues Festival and Seattle SeaFair on their resume.
With our new dock, the addition of the Lewis and Clark Festival Park, the launch area being right next to the park, both 2014 and 2015 Fourths of July falling on weekends, and no municipal resistance, things were lining up quite nicely.
With exposure and momentum increasing, the objections began to roll in. "Do you have to go so big?" "I know of cheaper events.", "More money than brains?", "You are almost literally burning money."
All of these objections are somewhat tethered together and can be addressed in one long answer: Yes, we could go smaller and cheaper and yes, if we did so it would probably be a waste of money.
With the wide river allowing a large display in an intimate natural amphitheatre setting, this event can be a one-of-a-kind event in the Northwest.
Building family centered activities around it, we can create a festival able to generate commerce with dollars from outside of our community. Currently, our hotels fill up on events at Maryhill, Hood River and Rufus. While this helps us more than no activity (with the main benefit to hotels and gas stations), more dollars are left in the outlying areas.
Our Fort Dalles Fourth project would be one of the rarer local events that brings people to town and keeps them here for the entire day, benefiting our small businesses, nonprofits and even the city's tax revenue itself.
Researching some economic impact studies, I learned of a town in Texas under 20,000 population, with 30 restaurants, measuring the impact of a fireworks display for that industry. Their Chamber reported an increase in restaurant revenue at "conservatively 10 times greater" than the festival expense. Ten dollars received for every dollar spent on the festival. This didn't include stores, vendors, hotels, gas stations, small businesses, charities and activities built around the fireworks.
Is a fireworks display "almost literally burning money"? If a person comes to town leaving $10 to see $1 set on fire, please pass me a lighter and a single. As dusk sets in on the Fourth, let's take pride that The Dalles is a close community of Americans, not American'ts or won'ts.