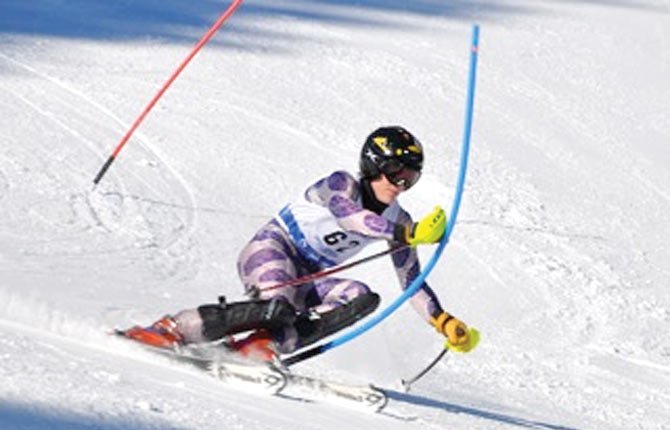 Eli Holeman put forth one of his best performances of the season, and Carsen Cordell slugged out another top-10 finish to lead The Dalles Wahtonka ski team to outcomes atop the leaderboard in varsity slalom action at Mount Hood Meadows on the Gemini Run.
Tribe coach Jeff Cordell likes the progression his group has shown thus far.
"It is a great group of kids," coach Cordell said. "This is probably one of the best groups that we have had here in a long time. They all support each other and they are working hard. Because of that, we are getting some good results. We are proud of them."
Under warm and sunny conditions on the mountain, coach Cordell said the snow pack was hard and the runs were in the shade throughout.
Carsen Cordell reeled off a pair of strong runs for her day, and foreign exchange student, Susanna Talenti contributed with a solid showing.
Another veteran, Bailey Cordell, was on her way to leading the team to a better finish with a stout opening attempt, but ran into a roadblock on her second try that added some precious seconds to her marks.
"Bailey had a good first run, but then went all out on her second run and was having the best run of her life when she straddled a gate, three gates from the finish," coach Cordell said. "She stopped and hiked and finished, but it cost her about 15 seconds. Too bad, but we are proud of her for charging at the course and having the maturity to stop and go back."
With the effort of the Cordell sisters along with Talenti, the Tribe girls wound up in third place, just seconds behind St. Mary's Academy, out of Portland.
As the season has gone on, Holeman looks like he is feeling a bit of a groove, posting two good runs to creep even closer to Hood River Valley standout Austin Keillor.
"Eli Holeman wowed the crowd with two blistering runs. He is skiing the best I have ever seen him," coach Cordell said.
Top freshman, Preston Klindt seized 10th place in the standings again, and Mark Johnson, a senior, had a top-10 finish to help the boys' output.
While Holeman is knocking on the door closer to Keillor, with Saturday's grind, Johnson is steadily running up the ranks of the Oregon Interscholastic Ski Racing Association.
"We had really good skiing from Mark," coach Cordell added. "He is getting really fast and he has made some good changes in his skiing and it's showing in the results."
With a core group of seniors and former state qualifiers, and young athletes who are cutting their teeth against some of the better performers, coach Cordell appears to be poised to reloading the roster once the seniors walk across the stage for graduation.
"It takes awhile to learn the sport. Every year, we are getting different kids maturing and learning to ski faster," Cordell said. "The freshmen are doing well, but it will take them a few years to start finishing competitively in this league. This year, we have Mark Johnson and Carsen, who are starting to really nail the courses. They are coming on very strong. Bailey came on strong last year and Eli always does a good job out here."
TDW hits the slopes again at 10 a.m. Saturday for a giant slalom event on Shooting Star Ridge.