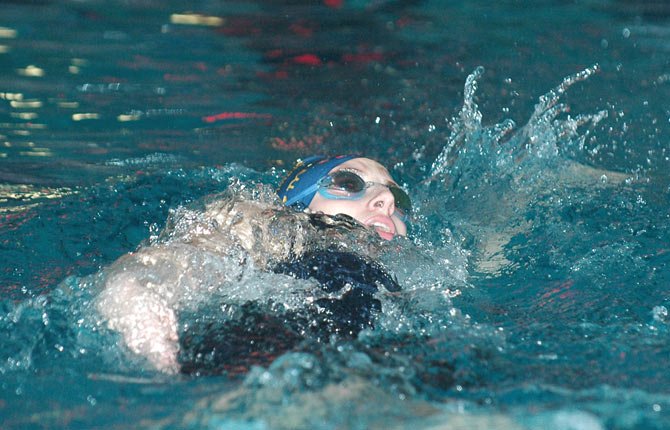 Allie Wood chalked up a 100-yard butterfly win, and The Dalles Wahtonka swim team amassed seven top-3 finishes in Saturday's La Grande Invitational Swim Meet at Veteran's Memorial Swimming Pool in La Grande.
While facing Columbia River Conference opponents Pendleton and Hermiston, along with La Grande and Baker, the Eagle Indian boys and girls notched third place in the standings.
"Overall, the swimmers didn't swim very good times, but there were several personal bests," said TDW swim coach Scott McKay.
Of the seven top-3 outcomes, the Eagle Indian girls had five of those performances, led by Wood's gold medal effort in the 100-yard butterfly.
She touched the wall in one minute and 12.37 seconds for top honors, and she tacked on second place in the 200-yard individual medley with a marker of 2:45.42.
"The times weren't that great, but she gutted out the finish in the 100-yard butterfly to take first place," McKay added.
Both Maya Hernandez and Emily Peterson both dropped times in their specialty events, the 100-yard breaststroke, with Hernandez having a mark of 1:32.45 and Peterson clocking in at 1:39.89.
They also dropped time in their other events, with Peterson stopping the watch in the 100-yard freestyle in 1:20.54, and Hernandez added a 32.90 in the 50-yard freestyle.
Lauren Thalhofer had a solid swimming effort in the 500-yard freestyle, one of the more difficult races, finishing third with a final tally of 6:55.48.
Thalhofer was fifth in the 200-yard freestyle with a time of 2:38.01, and Clear had a (1:04.19) and Hannah Weeks was good for a 1:18.22 in the 100-yard butterfly.
The girl's 200-yard freestyle relay squad of Bri Stavaas-Jamack, Hernandez, Wood and Annessa Clear finished second at 2:18.20.
For the boys, senior exchange student from Russia, Denis Kazakov, swam personal bests in both of his events, the 50-yard freestyle (29.91) and the 100-yard freestyle (1:12.81), and sophomore Max McClennan dropped two seconds in the 200-yard freestyle in 2:17.19.
The 200-yard medley relay team of Christian Benson, McClennan, Ming Ou and Kazakov matched forces for a 2:05.96 to garner second place.
Also in the relay, that quartet ended up in fourth place with a 1:47.67.
Ou grabbed fifth in the 24.40 for his try at 50-yard freestyle, and the senior stopped the watch in 1:03.24 for third in the 100-yard butterfly.

Benson scored fifth in the 100-yard backstroke (1:11.37), and he tallied a 1:11.10 in the 100-yard butterfly.
TDW has this weekend off after a cancellation of Saturday's Baker City Swim meet, but it will still be at work for an intra-squad event Friday afternoon in The Dalles.
"But we have two weeks of hard practices to see if we can find the edge at districts," McKay said.