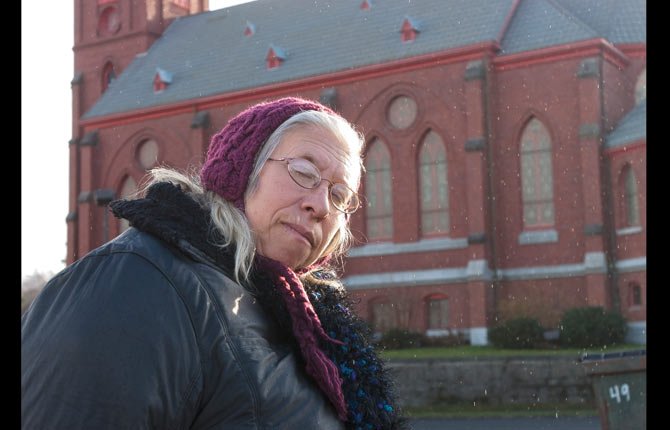 Tonight, most of us will be spending the evening indoors, sleeping in our beds, wrapped in layers of blankets to protect our fragile bodies from the winter chill.
According to the National Weather Service, it will be in the mid-forties for most of the day, but get down into the thirties overnight with a "chance of rain" throughout.
When you have to spend your nights outside, what's the difference between 30 degrees and 31 degrees with wind chill, or 35 degrees and 36 degrees when it's raining?
Ruth Rader, a blogger who's spent many years living "on the road" and facing the elements, says, "Not much."
However, at The Warming Place, housed in St. Vincent de Paul and run entirely by community volunteers, these 1-degree margins often mean the difference between Rader and other homeless individuals spending the night indoors, or sleeping out on the pavement in their sleeping bags.
"I just don't understand it," Rader said. "It makes no sense. It's wintertime; cold is cold."
With temperatures staying in the mid to upper thirties on Wednesday according to National Weather Service estimations, The Warming Place stayed closed.
After arriving in The Dalles three weeks before Christmas, Rader said she's taken shelter at The Warming Place almost every night it was open.
"I have absolutely no problem with The Warming Place itself," she said. "The amount of trust and kindness that goes into running it is amazing. The other day, I asked one of the volunteers why they go through all the trouble, and they just said it was 'the right thing to do.'"
On nights when The Warming Place isn't open, Rader said she and many others have nowhere else to go, or even a place where any of them have "the legal right to be."
"As far as I know," she said, "there's a 'no camping' order throughout The Dalles. And since I can't lock anything, I'm just a sitting duck out there for anyone who might want to mess with me. It's a situation where I'm putting myself in a place I have no business being."
Steve Schafroth, Chair of The Warming Place Committee, told The Chronicle that a portion of the difficulty centers on the fact that it's not an autonomous organization.
"Our decisions are always run by the St. Vincent de Paul board, and we are considered to be one of their programs. About four years ago, we had a really tough cold spell where it was down around 0 degrees for three weeks in a row. A number of people who worked for organizations like the Community Meal program saw the plight of folks, so we came up with a plan to try and help people stay warm. St. Vincent's had a space that wasn't being used during the night, so we did what we could to solve the problem and not have to go through the long process involved in starting an entirely new program."
At that point in time, Schafroth said, the cut-off was if the temperature dropped below 28 degrees.
When asked how the temperature standard had been decided, he said, "The question we asked ourselves at the beginning was at what temperature were people going to have a problem staying warm enough so as not to endanger their health. Over the years, we've made alterations to the requirements."
In 2013, The Warming Place Committee changed its "dry weather" cut-off temperature to 30 degrees. With rain or snow added into the mix, readings of 35 degrees and below mean the doors will also be open.
"We wish we could do more," Schafroth said. "The reality is that over the years, we've lost some volunteers and overall community support for the program has dwindled. This year, it's been a bit of a struggle just keeping the operation running, let alone trying to be more generous with how often we're open and under what conditions.
"The way it's being run right now," he said, "funding isn't so much of an issue. Our primary concern is having enough volunteers to keep the doors open. That being said, it's tough; there's no argument that it's cold out there. There may not be much of a difference between 30 degrees and 31 degrees, but you've got to have somewhere where you make a break and establish a standard. Otherwise, you end up with chaos and inconsistency."
According to The Warming Place logs, as of Jan. 19, 276 stays had been recorded, with an average of seven to nine people each night.
On a given Tuesday night, if National Weather Service forecasts temperatures below Warming Place standards, it's the committee's responsibility to have volunteers scheduled to be there.
The Warming Place is staffed by two people for 12 hours per night, from 7 p.m. to 7 a.m. Some organize their time in full-12-hour shifts, while others divide their time among four volunteers in six-hour shifts.
Each nightly group works a little bit differently and has its own coordinator.
"Technically, looking from the outside, someone could say we've got people to be there whether we're scheduled to be open or not," Schafroth said. "But the truth is that there's a big difference between a warming place and a shelter. We're all volunteers and almost everyone is already overworked. In order to continue operating, we have to have enough people to cover every night of the week, but some groups are pretty slim in numbers and may have already worked three weeks in a row."
When asked what she thought of the Warming Place's current practices, Rader said, "It's true we're not exactly mainstream members of the community, but we are all still human beings. And so I'm here, representing everybody, and I'm asking: How are we supposed to better ourselves if we don't have access to a warm, safe place to sleep at night?
"It's not a matter of being unable to appreciate what's already being done for us, because we do — we really do. The fact is it's just not the right fit for what's really needed, especially not at the coldest time of the year."
With a 40 percent chance of rain or snow this evening and a low of 30 degrees, The Warming Place should be open tonight, Jan. 30, for anyone wishing to come in out of the cold.