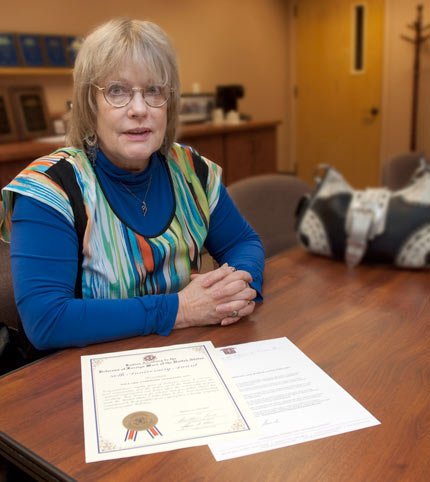 Veteran of Foreign Wars Post 2471 Auxiliary is still going strong after 80 years and president Vandee Mauser said the enduring strength of the organization lies in the consistent dedication of its members.
"They just impress me; they are working tirelessly to make life better for active duty military personnel, veterans, their families and our community," she said.
The auxiliary was commemorated earlier this month for its eighth decade of service by Armithea Borel, president of the national auxiliary, which is in its 100th year.
"Your concern for veterans and your fellow citizens has made the U.S. a better place to live," she wrote on a certificate that was presented to the local group.
The VFW is a congressionally chartered organization with 1.5 million members belonging to more than 7,600 posts. The auxiliary is the outreach arm of a post and Mauser, who is an Air Force veteran, said her team provides these services:
• An annual appreciation dinner for law enforcement and firefighters that will take place this year in March. Although the event has previously been held at the old armory on Webber Street, its location for this year has not yet been determined.
• The annual Veterans Day potluck on Nov. 11 and assistance to Mid-Columbia Veterans Memorial Committee with parade organization to commemorate those who have served in the armed forces.
• Partnership with the memorial committee and American Legion Post 19 for the ceremony each September to remember the 138,000 Americans imprisoned while serving in four wars and the 83,581 who remain missing.
• Assistance to the legion with the annual Memorial Day services in May to pay respects to the almost 700,000 soldiers, sailors, airmen and Marines who have died on foreign soil to keep their fellow countrymen safe.
Mauser serves as vice-president of the memorial committee and is District 5 first vice commander of the north for the legion. She said the strength of local veterans programs is that area organizations are united in their efforts, something not seen in many communities.
"I have great respect for these organization and all that they're involved with — they just make me proud," she said. "I think it just brings us closer to work for a common cause."
She said the combined efforts of the area organizations, along with government leaders, helped get the Wasco County Veterans Service Office moved to a more central location and providing more services.
"They have the best volunteers in the world there and are doing amazing things to help veterans," she said.
In addition to getting a lot accomplished each year, she said the auxiliary is comprised of people who just have a good time working together. They meet on the second Monday of each month at 6 p.m. and, in March, will begin gathering at the Oregon Veterans Home instead of the old armory.
To be a member, a person has to be tied to a veteran with military service overseas during an operation or conflict.
Mauser works closely in planning events and fundraisers with these auxiliary board members: Senior Vice-President Linn Sampson, Junior Vice-President Olivera Hall, Secretary Pat Lucas, Treasurer Lavern Gustafson,Chaplain Adreia Erwin, Conductress Carolyn Layson and Guard Wilma Townsend.
The auxiliary's programs are funded by donations and sales of the Buddy Poppies.
The red poppies denote blood shed on the battlefield and the VFW first started distributing them in 1922, the first national effort of its kind. The poppy has become the organization's memorial flower and is assembled by disabled and needy veterans, who are paid for their work.
Mauser said auxiliary members collect donations for the flowers around Memorial Day and other national observances. Proceeds are used on the dinners and other events planned by the auxiliary.
When spring rolls around, she said work will continue to place markers on the headstones of veterans at two Independent Order of Odd Fellows' cemeteries. She and Lucas undertook that endeavor last year to make it easier for Boy Scouts to spot the graves when posting flags.
Their goal is to have every veteran identified by Memorial Day 2014.
The key to sustainability, said Mauser, is for an organization to embrace new ideas and meet the needs of its community. For that reason, she invites people interested in joining "the best of all possible causes" to give her a call at 541-993-4300. Lucas can also be reached for more information at 541-298-3477 and Gustafson at 541-467-2991.