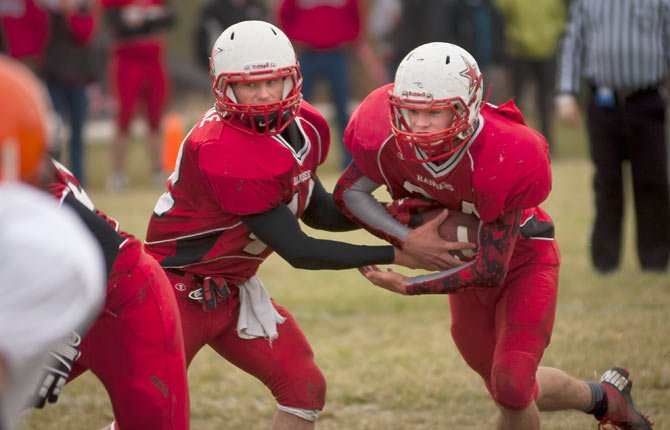 From the humble beginnings in spring ball to the hours of backbreaking diligence put into their craft in the dog days of August, the goal of a football player is to compete and excel at an elite level.
The Dufur Rangers did exactly that this past football season with countless accolades and accomplishments on the battlefield known as the gridiron.
Six Ranger football players had their names called to fill spots in the highest ranks of the all-state football team, three on the first team and three taking roles on both sides of the field.
"We are ecstatic about the number of student athletes that received all-state recognition," said Dufur head coach Jack Henderson. "Our kids work hard all year long to improve in the weight room and in our conditioning program."
Those to earn the distinction of being named for their exploits on both sides of the ball were stalwarts, Cole Parke, Jake Little and Austin Olson.
They were all first-team winners for their play on defense.
Parke etched his name on the state list for his play at defensive back, where he was a first-team recipient.
In addition, the two-time Big Sky Conference Player of the Year was selected as an honorable mention pick for his play quarterback.
In all, the senior carried the ball 93 times for 643 yards, and he completed 115 of 198 passes for 1,562 yards.
"Cole worked hard throughout his high school career to become a better football player," Henderson said. "His hard work paid off in becoming one of the top kids in the state this season. It was a luxury to have a kid that was, essentially, a four-year starter at quarterback. He will be tough to replace."
Another senior to shine brightly on the big stage was Olson, a bruising 6-foot-1 inch, 245-pound anchor on the lines.
Olson earned a spot for his play on the offensive line, this time as an honorable mention selection.
Defensively, Olson dominated in the trenches for a crew that allowed 19.8 points a contest, and he had dibs on a first-team award as a lineman.
"It feels good to go out there and know that people noticed how well I played. I think I did good throughout this season," Olson said. "It would have been nice to go further in the playoffs, but this is probably the next best thing."
Olson said he was humbled to carve his niche in a long line of Ranger football players from the past, who paved the road for him.
"Knowing the history of Dufur and how well they have done and the success that I have had here just makes me feel honored to be mentioned in that class," Olson added.
While both Parke and Olson hung up their jerseys one last time after a quarterfinals loss in mid-November, Jake Little is one upperclassman who will take the baton from the veterans next season in a more pronounced role.
Little had 52 catches for 715 yards and 12 touchdowns to garner a slot on the all-state second team.
The cornerback also added another second-team state berth for his shutdown abilities on defense.
"Jake led us in pass receptions and yardage, and really came into his own as a pass catcher," Henderson said. "He'll be a huge part of what we do next season."
In all, there was a trio of Dufur players as first-team honorees, but Nick Little is a player who will be bigger, faster and stronger for his senior campaign in 2014.
Although measuring at 5-foot-10 inches and tipping the scales at 155 pounds, when a ball carrier was hit by the hard-hitting linebacker, it stung.
"Nick was hobbled by injury for most of the 2013 season, but was still a dominant player on defense earning first team recognition," Henderson said. "When healthy, he was as good as any running back in the state. If Nick can say healthy, he should also be a candidate for statewide Player of the Year."
Trever Tibbets burst onto the scene this year for the Dufur football team, with most of his headlines garnered for his play at running back – the junior rushed 153 times for 1,320 yards, and he finished second on the team with 41 catches 653 yards and 15 touchdowns.
However, it was on defense where Tibbets struck fear with his knack for swarming to the football with an attitude.
The defensive end ended up being called to the stage as a second-team all-state representative.
"Trever was our most valuable player during several games this past season," Henderson said. "He led us in rushing during the second half of the season, and was tough as a receiver as well. If Trever focuses and prepares diligently for his senior year, he has the ability to be the state 1A Player of the Year."

While the offensive numbers put up by Parke, the Little brothers and Tibbets were a nice feather in their caps, much of that success relied on the blocking up front.
Olson was the glue at center, and flanking him was 5-11, 180-pound junior, Brent Sumner.
Sumner now becomes the big man in the trenches, and he can stake claim to an honorable mention selection for his stout play as a guard.
"Brent has improved as much as any player we have had at Dufur High School," Henderson said. "He has worked hard to develop himself, both physically and mentally, as a football player. Brent has the ability to be the best lineman in the state at our level during his senior season."
More impressive to Olson is the number of athletes Dufur has coming back for another go-around with sights set on claiming a state championship.
He will be cheering from afar, as the Little brothers, Tibbets and Sumner continue their varsity journeys.
"It makes us feel good that so many of us are here as all-state players," Olson said. "Cole and I are done, but all of those other kids have another year, some have two, so that means this team is going to be looking bright in the future. Next year, they will keep working hard and they are going to be even better."
Henderson summarized this season as successful on many fronts.
The team has won 19 games in the past two years and amassed an 11-0 league record in that span.
He still wants to develop more depth, so that injuries do not decimate those winning chances.
Working on a winning tradition involves a strict offseason regimen though.
"As always, we need to continue to focus on improving every day, in the weight room and conditioning, through spring practice and our summer conditioning program," Henderson concluded. "If our kids dedicate themselves to a great season, their dreams will come true in 2014."