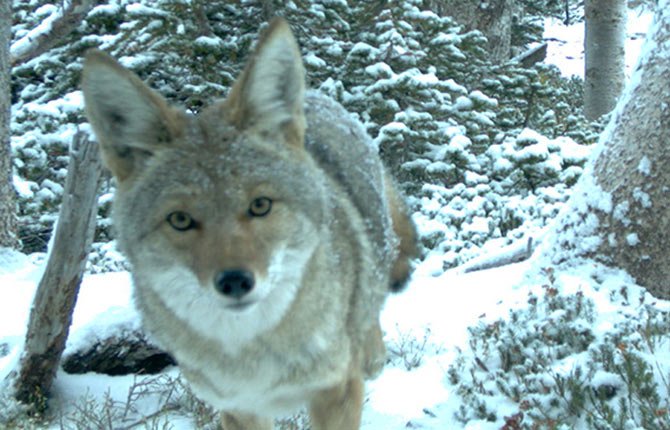 PORTLAND — Between Washington's Mount Adams and Highway 2 east of Seattle lies a swath of wilderness with little road access and lots of pristine habitat: a haven for rare, high-altitude predators.
Lynx and wolves have been reported within that region, and wolverines and Cascade red foxes have been documented, but little is known about any of their populations. This winter, with support from an Oregon Zoo Foundation Future for Wildlife grant, the Cascades Carnivore Project is attempting to reveal the secrets of these and other rarely seen predators in order to help them survive.
"Alpine ecosystems are extremely fragile, and we've seen dramatic species population declines just north of our study area," said Jocelyn Akins, Cascades Carnivore Project coordinator. "The goal of this project is to better understand carnivores' conservation status and their prospects for the future."
It's rare to actually see a predator just walking through the woods. So the survey — now in its fifth year — enlists ski- and snowshoe-clad volunteers to transect snowy fields in search of carnivore tracks. The idea is to follow those tracks to urine or scat, which can be analyzed to provide information about where the animal is from as well as genetic diversity and population size.
The project will also deploy an arsenal of baited stations to lure meat eaters into selfie-range. Motion-detecting cameras will snap identifying photos while snaggers collect hair tufts for genetic analysis.
Since 2008, Akins and her team have documented around a dozen carnivores, the most common being the American marten. They also camera-trapped a wolverine 13 times, but most photos appeared to be of a single individual. Last year, Akins' biggest surprise was on Mount Rainier, when the team discovered the den of a Cascade red fox — a subspecies that is extremely rare north of the study range. Scientists aren't sure why the fox is in decline, but one theory points to another predator, the coyote.
"Coyotes prey on fox, and fox are better adapted to deep snow than coyotes," Akins said. "There's some evidence that a warmer climate is both pushing coyotes to higher elevation and making it easier for them to outrun foxes when snow is scarce."
The survey team, which includes volunteer biologists and citizen scientists, hopes the data they collect will help guide conservation efforts and federal management decisions.
"When predators start disappearing, they can trigger a domino effect that can have an impact on an entire ecosystem," said David Shepherdson, deputy conservation director with the Oregon Zoo. "To understand how we can best protect carnivores, we need to know as much as we can about their populations."
Northwest residents interested in joining the Cascades Carnivore Project should be in good physical condition and willing to commit to multiple surveys throughout a season. To learn more, contact Jocelyn Akins at cascadescarnivore@gmail.com.
The Cascades Carnivore Project is supported by the Canid Diversity and Conservation Laboratory (Veterinary Genetics Laboratory, University of California at Davis), Gifford Pinchot and Okanagan-Wenatchee National Forests, Mazamas graduate research grant, The Mountaineers, Norcross Wildlife Foundation, Oregon Zoo Future for Wildlife Fund, WDFW Aquatic Lands Enhancement Account (ALEA) volunteer cooperative grant program, Washington's National Park Fund, and Washington Foundation for the Environment.
To learn more about the zoo's Future for Wildlife program and how to apply for grants, contact nadja.wielebnowski@oregonzoo.org or david.shepherdson@oregonzoo.org. To learn more about supporting the program, contact the Oregon Zoo Foundation at 503-220-2493.