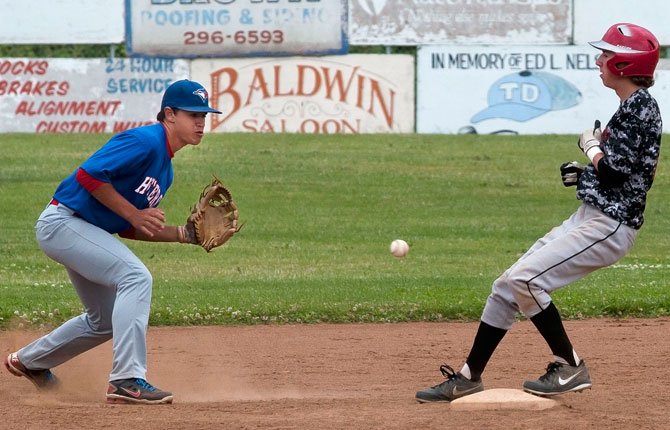 The Fort Dalles 'A' Hustlers salvaged a split in the friendly confines of Quinton Street Ballpark Sunday in a non-league doubleheader versus Milton Freewater in American Legion Baseball action in The Dalles.
In the opening contest, the Hustlers overcame a slow start and rallied late to take a lead, as Preston Klindt took the hill and slammed the door shut with two innings on scoreless, one-hit ball in a 9-6 win.
Kristian Lucas got the starting nod for head coach Matt Eby, and the right-hander responded with five innings of solid pitching.
After a four-run opening frame, Lucas got things back in order and allowed just two runs in the final six innings.
Offensively, Matt Strizich went 2 for 3 with three RBIs, and Cash Mathewson added two hits and two runs scored.
The steady offense that came out in droves in the first game, went away in a hurry in the nightcap, as Strizich, Ross Kohl and Lucas had the lone hits in a 10-2 setback.
The Hustlers hit the field once again for a doubleheader at 4 p.m. today versus Longview at R.A. Long High School.
Hustlers drop 34 in Prosser sweep
The Columbia Gorge 'AAA' Hustlers are ready to roll up their sleeves in preparation for the always tough Firecracker Tournament this week in Lake Oswego.
Saturday's impressive two-game sweep may have put this group in the right place at the right time for some good things.
In just 10 innings, the Hustlers rattled more than 25 hits and scored 34 runs in a sweep by scores of 18-2 and 16-6 over Prosser, Wash. in American Legion baseball play in Washington.
Clay Copper was swinging his hot bat early on in this matchup, as he went 3 for 3 with two doubles, three runs and a season-high six RBIs.
Nolan McCall tacked on a 3 for 4 split with three RBIs and four runs, and Austin Wilson notched two hits and an RBI to lead the Hustlers' 11-hit attack.
Connor Olsen got the winning nod as the pitcher, as he tossed two innings of four-hit ball with three strikeouts and four walks. The right-hander out of Hood River gave up four hits and four earned runs.
Blessed with a full head of steam, the Hustlers maintained their edge in the nightcap, with Colton Walker picking up a three-inning no-hitter with two strikeouts in a five-inning, 16-6 mercy-ruled win.
Walker struck out two and walked three, and his offense chipped in 16 hits.
Zachary Keimig went 3 for 4 with three runs and four RBIs, Dakota Walker added a 2 for 2 split with three runs and two RBIs, and McCall kicked in two hits, two walks and three runs scored.
The two wins give the Hustlers a 6-3 record thus far in the early season.
Hustler coach J.R. Runyon is looking forward to seeing how his group stacks up this weekend in Lake Oswego.
"This tournament will be a good chance for our guys to face a lot of different teams in a well-run, competitive tournament," the coach said. "We look forward to the challenge of tournament play and will take the next couple of days of practice to focus on some areas we need to improve and try to make a run at winning the tournament."