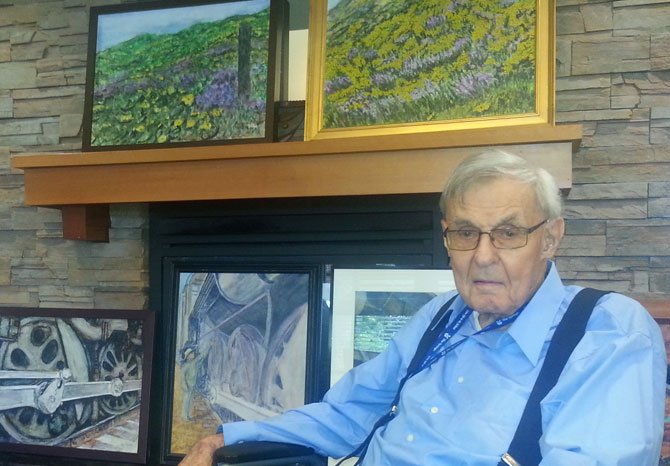 Retired Wasco County Extension Agent Ed Bonham may have left his working life behind, but he's keeping his paintbrush close at hand.
The veteran watercolor artist, 90, held a show June 27 at The Springs at Mill Creek, where he has been a resident since 2008. He was regularly featured at The Dalles Art Center and at one time had an annual show at Maryhill Museum of Art.
"When I was a child in the second or third grade, I went to a school that had music and art and gym teachers," Bonham said, explaining his earliest interest in art. "That was amazing, given this was the 1930s."
Bonham was an only child, which is why he said the activity suited him well.
"I had a lot of time to diddle around," he said.
However, after childhood he put down his brushes until the early 1970s.
He credits Dan Merris for encouraging him to pick them up again. He and Merris attended a watercolor class together.
Bonham works from photographs that he's taken. He brings them home and may modify them to suit his artistic plans before printing them as a reference from which to paint. He starts with an underpainting, then decides where to go from there.
"Once you get the underpainting done, it's like painting by numbers," he said.
These days, Bonham says he paints whenever he gets the urge.
"I'm not disciplined," he said. "I get a bit of an idea and I wonder if I can do it and go from there."
Bonham said he can't imagine ever giving up painting.
"It's how we see our world."