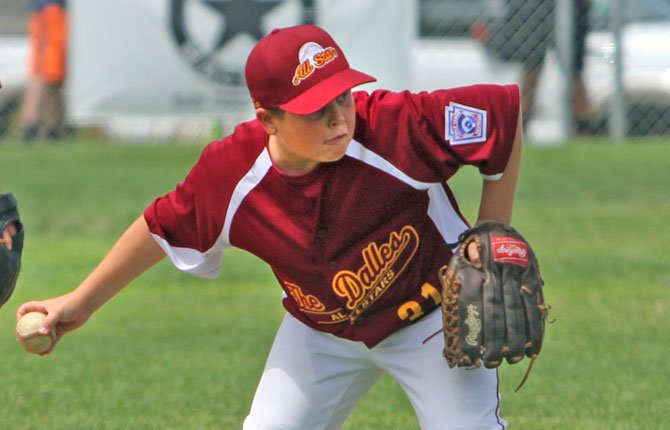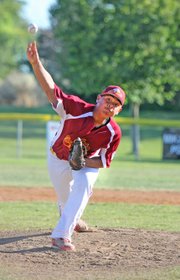 The Dalles' 11 to 12-year- old All-Stars moved one step closer to earning a state berth after dropping an 11-1 mercy-rule victory over Jefferson County Monday in District 5 Little League Baseball All-Star Tournament action in Hermiston.
With the lopsided win, TD advances to the semifinals for a tough matchup with Bend North at 6:15 p.m. Wednesday.
If they can win two more games, they can extend the season for state tournament play starting on July 18 in Portland.
In Monday's tilt, The Dalles scored early and often with three runs in the first frame and four more in the second to jump ahead by a 7-0 count.
After rallying for three runs on two hits in the opening stanza, The Dalles continued its hot hitting pace in the second inning.
With the bases loaded and no outs, Kurtis Billette rifled a two-run ground-rule double to center to chase in Sam Thalhofer and Steven Preston and make it a 5-0 cushion.
One out later, Dominic Smith capped the rally with a ground-rule double to centerfield to bring in Ben Nelson and Billette to swell the lead to 7-0.
TD scratched across single runs in the third and fourth innings, before putting the mercy rule in place with a two-run spurt in the fifth frame to make it an 11-1 lead.
Smith shut down Jefferson County in the bottom of the fifth, two on strikeouts, to seal the TD win.
"The only cool down we had was when the sprinklers came on during warm-ups and doused us," coach Abbas said after Monday's win. "After that, the boys were red hot. The boys controlled the game from the first pitch to the last pitch." Getting to this semifinals point has been a tough ordeal for The Dalles, which inched past Bend South by a 10-7 margin Saturday and came back from a late deficit for a 4-3 triumph Sunday over Crook County.
In Sunday's barnburner, The Dalles fell behind 3-2 entering the top of the sixth inning, so they were down to their last three outs.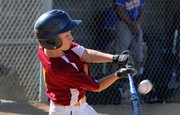 Josh Johnson kicked off the rally by reaching on an error. With Mac Abbas at the dish, Johnson scooted to second base on a wild pitch to put the tying run in scoring position.
Abbas eventually reached safely on a walk to put two on for Sam Thalhofer.
With the crowd silent in anticipation, Thalhofer delivered a deep line drive to right centerfield for a two-run double to plate both Johnson and Abbas to make it a 4-3 contest.
Up by a run in the bottom of the sixth inning, TD skipper Joe Abbas sent out reliever Ben Nelson to try and stamp out the save for Caden Mathisen.
Nelson retired the first batter on a strikeout, but then an infield single opened the door slightly for Crook County.
With the tying run at first, Nelson settled in and fanned the next batter to make it two outs and the tying run on base.
The next CC batter hit a grounder to third baseman Dalles Seufalemua, who got his feet formed and fired to Mathisen at first base for the final putout and a one-run triumph.
"The boys showed great heart with getting on the board late in the game, losing the lead, and retaking it at the final at bat," said coach Abbas. "All the kids came through in the clutch with their backs against the wall. This game built character and made this team better ball players, better young men and closer teammates. I am so proud of each one of them."
In Saturday's opener, The Dalles used a five-run second inning and added a four-run fifth to break things open early by a 9-0 margin, but Bend South chipped away using a six-run sixth frame and put the winning run at the plate.
With the bases loaded and two outs, Nelson recorded the final after inducing a game-ending grounder to Billette, who made the unassisted tag for the last out.
"Kids played well. Threw six pitchers against Bend South and kept them off balance at the plate very well," coach Abbas said. "Hitting was good and we ran the bases extremely well as a team. We played smart baseball all the way around. I was most pleased with our infield play, as we turned two double plays to keep them shut down for most of the game. We have some things to work on to get better for today, but felt good knocking off a powerhouse program like Bend South."
Staked to a five-run lead in the top of the fifth, The Dalles flexed its muscles with a four-run outburst.
Mathisen singled and then Smith followed with an RBI double to right.
Seufalemua was then issued an intentional pass to put runners on first and second for Johnson.
Johnson rifled a hard shot down the third base line for a two-run double to swell the advantage to 8-0.
Nelson capped the rally with a bases loaded walk to run the count out to 9-0.
With the score 9-1, Mac Abbas drove in Mathisen on an RBI sacrifice fly to make it a 10-1 score.
In the home half of the sixth, Bend South scored six runs on three hits, four walks and an error, but left the bases loaded.
Young 9-10 bracket heats up
After suffering a 14-3 mercy-ruled loss Monday to John Day River, Coach Allen Beeks' 9 to 10-year-old The Dalles All-Stars will need to re-establish some momentum in the consolation rounds of the District 5 playoff if they intend on chalking up a state berth starting July 18 in Bend.
In Monday's contest, John Day River, which consists of athletes hailing from Heppner, Ione, Arlington, Condon, Maupin and Dufur, used a combined nine strikeouts from pitchers Kaleb Pence and Arlington's Jace Troutman to hold off The Dalles' bats.
While that pitching tandem did top work on the bump, the JDR offense came through with Derek Devin notching two hits and three runs scored, and both Braden Carnine, from Condon, and Troutman chipping in with two hits and two runs each.
With the loss, TD hit the field earlier today looking to keep their season alive.
John Day River appears to be a team on a mission in the 9-10 class, as it has posted back-to-back blowout wins.
Saturday, this group manhandled Hermiston in a 13-3 fashion to start district play on a good note.
The team was led by pitcher Bubby Tate, out of Arlington, who, on his birthday, Tossed four sterling innings and finished the game with nine strikeouts.
Offensively, Pence, of Dufur, had three hits and seven RBIs to lead the team in hitting. Carnine had two hits and scored three runs.
JDR (2-0) will face Bend South at 6:15 p.m. on Wednesday night at the Hermiston Field of Dreams Little League Field.
No. 10 Rangers win 8th straight
Just as tough as the 11 to 12 and 9 to 10 brackets are, the 10 to 11 classification figures to be a dogfight down the stretch, as the first two days proved to be nail-biting central.
This group, coached by Greg Cummings, fought tooth and nail through six grueling frames, but came out on the short end, 8-6, in an opening round setback to Bend South Saturday in Hermiston.
"Tough loss, but on the bright side, the boys never gave up," Cummings said. "The experience for the boys has been eye opening."
With a day off Sunday to restore order, Cummings had a full deck of six pitchers at his disposal against Hood River.
However, the boys in blue built a large 5-1 lead through the first five innings, but The Dalles jumped off the deck with five runs in the sixth inning to pull off the 7-6 triumph over the cross-town rivals.
TD was playing today looking to keep their season alive. A win, and they hit the diamond again at 12:30 p.m. Wednesday.
Updated brackets and scores from all of the games can be found at www.hermistonlittleleague.com.