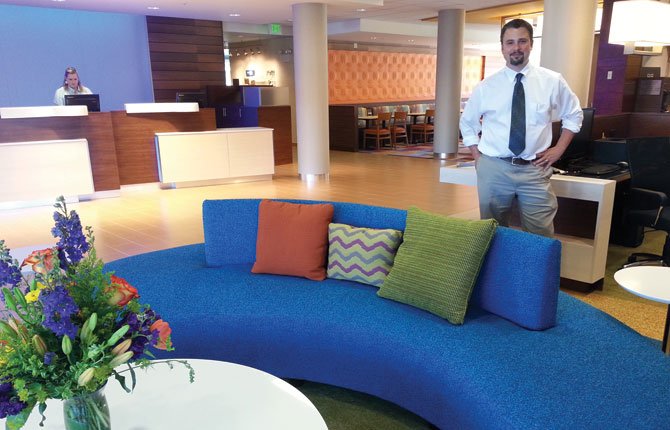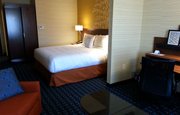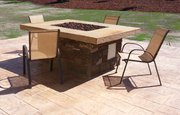 After a year of construction, The Dalles' new Fairfield Inn & Suites opened to the public Monday and already has guests in some of its rooms.
The new motel employs 27 local people, mostly full-time, said Troy Crowe, general manager of the property.
Walking through the front door the visitor finds a burst of color and clean, contemporary design inside.
"This is our Generation 4 model of Fairfield Inn & Suites," said Crowe, who estimates there are between 16 and 30 Fairfield Inns in the country with this design and none in Oregon. "It's the newest generation with a really modern and open design."
The lobby area also encompasses a 24-hour business center where guests can take care of their office needs like printing documents. The dining room is also adjacent to the lobby, where hot breakfasts with sausage, eggs and waffles are served daily.
"The farm tables are the big thing," Crowe said of the communal table, which has outlets that allow guests to plug in their computer devices.
Beyond the dining room is an outdoor patio where a lawn is just getting started, part of the landscaping installed by FLI of The Dalles. Guests can enjoy a relaxing evening with a glass of beer or wine purchased from the Corner Market, near the front desk, take breakfast outside or enjoy the fire pit, the patio's central feature.
The Fairfield Inn also has a meeting room that can seat about 65 and hold around 100 for standing events. It also has some relaxation and fitness amenities, including an indoor saline pool and a workout room with free weights, a bench and aerobic machines.
The room also has amenities like a projector for meeting uses.
"Our goal is to make this accessible to the community, where they can come in and it will be reasonably priced," Crowe said.
The Fairfield Inn has a total of 80 rooms and suites.
"We have 23 one-bedroom suites," Crowe said. "The rest are standard studios."
All are outfitted with a microwave and refrigerator, aimed at convenience for business travelers. The suites include a bathroom with a double walk-in shower, while the studios have a bath-shower combination. Five rooms are pet-friendly. All are non-smoking.
Fifteen lodgers were booked in the first night, after only one day on the Fairfield Inn & Suites website. A few weekends are already completely booked, like the Aug. 2 weekend of the Styx-Foreigner concert at Maryhill Winery, Crowe said.
While Fairfield Inn & Suites is a Marriott brand, this lodging is owned by the same Cannon Beach company that owns Cousins Country Inn.
"It's a huge benefit to us to have Cousins Restaurant so close," Crowe said. "In most cases with Marriott we have to recommend another Marriott, but since there is no other Marriott in the area, we are free to be able to work back and forth with Cousins."
Fairfield also emphasizes community involvement, supporting Habitat for Humanity corporate-wide.
"After we get our feet on the ground, we'll get involved on the local level," Crowe said.
The Fairfield Inn & Suites is located at 2014 W. Seventh St. Learn more online at www.fairfield
thedalles.com or call 541-769-0753.