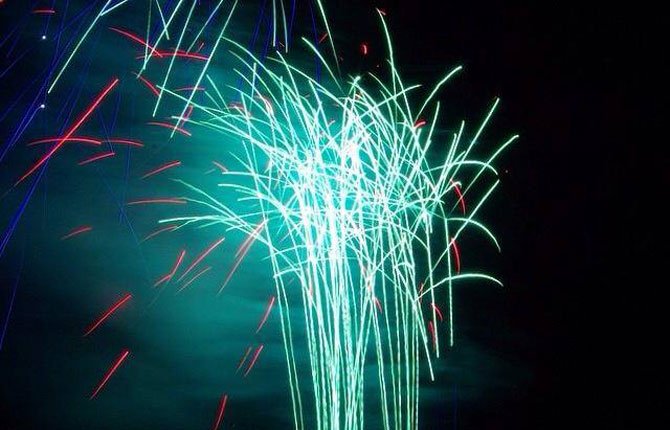 Friday night around 10 p.m., no matter where you are, be sure your eyes are turned to The Dalles riverfront.
After a long absence, fireworks are returning to town in a big way as the grand event of the day-long Fort Dalles Fourth celebration.
"Basically, you'll see a pyromusical where the fireworks are choreographed specifically to a musical soundtrack prepared by the folks in The Dalles," explained Heather Gobet of Western Display Fireworks Ltd., which is putting together the show.
Gobet is the fourth of five generations who have operated the Canby fireworks company since 1948.
The main watching site for the fireworks will be the Lewis and Clark Festival Park downtown on First and Union streets, where the music will be broadcast along with the pyrotechnics. But viewers all over town (and Dallesport) can enjoy the music wherever they watch by tuning in to local radio stations.
The display will be special in a couple of ways, Gobet noted.
"First of all, the community got behind this event in such a way where your display will be one of the largest throughout the Pacific Northwest," she said. "It will rival big shows in the Puget Sound like Tacoma and Everett. Second is the sheer magnitude. In your location, we'll have the ability to shoot up the largest shells we carry, 10 inches in diameter that go up 1,000 feet and are 1,000 feet across."
Gobet said they are the same fireworks used in international competitions around the world and will be shot off from the surface of a barge.
"When we do them off a barge, it allows us to do a display in in a major metro area and still have it a safe distance from the crowd," she said. "Most of the large shows are done off barges."
The display will feature shells ranging from three to 10 inches.
"At every level, different things are happening," Gobet said.
Western Display does fireworks displays all around the Pacific Northwest including Seattle's Lake Union, Fort Vancouver and the Portland Blues Festival.
"Just about every marquee event."
The magnitude is significant for this population area, Gobet said.
"I'm really impressed with how your community has pulled together to organize this event and, really from scatch, generate something that's a significant fireworks event for Oregon, Washington and Idaho."
The display will have a little something extra thanks to a Facebook campaign. Fort Dalles Fourth rallied more than 2,000 likes for its page and in response Western Display agreed to add a bonus $2,000 worth of fireworks to the display.