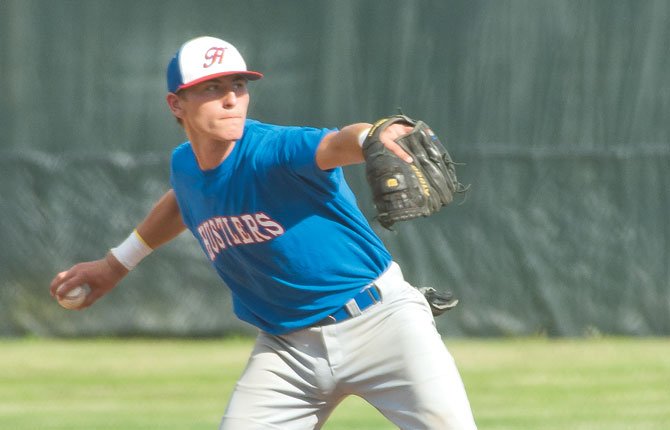 After salvaging a home split against a tough Milton-Freewater baseball team, the Fort Dalles 'A' Hustlers were fit to be tied Tuesday in taking a pair of road losses against Longview, Wash. in American Legion baseball action at R.A. Long High School in Washington.
In the opening matchup, the Hustlers rattled off 13 hits and staged a big rally with a five-run fifth inning, but could not creep close enough in suffering a 13-8 loss.
With the offense putting out one of its best performances of the season, Dylan DesRochers paced the offense with a 2 for 3 effort.
Johnny Miller added a pair of hits, Matt Strizich tallied a 2 for 3 split and infield slugger Tyler Westin went 3 for 4.
Looking to rebound in a major way in Game 2, the Hustlers managed six on eight hits, but could not contain the Longview barrage in taking a 10-6 loss for the sweep.
Two players carried the Hustler bats in the nightcap, as DesRochers kept up his hot ways from the plate with a solid 2 for 2 output with two RBIs.
Catcher and Sherman High School all-leaguer, Wyatt Stutzman, tacked on a perfect 2 for 2 stretch from the dish.
In a short relief role, right-handed reliever and The Dalles pitcher, Colton Walker, faced six Longview batters and struck out three.
The Hustlers have the next few days off before hitting the diamond once again for a doubleheader starting at 1 p.m. Saturday at Quinton Street Ballpark on Bob Williams Field versus Redmond.
At 5 p.m. Tuesday, July 8 in The Dalles, Hood River makes a visit.