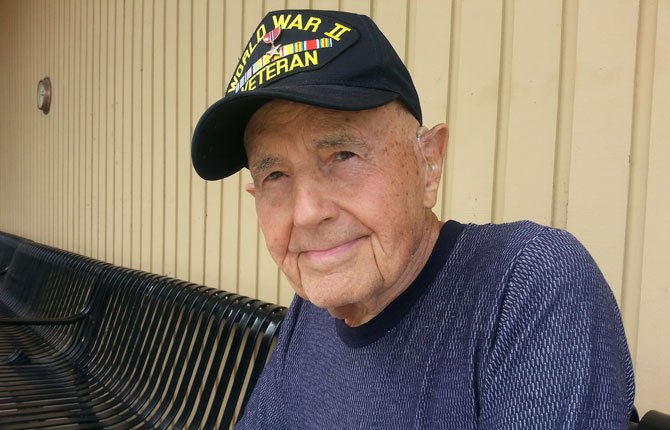 World War II Army veteran Dick Lovett, 90, a resident at the Oregon Veterans' Home, will lead the Fort Dalles Fourth parade this year as grand marshal.
The parade kicks off at 10 a.m. Friday, July 4, along the usual parade route through The Dalles.
A machine gunner, Lovett attained the rank of staff sergeant with the 182nd Infantry, leading a 32-member platoon. He served in New Caledonia, Hebrides, Guadalcanal and Leyte. He served in active duty for three years during the war and six years with the National Guard.
He is a Silver Star and Bronze Star recipient, the latter awarded 18 years after his service, and earned the nickname "The Survivor" after a particularly deadly engagement.
"It was a mass attack on a bunch of the enemy," Lovett said, "and the enemy started shooting machine guns at us. The guys to the left of me and the guys to the right of me were all killed, but nothing hit me. I always thought God helped me, because I prayed every night."
He had bullets and shrapnel rip through his fatigues, yet never received a physical wound in combat. Even his captain thought God might have special plans for him, Lovett said. "I should have been killed half a dozen times."
One time, he went missing for a period of time and his neighborhood in Highland Park, Calif., actually posted his name on a memorial wall.
"This was a man with great respect for fallen comrades," wrote Doug Kirchhofer, Fort Dalles Fourth coordinator, after Lovett was selected grand marshal. Lovett risked his life to assure the fallen were in a position of repose before rigor mortise set in.
Lovett said he struggled after his return to civilian life, haunted by fallen comrades and enemies alike. He credits his wife of 55 years with setting him on a better path. They were childhood sweethearts who attended church together every Sunday as children.
"We got engaged to get married when we were old enough," Lovett said.
But Lovett went to war and his future wife became a wartime nurse and they lost track of one another for several years.
"I was a wreck when I got back from the war," he said.
Despite a rocky first reunion, she helped him find a better path and the two were married. He also attended college for a time, then used the GI Bill to become trained as a mechanic. He worked at that trade in Albany throughout his career.
"She was a wonderful woman," Lovett said of his wife, who died a few years ago of diabetes after 55 years of marriage. She was known in Albany for putting on large Independence Day celebrations.
His daughter also recently died of cancer, so the Oregon Veterans' Home has become Lovett's family.
"It's a wonderful place," he said.