Remember these two things: play hard and have fun.
— Tony Gwynn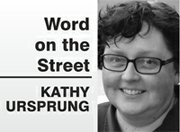 Getting dirty: Anyone who ever felt the irresistible magnetic attraction between a dirt pile and a small, yellow dumptruck will get a chuckle out of what's to be found on the lot at Ray Schultens Motors this week.
It's a bright yellow Tonka package Ford Truck, featuring factory lift, special wheels and cool hood scoops. Get a glimpse at the Fort Dalles Fourth parade Friday at 10 a.m. Passing by the lot this morning, I just had to snap this picture. It brought me back to days when I was much lower to the ground and had perpetually muddy knees in my play clothes.
One thing is certain about whoever buys this truck: They're going to need a bigger dirt pile.
New at Flagstone: Sherry DuFault is the new community relations director at Flagstone Senior Living.
DuFault grew up in the Dalles and says she was drawn back to her hometown by the natural beauty, pace and genuine people who live here.
"Coming home I wanted to make a difference with this community I love so much and have been blessed to find Flagstone, a community within a community; a place to touch people's lives and make a difference," DuFault wrote. "Flagstone's residents and employees already feel like my family."
Her job is to reach out to the community and partner with people to find the right solution for them "where they wish to enjoy life without the worries of home maintenance and with the luxury of someone to cook, clean and mow the lawn for them."
Surprising sunshine: In a world where Oregon is known for perpetually gray skies and duck-footed natives, USA Today clued the rest of the country in on something we've known for a long time: Oregon has sunshine, too.
Travel reporter Lucas Bernhardt pointed that out in a June 28 article, "Escape Oregon's rain shadow for fun in the sun," steering tourists to some of local places even natives should revisit. It's illustrated with a hunger-inducing picture of a sampler plate from ANZAC Tea Parlor in The Dalles and fly fishing in Maupin, as well as images of Multnomah Falls and Beacon Rock.
The author clearly made a weekend, or at least a day of it in Wasco County, getting on the historic highway at Mosier, stopping at the Sunshine Mill and the Imperial River Company in Maupin, before heading down to the Bend area.
On the return trip, Bernhardt got off the beaten path at Dufur, taking the Dufur Mill Road as the start of a loop around the south side of Mount Hood.
Get a new appreciation of your own backyard by checking out Bernhardt's story online at http://usat.ly/1jJEXcw.
Beware the heat: Never mind the sunshine, we've had a taste of the trademark Columbia Gorge heat this week, and even some of its less familiar humidity. If you're working outside that means taking some extra precautions.
Landscaping, construction and agriculture (all in full swing around here) are some of the outdoor jobs that can expose workers to dangerously high heat. Labor-intensive activities in hot weather can raise body temperatures beyond the level that normally can be cooled by sweating and may lead to heat exhaustion or heat stroke, according to Oregon OSHA, a division of the Department of Consumer and Business Services.
Learn the signs of heat illness and take precautions. A person overcome with heat exhaustion will still sweat but may experience extreme fatigue, nausea, lightheadedness or headache. The person could have clammy and moist skin, a pale complexion, and normal or slightly elevated body temperature. Without prompt treatment, exhaustion could progress to heat stroke and even death.
"Water, rest and shade are the three things to remember," said Penny Wolf-McCormick of OSHA.
To help those suffering from heat exhaustion:
• Move them to a cool, shaded area. Don't leave them alone.
• Loosen and remove heavy clothing.
• Provide cool water to drink (a small cup every 15 minutes) if they are not sick to their stomaches.
• Try to cool them by fanning. Cool the skin with a spray mist of cold water or a wet cloth.
• If they don't feel better in a few minutes, call 911 for emergency help.