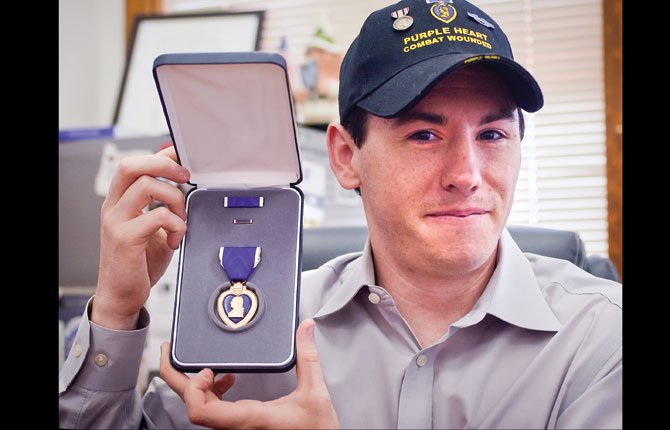 History of oldest medal
The Purple Heart is the oldest military decoration still given to U.S. troops and has been awarded to almost 2 million soldiers, sailors, airmen and Marines since 1932.
To qualify for the medal, the service man or woman must have been wounded or killed in action against enemy forces.
The original Purple Heart was established by George Washington, then commander-in-chief of the Continental Army, in 1782 and called the Badge of Military Merit.
After being awarded to three Revolutionary War soldiers, the award of the medal was not proposed again until after World War I.
In 1931, the badge was reworked into a new design that features a purple heart that is slightly under 2 inches wide and bordered with gold.
Within the heart is a profile of Washington and, above and between sprays of green leaves, is a replica of the Washington Coat of Arms, which is a white shield with two red bars and three red stars at the top.
A raised Bronze heart with "For Military Merit" is engraved below the coat of arms and leaves on the reverse side.
The new design became official when the medal was revived on the 200th Anniversary of Washington's birth, Feb. 22. 1932, to honor his many military achievements.
The first Purple Heart was awarded to Army Gen. Douglas MacArthur, who was chief of staff in the Army during the 1930s and played a prominent role in the Pacific Theater during World War II.
Although the Purple Heart was initially handed out for wounds sustained in battle and meritorious performance of duty, the latter was discontinued by the end of 1942.
The Department of Defense estimated in 2010 that 320,518 of the medals had been awarded to troops in World War I, 1,076,425 in World War II, 118,650 in Korea, 351,794 in Vietnam and 607 in the Persian Gulf War. Veterans in Iraq earned 7,027 and 35,321 have been given out, to date, in the Afghanistan war, which is still underway.
An Iraq combat veteran is forming Chapter 832 of the Military Order of the Purple Heart to bring local wounded warriors together for support and community outreach.
"I am trying to track down other veterans who have received this medal for being injured in some capacity from enemy action," said Patrick Wilbern, a staff sergeant in the Oregon National Guard and an employee at the Wasco County Veter-ans' Service Office.
Wilbern received his Purple Heart for traumatic brain and back injuries sustained when an improvised explosive device detonated under the vehicle he was traveling in while providing convoy security in Iraq.
He had deployed with Alpha Company soldiers from The Dalles in 2010-11, who were assigned to the 3rd Battalion 116th Brigade Combat Team as part of Oregon New Dawn.
"It doesn't matter what period of warfare you are from, these wounds are something we all have in common," he said. "I would like to see us come together, not only to support each other, but to pick out some things to do that would make a difference for other veterans and their families."
Although he doesn't know exactly how many Purple Heart recipients live in the county, Wilbern believes there are many veterans who have earned the old military award.
"There are 3,000 veterans in this county so there have to be a lot more of us," he said.
"It isn't that having this recognition makes you 'elite,' it just garners respect and I think that will allow us to get some good things done within this community and beyond."
There are several good reasons to form a local chapter of the Order, he said, including the fact that attorneys are available to provide veterans with legal advice and help them fight for benefits and compensation.
The Order maintains a constant presence in Washington, D.C., to address concerns of veterans on numerous legislative issues.
In addition, the Order also operates the largest volunteer system in the federal government.
The Veterans Affairs Volunteer Service supplements resources for the care treatment and welfare of military personnel.
Not only are hygiene items provided to veterans in state-operated homes or those who are homebound, but clothing is purchased and outings provided to sporting events and other activities.
In 2012, the Order logged more than 138,950 hours at over 100 sites in 2012, which is estimated to have saved the U.S. Veterans Administration from having to hire 68 full-time employees and expend $3 million in salaries and benefits.
Each year about $7 million of the nonprofit group's $9.75 million budget goes to its service programs, which include partnering with the VA, U.S. Department of Labor and U.S. Small Business Administration to host state and federal job fairs.
In addition, the Order provides material and volunteers to visit school classrooms and civic organizations to promote patriotism.
During Americanism lessons, members of the Order tell of their experiences in the armed forces, providing historical perspective to world events.
In 2012, the Order awarded 83 scholarships, valued at more than $250,000, to Purple Heart members and their families, some of whom had lost their warrior in battle.
The headquarters of the Order is in Springfield, Va., and there are about 45,000 total members around the world.
"I think getting something like this going in The Dalles is going to help us, as veterans, be able to take what happened in combat and put it to work for the greater good," said Wilbern.
He can be reached for more information at 541-506-2502 or via email at patrickw@co.wasco.or.us.
Wilbern can also be found weekdays in the 201 Federal Street office.