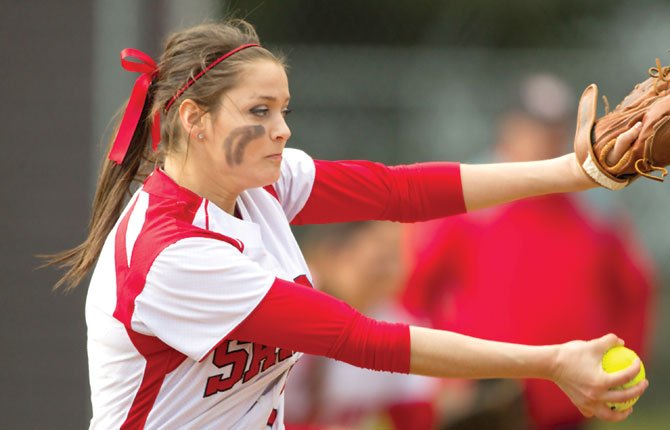 It's difficult to imagine how an athlete could match or surpass All-American status, but The Dalles Wahtonka High graduate Ann Marie Guischer did just that in her final season at Mount Hood Community College.
Guischer claimed first-team all-Northwest Athletic Association of Community Colleges status, nearly doubled her win total and was one of the major cogs in leading the Saints to their fourth softball championship in program history.
"I am so happy with what I have been able to do here at Mount Hood. So proud to be a part of this team," Guischer said in an earlier interview.
This season, Guischer went 17-1 with a 1.92 earned run average. The right-hander struck out 143 batters in 98 innings pitched.
She allowed 71 hits, walked 62, had four shutouts and opponents hit less than .100 in her 25 games pitched this season.
Just a season ago, in her freshman campaign, Guischer finished second in the league in ERA (1.47) and fifth in strikeouts (132) while tossing seven complete games and tallying a 10-4 mark over 86 innings of effort.
Not a bad showing for an athlete who was a late addition to the roster in 2013.
"I really enjoyed coaching Ann Marie for the person that she is," said Mount Hood manager Meadow McWhorter. "She's a very kind, caring teammate, very selfless, a hard worker and a competitor. She always wants to get better. Having both her and Kristin Crawford, from Pendleton, was a once-in-a-lifetime community college experience."
Guischer came through in some clutch situations for the Saints, she said.
"There was a moment this year when we were at Clackamas for a doubleheader," McWhorter said. "We knew we needed to win at least one game. We were in game one of the doubleheader. We had started with Kristen, then we brought Ann Marie in. We were in the bottom of the seventh, headed into extra innings with the bases loaded when I put Ann Marie in. There were no outs and if Clackamas scored it was going to be over. For a pitcher, it was an extreme-pressure situation."
Despite a full count battle with one hitter of 10-plus pitches, Guischer held her ground and kept Clackamas scoreless to close out the inning.
"I really saw her grow," McWhorter said. "That's a position not many pitchers can be successful in. It was a defining moment really rose and shine."
Guischer came through again in the last doubleheader of the season, again facing Clackamas, with the two teams tied for first place in the Southern Region.
The Saints needed only one win of the two to stand alone in first place. Crawford, the team's other pitcher, was hurt.
"Ann Marie knew we didn't have any other options," McWhorter said. "She had to through a full seven innings in order for us to secure the win. She did excellent. Not once did she falter. She put the team on her back and carried them."
McWhorter said that continuing her softball career at Oregon Institute of Technology will be a good move for Guischer.
"She'll have an opportunity to win a national title there, which is huge."
At OIT, Guischer will have all of her schooling paid for in addition to a third year, along with money for living expenses.
She plans to pursue a major in radiology.
Prior to her collegiate career, in three seasons at The Dalles-Wahtonka High School, Guischer led her teams to three semifinal appearances in the 5A State Championships, while earning second-team all-conference honors in her sophomore and junior seasons.

As a senior, Guischer was a first-team all-league recipient and added Columbia River Conference Pitcher of the Year honors. She capped her prep career with a spot on the 5A first-team all-state list.

Oregon Tech head softball coach Greg Stewart is happy to get a thoroughbred to trot out to the circle whenever the situation gets tough.
Guischer is battle tested through-and-through.
"Ann-Marie is a very good pitcher that will be a great addition to our team in 2015." Stewart said. "She has already been successful against good lineups at the college-level and could be one of the top pitcher's in the Cascade Conference."
The Oregon Tech softball team was ranked No. 18 in the season-ending NAIA Softball Coaches' Poll, announced today by the national office.
The Owls claimed the 2014 Cascade Collegiate Conference regular-season championship with a 23-5 mark, while compiling a 35-14 overall record during the 2014 season.
Oregon Tech finished the season with a loss to College of Idaho in the title game of the Opening Round of the NAIA National Softball Championship with a chance to move on to the 2014 NAIA Softball World Series.
OIT has now competed in the NAIA National Softball Championships three of the past four seasons.
The Dalles softball coach Steve Garrett knows that once Guischer steps on the campus in Klamath Falls, this team will get a consummate professional, who will do everything to win.
"Ann Marie is one of those rare, highly-gifted athletes that is able to keep the ego in check and remain a marvelous young woman," Garrett said in an earlier interview. "She was always a coachable kid and, although we had our moments, she was always deeply respectful and a pleasure to have on the squad."
For an athlete, who has achieved so much, many observers believe Guischer has just scratched the surface in terms of accomplishments and recognition.
Whatever happens from here on out will be icing on the cake.
"I am excited for any challenge really," Guischer said. "I am going to go in and work my hardest to help this team win. I am definitely pumped up for this."
Interview notes from TDC managing editor Kathy Ursprung were used in this story.