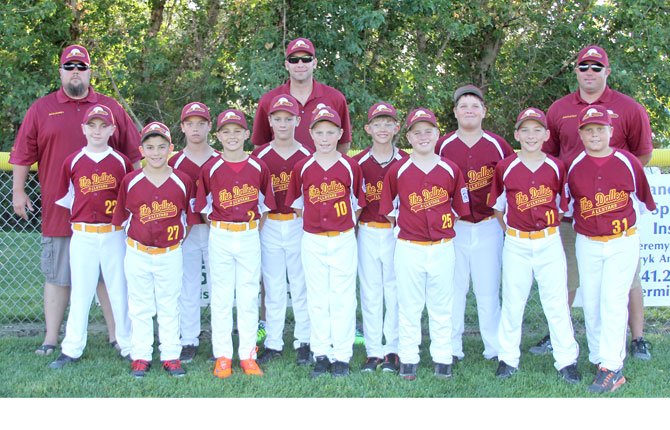 Entering District 5 Little League baseball play, athletes from The Dalles had their work cut out if they were going to make a deep run into the state playoffs.
With groups like Hermiston, Bend North, Bend South and two others, including The Dalles, the six-team field was going to be a gritty battle to the finish line.
In three games, The Dalles' 10-11-year old team showed why with 1.3 runs making the difference in moving on or losing out.
Tuesday, TD was stuck in the consolation rounds, hoping for a string of wins and good luck under the hot summer sun against Bend South.
The Dalles fell behind by an 11-5 margin entering the sixth frame, and managed four runs and runners on base, but the comeback was cut short in a season-ending 11-9 loss.
TD skipper Greg Cummings lauded his group for staying on course, especially given the elements and the immense pressure they were under.
"Every single player on our team contributed to today's game," Cummings said after Tuesday's loss. "It was a total team effort. It's too bad we couldn't pull off another miraculous win. We were down two of our pitchers today, so we had to pitch a couple kids who don't pitch much. But, they pitched great even on the big stage of today's game."
Earlier in the tournament, The Dalles lost its opening contest in a close 8-6 battle with perennial powerhouse Bend South.
On Monday, TD got on the winning track in what turned out to be an emotional roller coaster of a battle.
The Dalles was behind on the scoreboard by as much as 5-1 through the first five innings to Hood River, but they quickly got in a groove with five runs in the sixth inning to mount a 7-6 winner.
The overall focus is not looking at the what ifs or what could have beens, but rather focus on the experience of playing top-caliber ball against some of the best teams in the state.
District 5 is not filled with any slouches to say the least.
"It was an amazing experience for these boys," Cummings said. "The way they battled every game. The way they worked hard for us."
Every one of these players will have at least one more crack at earning a state berth in 2015, so the imperative factors that weigh into future success lies in continued work ethic and dedication to the sport of baseball.
Cummings, along with assistant coaches Chris Schanno and Deric Anthony will be right by their side working on the fundamentals of the game as well as execution.
Names like Spencer Guscette, Giovanny Avila, Ben Schanno, Jaxon Pullen, Jacob Buell, Conner Cummings, Caleb Nelson, Isaac Anthony, Trenton Schacher, Taylor Beeks and Taylor Routson will hope to carry on a legacy of community and togetherness down the road.
"They represented their families, the coaches, and themselves in such a great way," coach Cummings said of the group. "They showed the heart of a champion. The ball just didn't bounce our way enough today. In our post game talk, I told them to always remember today and yesterday and these teammates they got to share something really special with."
In looking side-to-side at the teammates and coaches, Cummings re-iterated the importance of togetherness on and off the field and how the parents were the glue that kept a lot of it as a cohesive unit.
There is a special bond growing with the parents and they know all of these games, big wins and tough losses are integral towards building future champions.
That aspect is not lost in the heart of their coach.
"These kids and their families sacrificed a lot to get here," said the Little League coach. "I would like to personally say a huge 'thank you' to the families and especially the parents for allowing their child to participate in this tournament. We all spent countle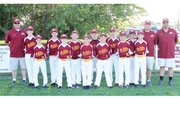 ss hours at the ballpark preparing the kids for this tournament. As a father of one, uncle of another and coach to them all, I couldn't be more pleased and proud of the dedication and willingness to compete."
TD 9-10 team loses heartbreaker
It is always tough to lose when Kade Wilson and Peyton Beeks combine on a no-hitter, but that's what occurred Tuesday morning at the District 5 9-10-year old tournament in Hermiston between The Dalles and South Central.
Up by a 1-0 margin entering the bottom of the sixth inning, The Dalles was hanging by a thread, but a close strike zone gave South Central an opportunity to tie the game at 1-apiece on a bases loaded walk.
Right after, another walk forced the game-winning run in for a 2-1 TD loss, ending the All-Star season.
As tough as those breaks were, The Dalles actually got off on the right footing on the second day of play after a first-round bye with a dominant 16-4 victory over Crook County Sunday.
The next day, however, TD ran into a tough John Day River team that had its hitting shoes on in grabbing a 14-3 win.
That loss moved The Dalles into the consolation bracket where they had the season cut short by South Central.
With many of these names taking their first dip in the All-Star pool, it was a good litmus test for them as they look to get back on the winning track in 2015.
Andru Weaver, Ian Preston, Drew Evans, Elijah Roden, Peyton Beeks, Andy Maney, Gabe Petroff, Carson Smith, Austin Agidius, Wilson, Keon Kiser and Keegan Losee will come back even stronger looking for the chance to post some wins to make a dent in the state tournament.