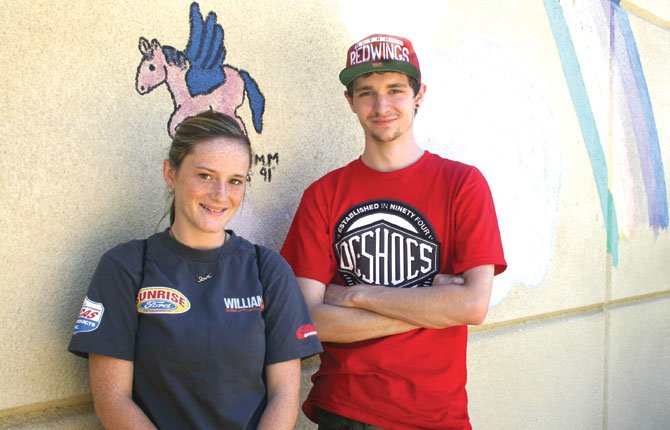 School's out—or so most of us believe. But for students enrolled at the new Wahtonka Community School, it's just getting started.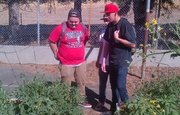 No longer strictly bound by the limits of a standard classroom, students will pursue their own interests and earn credits toward graduation through project-based learning experiences designed to teach real-life skills and jumpstart thinking about the future. The year-round school is aimed at re-enrolling students who have dropped out or adding new students to the system.
The full roster of 50 to 55 students gathered for the first time July 7 at the Wahtonka campus before being shuttled to Petersburg School, where many have already worked on creating a functional, eco-friendly garden space.
Dominick Campbell-Trujillo and Kyla Mitchell committed to added responsibility as garden managers. They are entrusted with making sure the space is effectively operated while educating their fellow students in its proper maintenance. Both cite their leadership roles as another step in their paths to graduation.
Mitchell had dropped out of school a number of months ago, but is now at the Community School while working long hours at a local restaurant. She said she's strongly committed to making her way to the finish line.
"As soon as I heard the school was opening, I knew I had to do it," Mitchell said. "I started working on the gardening project over the summer and just got more and more motivated. I haven't given up, and I can't wait for the day I can take my diploma and hold it in my hand. When it comes time to graduate, I'll be the one dancing across the stage."
Campbell-Trujillo, who quit school about a year and a half ago, said he'd struggled with a mixture of anxiety and depression during his time in school.
"That, combined with the environment, made it a difficult place to focus or really learn anything at all at one point," Campbell-Trujillo said. "But now I'm transitioning into owning my own business and being able to start my junior year doing meaningful work that will help me graduate as soon as possible."
Both students stressed the importance of the Community School's willingness to accommodate their work schedules and its emphasis on focusing student efforts in areas they're interested in that could be used to further their goals.
"Eventually, I'd like to go into graphic arts and start my own business designing professional logos other businesses and organizations could use to advertise," Mitchell said. "So later this year I hope to do a project that allows me to learn more about the design process."
Mitchell and Campbell-Trujillo, both 18, said they'd struggled to balance work, life and education in the past. At one point in their lives, both wondered if they'd ever be able to graduate or move on with their lives. Now, both hope to graduate in about a year.
"Here, you can make your education what it needs to be for you to get something truly valuable out of the experience," Campbell-Trujillo said. "And basically, the sky's the limit."
Seth Hedberg serves as the school's language arts and social studies teacher. He said, by the end of the week, each student will have a handle on their first project and know what they need to do to get started.
When asked about the various projects they were considering, students listed building an engine, learning how to make a video game, working as a pair to write and create an original comic, building a skate ramp, working with children facing physical or mental health issues and organizing a "massive" book donation to the currently near-empty Wahtonka campus library.
"Almost anything you can think of is fair game," Hedberg told a circle of new students. "My job is to help you figure out how to tie your project in with meeting the different requirements. As long as you're willing to work hard, you'll do great here."
While taking students on a tour of the Wahtonka facilities, Brian Goodwin, director of the Community School, explained expectations at the school.
"Unlike in regular high school where you can just sit in the back of the classroom and take up oxygen, you have to get your work done here— period. If you don't, you're out. We have a waiting list of about 20 other students who really, really want to be here, so if you show us you don't, one of them will be ready to take your place. But if you show up, work hard and commit to getting at least four projects done a month, you'll graduate. Guaranteed."
Goodwin said the school will soon be in need of a number of community mentors who are willing to come in and help students learn a new skill.
"We're going to extend those invitations soon and are looking for anyone who's interested in sharing their experience with students, and we mean anything from carpentry to rocket science. If you know about it, we'd love to have you."
Interested community members are encouraged to call Goodwin at 541-288-6861.
"I'm really excited," he said. "We've got a great crew of students with a whole lot of energy and enthusiasm, and I'm definitely looking forward to seeing them progress."