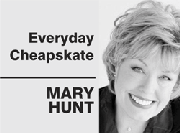 Holding on to your hard-earned money is a lot tougher these days. Just when it looks like the economy is recovering, it takes another hit from rising prices. Add to that personal financial emergencies and fewer work hours on the home front. All you can think about is how to shore up your cash. Embrace these simple changes and you just might see a boost in your bank account.
Pantry raid. Skip the grocery store every other week for a month (or just buy a few perishable essentials, like milk and eggs) and use up whatever's in your cabinets, fridge and freezer. Since most families of two spend about $76 a week on groceries, according to the U.S. Bureau of Labor Statistics, you'll save at least that much or more.
Print less. Computer ink cartridges can cost anywhere from $10 to $35, so skip the hard copy when you can. If you do need one, set your printer to "draft" mode (which uses less toner), print only what you need (not the pictures or ads) and print on both sides of the paper. Bonus: You'll cut your paper costs, too.
Stop idling. Letting the engine run while you wait wastes gas. For every two minutes your car idles, you burn as much fuel as driving 1 mile, according to AAA. With gas prices at about $4 a gallon nationwide, 10 minutes of idling costs you $1 a day. If you'll be waiting longer than 30 seconds, turn off the engine.
Increase auto insurance deductible. Upping it to $1,000 can decrease your annual premium by 10 percent or more — a sizable savings, since the average insurance premium is more than $1,500 per year.
Wash it yourself. Don't assume you have to send certain items to the dry cleaner — it pays to look at the label. According to Procter & Gamble Global Fabric Care, 65 percent of dry-cleaned clothes are actually machine-washable. Unless the label says "dry clean only," follow the care directions listed. If you wash just two items you'd normally dry-clean, you'll save at least $10 a month.
Take it to the tailor. Before you buy any new clothes, go through your closet first to see what would look just as good with a little nip and tuck. Adding a few darts to a blouse or changing the hem on a skirt could give it a brand-new look, all for just $10 or $20 — a lot less than you'd spend at the mall.
Go low-flow. Install inexpensive ($10-$20) low-flow showerheads and faucet aerators. You'll conserve water and reduce the cost to heat your water by as much as 50 percent. Don't worry — low flow doesn't mean the water trickles out. You'll still get good pressure
Would you like to send a tip to Mary?
You can email her at mary@everydaycheapskate.com, or write to Everyday Cheapskate, P.O. Box 2099, Cypress, CA 90630. Include your first and last name and state.
Mary Hunt is founder of www.DebtProofLiving.com.
To find out more about Mary and read her past columns, please visit the Creators Syndicate Web page at www.creators.com.