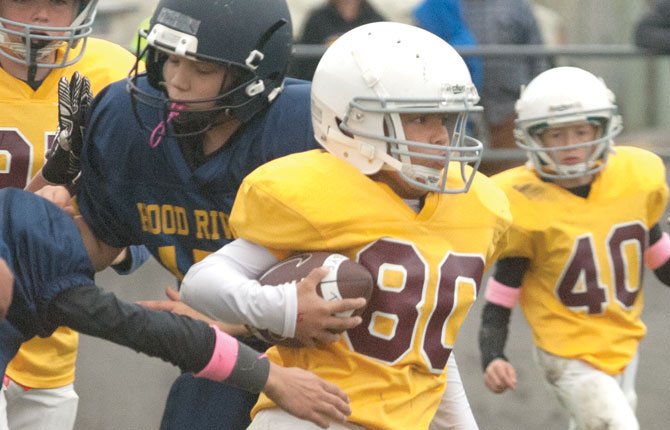 With baseball in the rearview mirror, youth athletes can now put their full attention on battle on the gridiron.
The Dalles Youth Football League is offering chances for boys and girls to develop a love of the game for flag and tackle football this fall.
With only 12 calendar days left to get kids in gear, the clock is ticking showcase these young athletes' talents.
Boys and girls in the first and second grades are welcomed to sign for flag play in August.
TDYF will be holding in-person sign ups at the TDHS youth football camp on Amaton Field in The Dalles from July 21-24 from 5:30 to 8:30 p.m.
Registration football forms can be printed off from the website www.tdyfootball.com by clicking on the 'handouts' tab on the right corner.
The fees for the tackle season are at $100 for each athlete.
In flag football, the costs are set at $40. All athletes have until July 31 at 11 p.m. to sign up.
At the signup, parents need to furnish a birth certificate and a proof of insurance card.
The goal of the TDYF is to introduce young players to the game of football.
"The importance of getting youth involved with football at a young age is to start teaching them the basic fundamentals of a complex game," said coach and board member Nick DeLeon. "If you're able to start them earlier, say at the flag level, there won't be so much to time needed at the tackle level teaching kids basics when the kids have already picked them up playing flag football."

He added that youth football also poses as an alternative to soccer, but it also does not conflict with fall soccer festivities.
This means kids can do both sports during the fall as games are played on different days.

Current The Dalles High School defensive coordinator Rich Belanger says the youth program is the lifeblood for future successful high school varsity and junior varsity teams.
"We are working to build a solid curriculum that provides the fun and fundamentals of the game of football, while teaching the athlete the benefits of involvement of the game of football on and off the field at a young age," he said. "It is skill development, safety, and fun participation within the game that is the backbone and vital to a successful high school program."