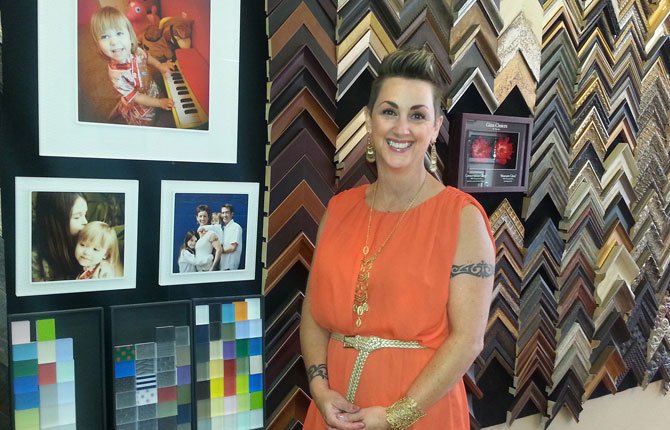 Marty Hiser of Westwind Frame & Gallery has spent the past 25 years making other folks' art and memories look good.
"I started picture framing in 1989," said Hiser, who is celebrating all year. "I was interested in somebody who was buying a frame shop. We started dating and I started hanging out at the shop."
Bit by bit, Hiser learned the trade.
Before that experience, she didn't realize frame shops existed. She was studying journalism at Oregon State University.
"It just became part of me, unintentionally," she said.
Twenty-five years later, she said she still loves what she does.
"Every day is different," she said. "I rarely do anything dull."
While Hiser doesn't consider herself traditionally artistic, as in putting pen to paper or paint to canvas, her work as a framer has an artistic quality.
"It's about color and texture," she said. "I may not be able to paint a vase of flowers, but I can sure frame it and make it look more beautiful. It's something I never knew I would be good at,, but 25 years in, I like to think I'm good at what I do."
She's also applied her artistic skills to the frame sample wall that runs in chevrons down the wall behind the counter.
Westwind Frame and Gallery has been a family place from the beginning. Hiser has been in the current location for 10 years.
"It's a great environment to bring kids up in," Hiser said. "Both of my kids are very, very creative."
Her eldest daughter, Rory, is 17, and Gig is almost 10.
"Rory started coming to work with me when she was about 2 months old and she's been coming to the shop most of her 17 years. Gigi has been coming with me ever since she was born.
"It's like a second home."
Running a business with children involved also has its challenges, Hiser said.
"Both kids are so different. Rory enjoys solitude and can keep herself entertained. Gigi sometimes needs a little outside stimulation. Sometimes it's challenging for both of us."
Hiser's husband, Derek, is also an occasional "reluctant" picture framer. He is often pulled into the work around the Christmas season.
Though Hiser claims she isn't an artist, she follows an artistic process in seeking inspiration and planning new projects.
"Sometimes I start with a certain vision and when I get going the project tells me what it wants," she said.
Sometimes she looks at a wall and waits for the wall to inspire her.
Hiser has done quite a few elaborate framing projects, but one of her favorites was framing a pocket watch that once belonged to Johnny Cash.
"A local collector here entrusted that to me," she said. "There was engraving on the back so I did some pretty neat stuff with mirrors, and a letter came along with it from Johnny's son, John."
Hiser has lots of positive things to say about her clients.
"I love my job and my clients," she said. "I have some of the best clients on the planet."
Since the 25th anniversary is the silver anniversary, Hiser planned her Christmas decorations on a silver theme and has kept them up through the year.
She plans to have a customer appreciation day later this year in honor of the anniversary.
Westwind Frame & Gallery is located at 412 E. Second St. in The Dalles and can be reached by phone at 541-298-2552.
Online:
www.westwindframing.com