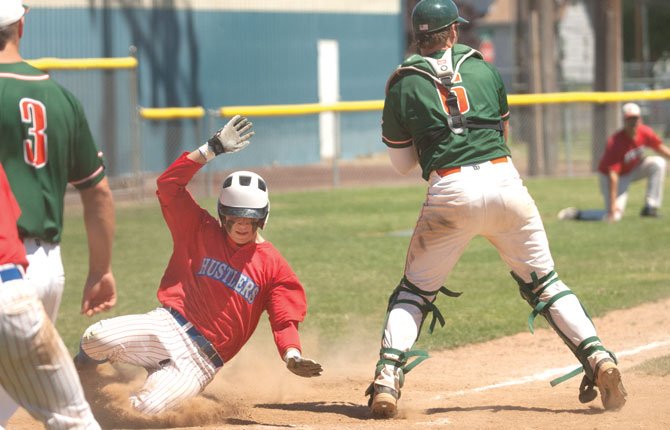 Columbia Gorge 'AAA' Hustler skipper J.R. Runyon was looking forward to sending his top squad out for this past weekend's Firecracker Tournament.
The Hustlers amassed a 2-2 record and scored 19 runs on 29 hits with wins over Barlow and Perth, Australia in American Legion play in Lakeridge.
In Thursday's opener, Colin Noonan went 3 for 4 with three runs and an RBI, and Nolan McCall added three hits, a run and four RBIs to lead the Hustlers to a decisive 9-5 triumph over Barlow.
All told, CG scored runs in four of the first five innings.
Up 6-0 in the bottom of the fifth frame, a three-run rally added some much-needed insurance runs.
With two outs, Dakota Walker received a walk, and then Steven Bartells singled. Noonan drove in walker with a double and McCall then cleared the bases with a two-run double to make it a 9-0 game.
Later in play, Barlow crept closer to within 9-5, but Hustler reliever Connor Olsen shut the door down by getting the final on a flyout to right field.
Colton Walker picked up the win, as he tossed five innings of scoreless ball on two hits with four strikeouts and two walks for the win.
Clay Copper went 2 for 4 with a run and an RBI, and Payton Eaton was 1 for 3 with an RBI as the Hustlers racked up 12 hits and received five walks.
"Colton did a great job on the mound for us today," Runyon said. "Our defense played solid and our bats were alive."
Friday, the Hustlers ran into a tough Lakeridge team that took care of business with the bats early and often against Hustler starter Dakota Walker, using a four-run first followed by single tallies in the second and third frames to do their damage.
The Dalles Wahtonka graduate could only make it through three innings and he scattered seven hits, walked three and allowed nine runs, six earned.
In all, the Hustlers managed five hits, as Colton Walker went 2 for 3 with an RBI. Reggie Sargeant had a hit and drove in a run and Eaton was 1 for 2 with a run scored.
Saturday proved to be frustrating for Runyon and the Hustler ball club in a 3-2 loss in nine frames to Westview.
The 'AAA' group pounded out nine hits, but stranded 10 runners on base, including two runners in the third and the bases loaded in the fifth frame.
Down 2-0 in the bottom of the second, Bartells singled, and one out later, McCall was issued a walk.
Copper then plated Bartells on a sacrifice fly to make it 2-1.
Zachary Keimig then singled, and Austin Wilson chased home McCall with an RBI single to tie things up at 2-apiece.
Still with only one out, the Hustlers had two runners on, but could not break the 2-2 deadlock.
Westview finally broke the tie in the ninth, using a one-out single and an RBI triple off Bartells, the Hustler reliever, to get the win.
Wilson got the start and went seven strong. The southpaw allowed eight hits, walked five and struck out two.
Bartells went 2 for 4 with a run and Wilson had two hits and an RBI.
Keimig also had a solid day with two hits.
With one final opportunity to get on the winning side, the Hustlers locked horns with Perth, Australia in a seven-inning showdown, where a two-run rally in the fourth inning erased a tie game and gave the CG team a 6-4 win.
Bartells went 2 for 2 with two walks, two runs and an RBI, and McCall went hitless, but scored a run and drove in two more.
All told, the Hustlers pounded out four hits and received six walks, as Wilson had a hit and Eaton scored a run.
Clayton Ringer went three innings to get the win. The left-hander allowed two hits, scored a run, struck out three and walked two.
Olsen absolutely stymied Perth in his three innings of no-hit, scoreless ball to go along with seven strikeouts and no walks.
The Hustlers (8-5 overall) hosted the Salem Withnell Dodgers at 3 p.m. for a nine-inning tilt.
At 4 p.m. Friday, they host Athletes in Motion for two games starting at 4 p.m.