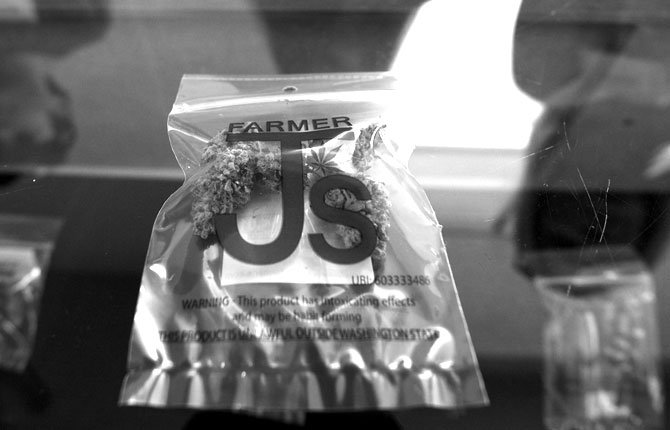 The (Eugene) Register-Guard, July 7:
Sales of marijuana for recreational use began Tuesday in Washington state and the people who will manage a similar program in Oregon — assuming voters here approve recreational use of pot at the November election — would do well to pay attention to what's been happening to our northern neighbor.
Washington voters approved recreational marijuana 20 months ago but there will be only a handful of retail stores ready to sell it Tuesday, including a single store in Seattle.
Colorado voters approved recreational use of marijuana the same day Washington voters gave their blessing. But in Colorado retail sales began six months ago, at 24 stores. In their first month, Colorado's state-licensed stores rang up $14 million in sales, adding $2 million in taxes to state government coffers.
Washington's situation appears dire by comparison. Its law went into effect in December 2012. Since then, more than 2,600 people have applied for licenses to grow marijuana plants for the retail market. But background checks, vetting of financing and ensuring compliance with the state's pot-tracking computer software slowed the processing of applications.
As of last week, only 79 growers had been licensed — not enough to grow the amount of pot needed to reach the state's goal of capturing 25 percent of the market this year.
Another problem is testing. So far there's a single lab, in Yakima, that's ready to test marijuana samples to certify them for sale. As of the end of June, only two licensed growers had submitted samples for testing but lab officials were concerned about being swamped by an 11th-hour deluge.
Washington capped the number of marijuana retail outlets at 334 but nearly a hundred cities and counties throughout the state have approved bans on marijuana stores.
Given the anticipated severe shortage of licensed, inspected marijuana, and with no adequate retail distribution system yet in place, the state Liquor Control Board, which oversees the recreational marijuana program, is worried the initial demand will push prices so high buyers will revert to buying on the black market. One of the goals in legalizing recreational pot was to try to eliminate the illegal production, processing and sale of the drug in Washington, which fuels a lot of crime in the state.
The key difference between Colorado's and Washington's situations has to do not with recreational marijuana but with medical marijuana. Medicinal pot was already regulated in Colorado when voters approved selling marijuana for recreational use, so state officials melded the two systems.
In Washington, medical marijuana has been legal since voters approved its use in 1998 but it's been virtually free of state regulation. And that's caused all kinds of problems that the Legislature has so far failed to address. For example, Oregon is establishing a regulatory system for medical marijuana that includes a state registry of medical marijuana facilities. Washington has no such program and has about 200 unlicensed, unregulated medical marijuana dispensaries operating just in Seattle.
In addition to potentially feeding the black market, Washington officials fear the problems they've had in gearing up for recreational sales will push more users into the medical marijuana system, which is notoriously easy to access.
U.S. Justice Department representatives have already told the state its medical marijuana system is "not tenable" under federal drug law, so the concern is that sending more users to medical marijuana dispensaries could result in federal interference in the recreational marijuana program, which the feds have agreed to ignore for the time being.
The Oregon Legislature already booted one marijuana decision by failing to agree on a more reasoned measure that could have headed off the citizen initiative on the November ballot. It should take care not to make things worse by allowing any of Washington's mistakes to be repeated in Oregon.
NEXT TOP STORY: Editorial cartoons from July 10