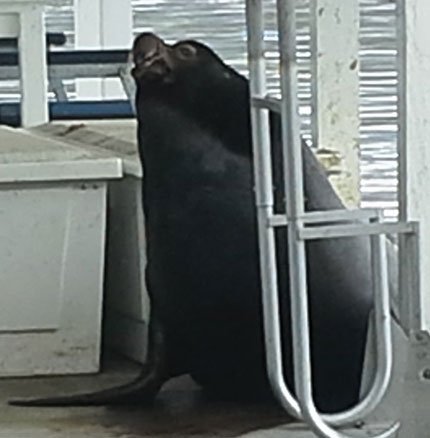 A longtime uninvited guest at The Dalles Marina may soon be sunbathing in more southerly latitudes.
Oregon Department of Fish and Wildlife plans to try a relatively new technique to remove the 1,200-pound carnivore from the marina, where he has made himself at home on a pair of boathouse decks for about three years.
"We are planning to try a relatively new technique of darting the sea lion, anesthetizing him and putting him into a trap to relocate him," said Rod French, district fish biologist for The Dalles. "He'll be darted and transported to the sea lion site at Bonneville, where we will evaluate the animal and a marine mammal specialist from the [U.S. Army] Corps of Engineers will re-evaluate him. At that point, we'll either transport him down to the very southern Oregon Coast or, if he is registered or known to have been in the Bonneville area before, he could be euthanized."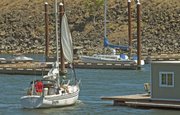 The latter option is reserved for sea lions that have become repeat problems.
"At this point, we don't know," French said. "He will be evaluated once he gets down to Bonneville."
Wildlife personnel don't name the animals, French noted, but marina tenants have developed a familiarity with the big critter. He is the only sea lion that regularly resides in the marina, but several others have been spotted between the Bonneville and The Dalles dams. Only "Ray" stays in the area when other California sea lions head off to northern California to breed.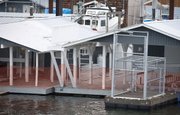 "This one has not made any effort at all to breed," French said.
The animal's weight was estimated at only 300 pounds when he arrived three years ago. Since that time, his weight has ballooned to around 1,200 pounds on the rich buffet of salmon caught in nearby fishing nets.
"Fishermen will haul in salmon with one bite taken out of them," said Kathy Norton, who oversees the marina for the Port of The Dalles, in an earlier interview.
Previous efforts to shoo the marina's problem child away have been unsuccessful, including one of the large traps used with some success at Bonneville Dam in the past.
The ongoing effects of "Ray" pulling his hefty weight out of the water have aggravated dock deterioration at one tenant's houseboat. While most accounts are that the animal is not aggressive, one tenant reported some aggressiveness toward her employee.
"I've been down on the docks with him many times," Norton said July 9. "He barks at me, he squawks, but he is never aggressive toward me."
However, he is loud. His barking can be heard in the parking lot beyond the marina.
The new trapping technique involves a submersible trap that will allow his captors to use buoyancy in the water to counteract the animal's weight. Once he is anesthetized, he will be floated into the trap and hauled out with a crane, French said.
"He's been there for three years," French said. "It's time to get him back down below Bonneville and into his native habitat."
Sea lions have been fishing the waters below Bonneville Dam for more than 20 years, but "Ray" is the only one who has made his home above Bonneville, French said.
NEXT TOP STORY: Lost hiker found in gorge