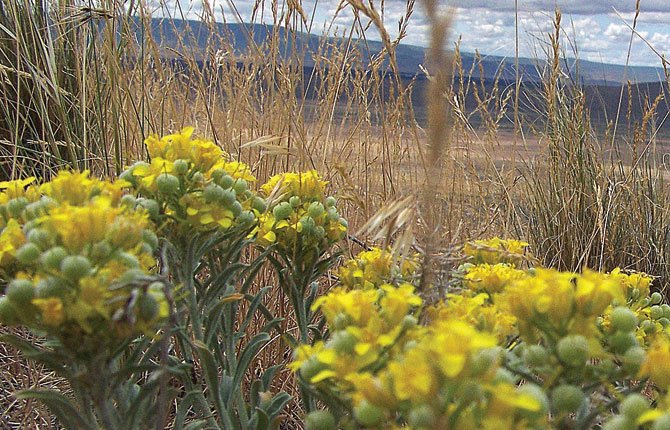 A group of farmers in Franklin County, Wash., are challenging U.S. Fish and Wildlife's listing of the White Bluffs bladderpod as a threatened species – and asking for help from local citizens.
"Their Achilles' heel is that these decisions are based on a lack of sound science," said Kent McMullen, chair of the Natural Resource Advisory Committee for Franklin County.
He said farmers from the Columbia Basin are now intent on proving the federal agency is making decisions based on a political agenda and not factual evidence.
"We had DNA testing done on 15 samples last year and the results showed the White Bluffs bladderpod had 100 percent the same genetic sequence as the common Douglas bladderpod — but that didn't make a difference in this decision," said McMullen.
He holds a degree in general agriculture from Washington State University and is past president of the Franklin County Farm Bureau, as well as a second-generation farmer with experience in the field.
"Since the Endangered Species Act was approved 41 years ago, agencies and special interest groups have made it a big business — at the expense of taxpayers and to the detriment of our economy, property rights and food production," he said.
With a second, and expanded, round of DNA testing now underway, McMullen asks that people in and around The Dalles who are recreating along the Columbia River look for the Douglas bladderpod (see photo).
"This time we are having 100 plants tested so the results will be conclusive," he said. If people see a bladderpod, they should just flag it and let me know so we can get the right person down there to collect a sample."
McMullen can be reached at 509-845-1193 or via email at kdmcmullen@hotmail.com
He said it is vital that listings be valid given that Fish and Wildlife, through a settlement with the Center for Biological Diversity in 2011, is looking at protection for 779 (22 recently added) more plant and animal species.
The agency's listing of the bladderpod was based on claims the plant needed special protection due to potential threats from wildfire, landslides, recreational activities, off-road vehicle use, nonnative plants, small population size, and limited geographic range.
The problem with Fish and Wildlife's analysis, said McMullen, was that it centered on a 2006 report about the bladderpod that was unpublished and had not been subjected to a scientific peer review process.
In lieu of DNA testing, he said the agency used the Carl Linnaeus screening process to determine the status of the bladderpod. The Swedish botanist from the 1700s categorized plants by general characteristics and traits that were then broken down into class, order, genus, species and variety.
According to McMullen, there are more than 100 known species of bladderpod, which are a member of the mustard family.
Both rounds of bladderpod DNA testing on behalf of Franklin County farmers have been undertaken by Dr. Cort Anderson, an expert in the field who directs the genetics lab at the University of Idaho in Moscow.
Last year, farmers and commodity groups raised $25,000 to pay for Anderson's services and the oldest of his samples came from Wasco County and had been collected in 1938.
McMullen said Anderson was chosen to perform the work because his laboratory is nationally acclaimed. He said Fish and Wildlife used his services when wolves were being reintroduced into the Northern Rockies and at other times, thereby underscoring his credibility with the agency.
"It makes it harder for them to refute his findings when they have worked with him," said McMullen.
The testing was initiated after the farm bureau came across Fish and Wildlife's proposal for the bladderpod in the federal registry, and learned the public comment period had already passed.
McMullen said the comment period was advertised in a Spokane newspaper and not in the Tri-Cities, leading officials from his county to believe the agency wanted the issue kept below the radar.
Once U.S. Rep. Doc Hastings, R-Wash., was notified about the issue, he put staffers to work tracking down the 13 landowners that were proposed to have property declared critical habitat.
"We had less than two months to act because no DNA testing had been done," said McMullen.
In a written statement, Ann Froschauer, public affairs supervisor for Fish and Wildlife, said landowners are not directly contacted for many listing hearings. However, she said once it came to the attention of the agency that some landowners in Franklin County had not been aware of the public comment period, the listing process was "paused."
She said two public hearings were then held July 11, 2013, in Kennewick and Pasco, and landowners received notification.
After being confronted with Anderson's DNA data that landowners say contradicts the need for bladderpod listing, Fish and Wildlife solicited five peer reviewers, including the author of the unpublished study.
A Fish and Wildlife report outline states these reviewers determined that Anderson had not used enough samples in his testing.
The agency upheld the listing and the bladderpod became a threatened species on Dec. 20, 2013.
Froschauer wrote that Fish and Wildlife is looking for a statistically significant sample size in DNA testing.
"In other words, we want to be sure we have the best available science and information to inform our decision-making," she stated. "So, there is not a specific sample size that is required for validation; rather it depends on the question at hand and what size (number) of samples will give us statistically reliable scientific information."
U.S. Rep. Greg Walden, R-Ore., contends the conflicting information should have triggered an independent scientific analysis of DNA evidence regarding the bladderpod.
He signed onto a letter sent earlier this year by Hastings, who chairs the House Natural Resources Committee, to Fish and Wildlife. That document demanded to know what process had been used to select reviewers, how their decision had been reached and what communication had taken place between them and the agency. That information has never been turned over.
"In the case of the selection of peer reviewers for the bladderpod, the Service solicited experts with knowledge of rare plans, and in specific, bladderpod species," wrote Froschauer. "These peer reviewers included state and tribal biologists; members of academia with knowledge of rare plants, their biology, ecology and genetics; and species experts."
McMullen said Franklin County officials are determined to pursue de-listing of the bladderpod even though more than 400 acres of private property was dropped as potential habitat.
Fish and Wildlife pared back the area for bladderpod protection to about 2,300 acres within the Hanford Reach National Monument along the Columbia River.
"No one's safe with this system the way it is because buffer zones can always be expanded," said McMullen.
At one point in the battle with Fish and Wildlife, McMullen said agency officials claimed they did not have the money for DNA testing of species.
"With all the studies they have done on this plant since the 1990s and their first-year management budget of $610,000, how is it they can't afford $25,000 to get a definitive answer?" McMullen asked. "To me, DNA testing should have to be done on every species proposed for listing to avoid unnecessary regulation."
Froschauer wrote that use of DNA testing is one possible "tool in a suite of scientific methods the Service may use to answer questions during the listing process."
"While it isn't always part of the process, it isn't uncommon to look at genetic material to answer species-level questions," she stated.
NEXT TOP STORY: Crush claws way to fifth at state