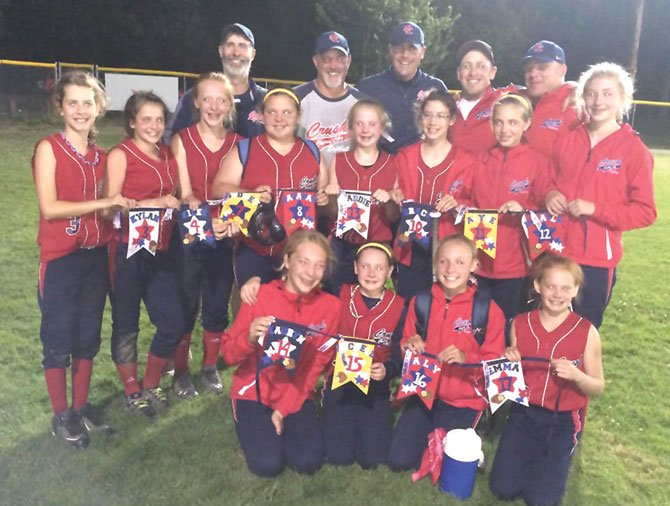 Fighting through the hot sun and furious competition, the 12U Cherry City Crush softball team withstood those conditions and a total of nearly 15 hours on the diamond from morning until night to chalk up fifth-place honors at the ASA State Tournament in Albany.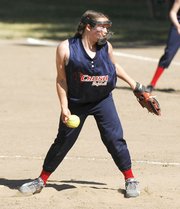 In the five games, the Crush scored in excess of 40 runs with two wins and three one-run losses.
"I couldn't be more proud of this team," said co-head coach Leroy Tharp.
The final loss was a barnburner against the Klamath Basin Bandits. The Crush fell behind 8-3 only to battle all the way back to take a 9-8 lead in the top of the eighth inning. But the Bandits found a way to scratch across two runs, the game-winner on a bases-loaded walk in the 10-9 setback.
"The girls were completely exhausted," said coach Tharp. "To fight in this game and come back the way they did was impressive. They never gave up or gave in. Our crowd and parents were loud and proud in this very intense game. Through them, our girls found the energy to fight back and give us a chance to move on."

What allowed the Crush the chance to push this contest to the brink of extra innings was a stirring surge in the fifth frame while they were down by an 8-3 tally.
Emma Smith and Kilee Hoylman both led off the frame with walks to put two runners for Bailey LeBreton.
LeBreton smacked an RBI single to chase home Smith to make it an 8-4 game.
Mikayla Kelly and Lauryn Belanger then followed with back-to-back RBI fielder's choice groundouts to score Hoylman and LeBreton to run the count to 8-6.
Enthused by the rally, LeBreton shut down Klamath in the bottom of the fifth frame on two strikeouts and a groundout, and the Crush came back to bat in the sixth looking to complete the comeback.
Kylan McCavic led off the top of the sixth with a walk and Smith singled. Hoylman moved the runners up a base on a sacrifice bunt to set the stage for LeBreton.
McCavic scored on an RBI fielder's choice by LeBreton to make it 8-7, and Kelly deadlocked the score at 8-apiece with a sharp single to bring in Smith.
Both squads went scoreless in the seventh inning, and in the eighth, the international tiebreaker rules went into effect.
Maddie Tharp was at second base to start the frame and Sydney Fransen worked a walk to put two runners on.
Savannah Ford then bounced into an RBI fielder's choice to plate Tharp to give the Crush their first lead of the game, 9-8.
Needing only three outs to keep their season and tournament going, the Crush took the field looking to try and hold off the heart of the Bandit order.
The Klamath team eventually loaded the bases and tied the game before winning 10-9 on a bases-loaded walk.
Smith finished 3 for 3 with four runs.
Crush coach Tharp did not overlook Fransen's stout work behind the plate.
"Sydney had a solid tournament at catcher," the coach said. "She was outstanding, even inspirational, catching every single game."
Things started off with a bang for the Crush in their tournament opener versus Wilsonville, as Smith and Hoylman each reached on walk three times and scored three times in taking a 13-6 win over the Catz.
Kelly chipped in with a two-run double and scored twice, and LeBreton overcame a slow start to toss a complete game with four strikeouts and two walks.
There was no time to rest for the Crush, who then hit the field against the fresh hometown Lebanon team, which was 15 minutes from the site and had an opening round bye.
Both teams slugged it out for seven strong innings, but the Lady Warriors managed to eke out a 3-2 triumph to send the Crush into the consolation bracket.
In the Lebanon contest, Hoylman and Belanger each stroked doubles to plate the team's only two runs.
Again, LeBreton went the distance and scattered a handful of hits with a strikeout and two walks.
LeBreton had big help from her defense, namely Maddie Tharp at third base. She had six putouts on six chances, including a key bases-loaded 5-2-3 double play that got LeBreton out of a jam.
Up next was the Klamath Basin Bandits, a team with some potent weapons at their disposal.
In this slugfest, the Crush fought strong against the Bandits, but ended up losing a 9-8 heartbreaker in extra innings.
Offensively, Hoylman and Maddie Tharp led the way. Hoylman went 2 for 3 with two runs scored, and Tharp added a perfect 3-for-3 split with four RBI.
One of her hits came on a two-run triple to right centerfield.
Tharp did her best from third base once again, standing strong against a Klamath team that used its small ball bunt game. She had six putouts on six chances.
Even with the loss, the Crush still had a chance to hoist some hardware, but needed a clutch win over Wilsonville to do so.
Over the past two seasons, Wilsonville had amassed a 0-5 record against the Crush and one of those losses ended their 10U tournament run in 2013.
Another two games were for tournament championships, so elation and heartache has played a huge role for both squads.
Just as in the opening tilt, Wilsonville pitchers had location difficulties with walks leading to most of the Crush offense.
Ford walked and scored twice, and Maddie Tharp added three more walks and two runs scored in the win.
LeBreton tossed a complete game, one-hitter with seven strikeouts and two walks in one of her most impressive performances of the 2014 campaign.
That win put the Crush in contention to hoist some hardware in the game versus Klamath Basin.
Looking back at the way things transpired, a few bounces here and there made the difference between an early exit and possibly a championship run.
The Crush played through scorching conditions for nearly 15 hours and all three losses were by one run, two in extra innings.
Coach Tharp said that no team in the tournament wanted to see or play his gritty group, because they were scrappy and carried a never-say-die attitude.
In the past two seasons, this unit has overcome adversity and played with a sustained passion until the very end, she said.
They will be a wiser team because of it.
Coach Tharp, co-head coach Roger Hoylman and assistants Ryan LeBreton, Rich Belanger and Mike Kelly were all smiles when looking back at the maturation process they witnessed in Albany.
The roster of McCavic, Kilee Hoylman, Fransen, Ford, Maddie Tharp, Grace Schatz, Alyse Wentz, Mikayla Kelly, Lauryn Belanger, Rochelle Tilton, Bailey LeBreton and Smith epitomized the purity and panache of what a team sport is all about.
"They showed a lot of heart and competed," coach Tharp said. "They worked hard and had a great week of focused and intense practices."
Grants Pass won the tournament and Lebanon secured second place.
NEXT TOP STORY: FORT DALLES DAYS EVENTS, JULY 11-20 and beyond