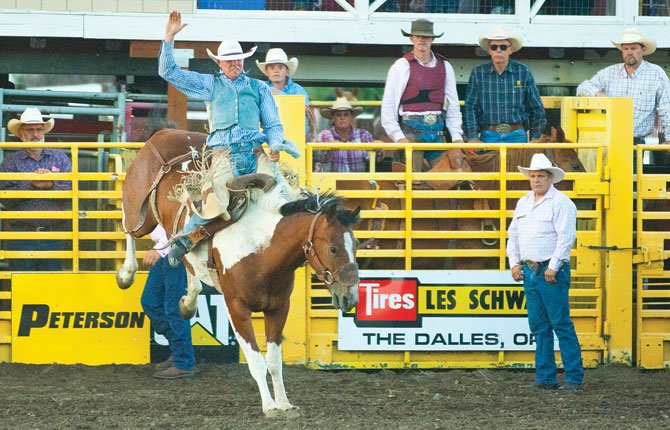 The annual Fort Dalles Days Pro Rodeo returns to Milt Tumilson Arena, July 17 to 19, with more than 300 contestants expected to compete in the eight traditional events.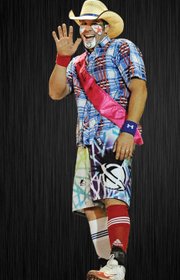 Nightly ticket prices for the show are $12 for general admission and $15 for reserved seating.
On Wednesday, July 18, Jake Grossmiller announces the slack events starting at 6 p.m. with free admission. Slack is the overflow of contestants in timed events who are not able to compete in the main show, either because of scheduling conflicts or limited space for entry.
Thursday through Saturday, the rodeo starts at 7:30 p.m.
Family night is Thursday, July 17, and family tickets for two adults and two children can be purchased for $30. Again this year, Cowboy Catering will prepare the annual steak feed dinner, which costs $12.
Rodeo fans who are "tough enough to wear pink" are encouraged to show up Friday and wearing that color. The rodeo association contributes a portion of the gate to the the Susan G. Komen for the Cure Foundation and breast cancer awareness. Friday's post-rodeo musical entertainment will be provided by DJ Barbed Wire.
Friday morning also brings the popular annual golf lf tournament organized by Kent Smith at The Dalles Country Club.
Saturday will be military day and current and former members of the military will receive $2 off their rodeo ticket price with proper ID.
Saturday, The Hedgehogs, a Goldendale-area band with ties to Nashville, will play for the post-rodeo dance.
"They played together for many years," said Damon Hulit, of the rodeo association, "but are back together now. They are used to playing to the crowds."
On Saturday morning, cowboys and cowgirls are invited to attend the Mid-Columbia Senior Center's "cowboy breakfast" from 7:30 to 9:30 a.m. at 1112 W. Ninth St.
Chad Nicholson, a 20-year veteran professional rodeo announcer and motivational speaker returns to the announcer's booth.
Rodeo tickets are available at The Dalles Chamber.
Rodeo clown Josh "Slick" Sheppard provides the special arena entertainment.
He earned the name "Slick" by being exactly the opposite, but entertaining people in the process. He was always the family entertainment and enjoyed making people laugh. He didn't grow up in a rodeo family, but always dreamed of being a rodeo clown. His Halloween costumes year after year proved that out.
Sheppard grew up in Clarkston, Wash., playing sports, riding dirt bikes and playing varsity football, basketball, wrestling and snowboarding on his high school team. He also followed his cowboy heart by becoming an FFA member, raising hogs, entering tractor-driving competitions and getting summer jobs farming and ranching. He earned an associate's degree in carpentry at Walla Walla Community College, married his junior high sweetheart at age 20, then began his "true cowboy life."
He started riding horses with his wife, Chelsy, and discovered a natural riding talent. In 2003, he started bull fighting and entering the rodeo scene. By 2007, he had achieved his dream of becoming a rodeo clown in 2007.
As a "barrelman," Josh brings all his talents and past experience to the arena.
"He's known for his motorcycle act," Hulit said. "He does something different ever night. He's former military and he's a nice, well-spoken young man."
Hulit said they try to have a new rodeo clown every year to provide some different entertainment during the event.
One thing that won't return this year is the annual Fort Dalles Days Rodeo. Last year's parade drew a low entry turnout, so the rodeo association decided to give it a rest for a year before gearing up for a big celebration in 2015, the rodeo's 50th anniversary.
A big parade is planned for that event, featuring a reunion float for former Fort Dalles Days Rodeo queens, and a float for past board members.
The rodeo association will be organizing a larger-than-usual fundraising event to help pay for extra fanfare for the 50th anniversary celebration.
The Monday block party has also gone by the wayside this year, as its sponsor, Discover Rentals, provides many other services to benefit the rodeo, Hulit said.
"Sometimes you have to let something go to hopefully make other parts a little bigger," Hulit said.
Online:
www.thefortdallesrodeocom