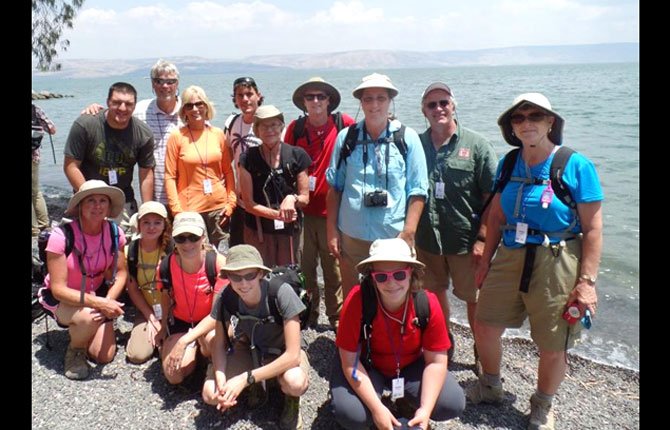 A local group came back in June from a life-changing trip to Israel, but it was no vacation, said First Christian Church Associate Pastor Mike Wilson.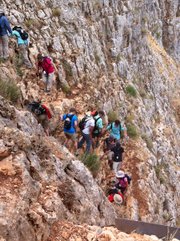 Instead of hopping on tour buses, the group — they were 14 members on a 47-person tour — took on the role of disciples who followed in the footsteps of Jesus as they visited 45 holy sites.
In nine days, they hiked over 75 miles in 100-degree-plus heat, with steep elevation gains.
While hardly anybody else was around on many of their stops, occasionally, they'd crest a hilltop site to see the tour buses of those on more traditional vacations.
But what those people missed, said Wilson's wife, Karen Feil Wilson, was a physically exhausting and dehydrating experience that powerfully drove home a spiritual message in a way that no other kind of trip could.
They will give a short talk, with a slide show and commentary, on their trip on Sunday, July 20 at 6 p.m. at First Christian Church.
The hikers became "so thirsty you couldn't even swallow," she said. But just as she needed water to physically survive, she learned she also had to "keep drinking from the word of God, his living water."
"When you're in the desert, you have a desperate need for water," said Sarah Smith, who arranged for the local group to go on the tour. "When you're in the desert of life you have a desperate need for God's living water."
Feil Wilson described the desert of life as those desolate times in our lives — created through our own foolishness or tragedy — where God's living water is most needed. During those times, "God is with us and he provides."
Thinking of God's word as "living water" was brought home in physical ways. Several people got cramps because they weren't drinking enough water.
"You've got a lesson from your own body," said Wilson, of what happens spiritually and emotionally when people aren't drinking enough "living water."
The local group trained for six months for the tour, but the physical hardship was still almost too much. Some people on the tour threw up, others had to crawl to reach a destination, Wilson said.
A highlight for him was reaching Azekah in the Valley of Elah, where David and Goliath clashed.
The message of that story, and an overarching theme of the Bible, is that God uses the least of us — the weakest, the flunkies and nobodies — to change the world, Feil Wilson said. "Why? So the world would know there's a God."
They went to the brook — now a dry streambed — where David collected the rocks he threw at Goliath. Wilson, who loves to collect rocks, took one of the rocks home to add to his collection. He collected rocks throughout his trip.
"My carryon weighed 35 pounds, I thought the handles were going to break."
Being at the locations mentioned in the Bible, and touching the objects, like rocks, referenced in the Bible "is like the difference between 2D and 3D, or black and white and color," he said.
He thinks of how many times he's read the Book of Mark, and now, he can say, "Holy mackerel, I've been there. The word becomes so alive because you've got an accurate visual."
That also resonated with Smith. Visiting all those places that are not only in the Bible, but are actual locations in Israel, proves the Bible "is not a fairy tale, it's real," she said. "It's an accurate account of historical events in real places."
Another location, Caesarea, has the ruins of a temple built by King Herod as a monument to himself and his reign. The temple was later stripped of its marble by Romans.
"The story is there's still marble washing up," Feil Wilson said, "and we collected marble."
The message their guide imparted there, she said, was "am I living a life so the whole world knows there was a Herod — or a Karen Feil Wilson — or am I living a life so people will know there was a God?"
Gladys Caddy also joined the tour, where a highlight was having her granddaughter baptized in the Jordan River. The trip was so grueling that she won't be doing another one.
"It was so exhausting, it overarched my ability to grasp it at the time," she said. She's only now starting to absorb all she learned on the trip.
She said she felt it was a miracle that she was even able to complete the trip. Feil Wilson said the demanding nature of the trip was itself a lesson. "It's a testament to how God asks us all the time to do things we think we cannot do."
For example, she said, the three hardest hikes on the entire trip were all back to back. One of those hikes was Mt. Arbel, where Jesus went to pray the night before he chose his disciples.
Feil Wilson also took home the message of community and hospitality, "and how we need each other."
"A lot of times in life we feel like we can get by on our own and we really do need each other when we're in our desert of life," she said.
The group also made a one-day stop in Jerusalem, but it was a disappointment because it was so touristy and crowded. For much of the rest of their trip, there were no other people around.
"It lost its value because of the enshrinement of it," Caddy said.