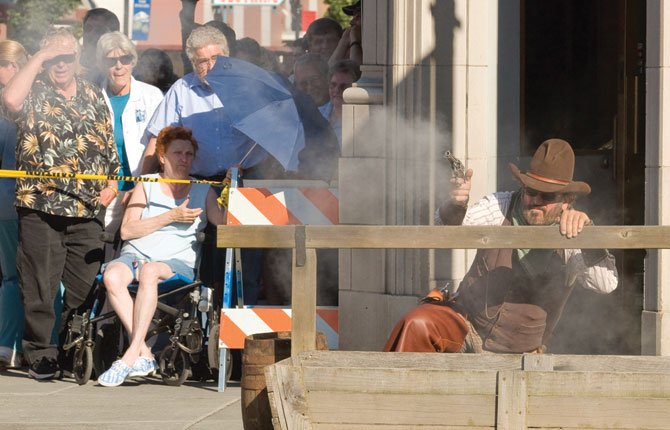 A new beer and wine garden for Jammin' July is planned near the Maison de Glace winery featuring wines from Maison, 15 Mile and Sunshine wineries. The Skyline Grill and Taco del Mar will have food trucks there and the Band Sucker Punch will play.
Also new this year is Furry Fun Town, near the Veterans Services Office on Laughlin Street.
"We want to make the environment very pet-friendly," said Matthew Klebes of The Dalles Main Street. "An incredible [number] of people have pets."
People are urged to bring water, clean-up items and keep pets on their leashes.
Organizers hope to pull together a small agility course and possibly a mini doggy derby.
"It will be all amateur, just for fun," Klebes said. "We're hoping we can grow the event."
Home at Last Humane Society will have a cool-down, calm-down area where animals can get away from the frenzy of activity on Second Street to a tent area tucked away in a quieter area.
Back this year after a hiatus of several years, the Turkey Creek Cowboys will stage gunfights during the Jammin' July Street Fest at 6 and 9 p.m., sponsored by Payne West.
"The Fort Dalles Floozies are going to participate, as well," said Klebes. "There may be a hostage situation. It should be really fun to get the Floozies involved."
The downtown parklet in front of Columbia River Music will be a good place to watch the ukulele band play in front of the music store.
Wonderworks is staging activities near its downtown children's museum on Madison Street, including kid-friendly music by Victor Johnson and bouncy houses sponsored by A Kidz Zone Dental Clinic.
Another popular event from last year is returning for its second year during Jammin' July, the Chalk the Block chalk art competition with registration starting between 5 and 6 p.m. The event drew a lot of participants and spectators last year and has been moved to a more prominent position this year on Washington Street between the Granada and Urban Paper. New this year will be three categories of competition, youth, teen and adult, with prizes in each group.
Once the event is over, the chalk will not be washed away as it was last year. Instead, it will stay around for a while for people to enjoy while they are downtown.
Oregon Karaoke Challenge auditions have also changed a bit from last year. Occurring in front of NAPA Auto Parts, participants will be videotaped. Instead of the Challenge itself, this year the auditions will be to participate in what organizer Eloy Pando of Pando Productions plans to pitch as a karaoke reality show for regional television. The main event for the pilot will be filmed later in the year at The Dalles Civic Auditorium.
Support and sponsorship for local Fort Dalles Days events has been very strong, Wood noted.
"I am appreciative of the sponsors and how generous they have been," Wood said. "I don't have to go pounding on doors and begging businesses. The community has been very receptive."
Online: www.fortdallesdays.com