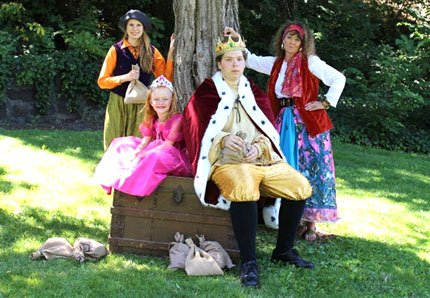 Announce your public, nonprofit activities here, 75 words or less. E-mail to tdchron@thedalleschronicle
.com or fax to 541-298-1365 or drop off at the Chronicle, 315 Federal St., PO Box 1910, The Dalles OR 97058.
New entries
LOW VISION: A peer support group for people with low vision is set for Friday, July 25, from 3:30 to 4:30 p.m. at Flagstone in the Riverside Room. Guest speaker is Carolyn Biggs of the Oregon Commission for the Blind. For more information, call Danielle Carson at 541-769-0362,
July 11
Wahtonka High School Class of 1984 is having its 30th class reunion July 11-12. Schedule:
Friday, July 11, Spooky's 6 to 8 p.m.
Friday, July 11, "Flock of Eagles" at The Eagles, 2006 W. Seventh St., The Dalles, 9 to 11:45 p.m. (all WHS alumni are invited to this event)
Saturday, July 12, tour of Wahtonka High School, 10 a.m. to noon
Saturday, July 12, Jammin' July Street Fest downtown The Dalles, 5 to 10 p.m. The class has a room reserved at The Clock Tower from 8 to 11 p.m. This is a private room and the menu will be limited.
Details: Polly Harth Toop at 951-375-1423.

COOK OFF: The Historic Mint Building and Fort Dalles Days Steering Committee announces the 1st Annual Chili Cook-Off and Benefit sponsored by The Mint. The highlight of this event, which will be Friday, July 11, from 6 to 10 p.m. in the Historic Mint Building, 710 East 2nd Street, is that all proceeds will benefit Providence Hospice of the Gorge, Children's Grief Groups.
There will be a $5 entrance fee for the general public on the night of the event. Beer, wine and other beverages will be available for purchase; dessert bar will also be available. Emails with questions can be directed to: maggie@columbiagorgeins.com or Tim.schechtel @gmail.com.
July 12
HISTORICAL SOCIETY: The Wasco County Historical Society presents Summer Talks at the Rorick House. This month, Jerry Tanquist will give a talk on "The Portage Railroads and Celilo Canal." Tanquist will have pictures and maps. The program is at 2 p.m., Saturday, July 12. The Rorick House is located at 300 W. 13th Street in The Dalles.
SWEET ADELINE: Crazy 6-hour Garage Sale will be Saturday, July 12, 9 a.m. to 3 p.m. in the parking lot at Ninth and Sherman streets in Hood River, Oregon. (Immanuel Lutheran Church parking lot).
JAMMIN' JEWELRY: PEO Chapter Q hosts a Jammin' July jewelry sale from 5 to 10 p.m. Saturday, July 12, at 413 E. Second St., between Laughlin and Federal.
Pre-owned jewelry has been donated for the benefit of raising money for educational scholarships for women. Most of the jewelry will cost less than $5.
Scarves, purses, belts and other accessories will also be available.
MASTER GARDENERS: OSU Extension Service and the Wasco County Master Gardeners Association presents "Coffee at the DIG," a free summer gardening series hosted by knowledgeable community members at The Dalles Imagination Garden, located on Klindt Drive and Steelhead Way. Each half-hour seminar starts at 9 a.m. on Saturdays throughout the summer. The informational series continues with new topics July 12, 19 and 26 and August 2, 9, 16, 23 and 30.
GENEALOGY FUN: The Columbia Gorge Genealogy Society will present Tech Fest 2014 Saturday, July 12, from 10 a.m. to 3 p.m. at the Columbia Gorge Discovery Center.
Beginner and advanced subjects will be discussed, featuring instruction on the latest technology tools, round table discussions, website and computer research information, Google-plus genealogy how-tos, family search and ancestry resources.
Membership information and sign-up and a no-host lunch in the Basalt Rock Café at noon will be available.
YARD SALE: The Dalles Cross Country team will be having a yard sale, Saturday, July 12, from 8 a.m. until noon on East 11th St and Washington (the side street at The Dalles High School). For further information call Bob Thouvenel at 541-298-1119.
SWIMMING REUNION: Swimmers, coaches and parents from the 1970s, 1980s and 1990s are invited to the Eastern Oregon Swimming Reunion Saturday, July 12, in Pendleton. If interested, contact Darcey Ridgway at darceyar@hotmail.com or 541-310-0951.

July 13
TRADITIONAL CONCERT: Barley Draught will present traditional Irish music, 19th century American folk, original songs, fiddle tunes and sing-along ditties Sunday, July 13, at 7 p.m., in the historic (and air-conditioned!) St Peter's Landmark on Third and Lincoln streets. Online: www.barleydraught.com
July 15
SUMMER READING: Sherman County Public/School Library hosts a fun-filled summer of programs and reading with "Fizz, Boom, Read." All programs will be held on Tuesday's at 11:00 a.m.
July 15, Science and the arts - The Sound of Music
July 22, Techno fun - Tangrams
July 29, It's alive - Backyard Naturalists
Aug. 5, The Charlie Brown Juggling Show
Aug. 19, The Brian Waite Band
LION SPEAKERS: The Dalles Lions Club meets every Tuesday noon at Spooky's. The public is welcome. Speakers for the month of July include:
July 15, Paula Kuttner on Fort Dalles Museum,
July 22, Alexander Zuniga with the OSP K9 unit,
July 29, Scott Hege with a presentation on his Philippines trip.
July 17
KIWANIS PROGRAMS: Kiwanis meetings are held every Thursday noon at Spooky's and visitors are welcome. July speakers include:

July 17, Fort Dalles Rodeo Queen and court give an update on the rodeo.
July 24, is Mayor Steve Lawrence on Cycle Oregon.
July 31, is the monthly club meeting.
For more information go to www.thedalleskiwanis.org/.
August 1
CLASS REUNION: The Dalles High School Class of 1974 will celebrate its 40th Class Reunion, August 1, 2, and 3. The class is currently trying to locate classmates. Addresses are sought for the following people: John Anderson, J.R. Barber, Diane Baumgarden-Catlin, Debra Beck, Debra Berkland, Jeff Bradford, Susan Braught-Martin, Kirk Braughton, Rex Brown, Ron Cates, Robert Christianson, Ron Clason, John Clemons, Carol Dean-Guthrie, Monty Deaver, Bill Devine, Maria Eberhardt-Kister, Bob Elkinton,Cathie Friedline-Case, Angela Galindo, Perry Garrison, Larry Gorton, Kathy Hadley, Jody Hage-Felt, Cheryl Hamm, Pamela Hammer-Halstead,Rod Hendricks, Dixie Holmes-Bergin, Debra Hunt-McCabe, Ralph Jim, Erric Jones, Greta Kelly-Ice, Dennis LaDoux, Ed Landreth, Audrey Lane-Anderson, Mick Lewis, Scott Lipka, Teresa McCann, Pam McDonald, MaryAnn Meeker, Ted Miller, Allen Minor, Linda Morris-Brock, Mike Palmer, Mitchell Patrick, John Payne, Brian Peterson, Julie Richards, Steven Richards, Carol Runyon-Johnson, Otis Schoolcraft, Mary Sexton, Mike Shettel, Jeanne Sholl-Michaels, Laura Smothers-Davis, Larry Stephens, George Stephenson, Mary Thomas-Cox, David Timbrook, Brian Williams, Leona Wiltsey.

Send current addresses to Holli Larsen at larsenintl@live.com.
August 16
CLASS REUNION: The Wahtonka High School class of 1994 will host a reunion this summer that is open to anyone who attended Wahtonka in the 1990s. The will take place on August 16, at the Hood River Elks Lodge. There will be a dinner and a nineties themed dance party. Tickets are available online at reunion.monicamgarcia.com for either that dance ($15) or the dinner ($20) or both. Tickets will be for sale until the deadline of May 31.
August 23
PARK ART: Artists and crafters are invited to register now to sell their art and craft work at the annual Art in the Park event Saturday, Aug. 23, at Sorosis Park.
Register online at nwprd.org or call Northern Wasco County Parks and Recreation District at 541-296-9533.
August 29
SUMMER READING: Fizz Boom Read is the theme of the summer reading program at The Dalles-Wasco County Public Library. Toddler (18 months to 3 years) story time is every Wednesday at 10:30 a.m. Preschool (3 to 6 years) story time is every Friday at 10:30 a.m.
Two school-age summer reading programs are planned, Junior Mad Scientists for first through third grades, Tuesdays from June 17 to Aug. 19, at 11 a.m., and Spark a Reaction in the Mad Scientist Club, for fourth through eighth grades, Thursdays, from June 19 to Aug. 29, at 2 p.m.
Find more information online at www.wasko.plinkit.org.
Ongoing
WOMEN VETERANS: Information and support for women veterans is available through the Veterans Administration and the local Veterans Services Office. Find out more about pensions, education, employment, health issues, sexual trauma, disability, death benefits, mental health, aid and attendance, home loans, community service and peer support.
Contact Wasco County Veterans Services, 201 Federal St., The Dalles, 541-506-2502; VA Outpatient Clinic in The Dalles, 541-296-3937; VA Women's Clinic, Portland, 800-949-1004, ext. 52852; VA Rural Mental Health Triage, 800-949-1004, ext. 56409; Veterans Crisis Line, 800-273-8255, press 1. Online: www.va.gov.
SOIL TESTING: OSU Extension Service Master Gardeners are now offering soil testing, which will continue weekly until October. Garden soil will be tested for nitrogen, phosphorus, potassium, pH, humus and texture. Cost is $25 per sample.
Information on sample collection is available on the OSU Master Gardener website. www.extension.oregonstate.edu/wasco or call 541-296-5494 with your questions. Testing is available for home gardeners only.
WOMEN'S CYCLING: Bicycle rides for women of all abilities are forming up Thursday evenings at 5:30 p.m. at the new Dalles City Cyclery, 121 E. Second St., The Dalles.
PRESCHOOL REGISTRATION: The First United Methodist Preschool for 3, 4, and 5 year olds is now accepting registration for the 2014-2015 school year. Call 541-980-2713 or 541-298-1008.
AFS EXCHANGE: Become a global family by hosting an AFS Intercultural Programs high school student this school year. Welcome an AFS Exchange Student from one of 90 countries. Families and individuals are accepted year-round.
Local AFS Volunteers will support families and their hosted student throughout the experience to help both receive the most from their time together.
Start the process at www.afsusa.org/host, or call 1-800-AFS-INFO or email the local Portland Oregon contact at ssullens@afsusa.org for more information.
WEEKLY RUN: The Dalles Young Professionals hosts a weekly 5K run from Clock Tower Ales. The run happens each Tuesday starting at 5:30 pm. All skill levels and ages are welcome. It is a great opportunity to get a run in after work. Email margaret.m.hanna@gmail.com for additional questions or concerns.
MONTHLY MEETING: China Painters meet every Tuesday 10 a.m. to 2 p.m. at St. Alphonses Hall on 1st and Church Street in Dufur. For more information call 541-467-2204 or 541-467-2465.
BINGO THURSDAY: The Dalles Meals on Wheels, Inc. has bingo every Thursday night starting at 6 p.m. at 1112 W. 9th St., The Dalles. Minimum buy-in is $8 and players could win between $750 to $1,000 on the pink card game. The Dalles Meals on Wheels has been serving seniors for over 40 years both in their homes and at the congregate mealsite. Bingo is our major fund raiser and makes up about 35 percent of the budget.
SUPPORT PROGRAM: The National Family Caregiver Support Program has respite funding available. Are you caring for an adult 60 years of age or older?
Are you at least 55 or older and raising a grandchild or grandchildren? Respite, a temporary break from caregiving duties, can make a world of difference in helping family caregivers.
Funding of the program is provided through the local Area Agency on Aging. To learn more about the program and its services call Melissa Howtopat at Area Agency on Aging, Mid-Columbia Council of Governments. Call 541-298-4101 or 1-888-316-1362.
EXERCISE PROGRAM: There are three components to exercise, stretching, strength training, and aerobics. The Oregon State Extension service sponsors three Strong People programs in The Dalles and Mosier that will address the strength training and stretching portion. Classes are approximately one hour in length twice a week. Columbia Gorge Community College Auditorium, noon Mondays and Wednesdays. Mosier Senior Center lunch Room, 12:30 p.m. Mondays and Wednesdays. Mid-Columbia Senior Center basement, 2 p.m. Tuesdays and Thursdays. For more information call OSU Extension 541-296-5494.
VOLUNTEERS WANTED: Volunteers are needed to knit, crochet shawls and lap robes for cancer patients. Yarn and patterns will be provided. Call Betty at 541-980-0774.
GENEALOGY MEETS: The Columbia Gorge Genealogical Society meets the second Saturday of each month at the Columbia Gorge Discovery Center. The public and guests are welcome. A no-host lunch starts at noon in the Basalt Cafe.
For more information, call Sandra Bisset at 541-298-1240 or email wildflowers@gorge.net. Get a membership application or more information online at http://community.gorge.net/genealogy/about.html Blog: http://cggsblog.blogspot.com. The society is also on Facebook.