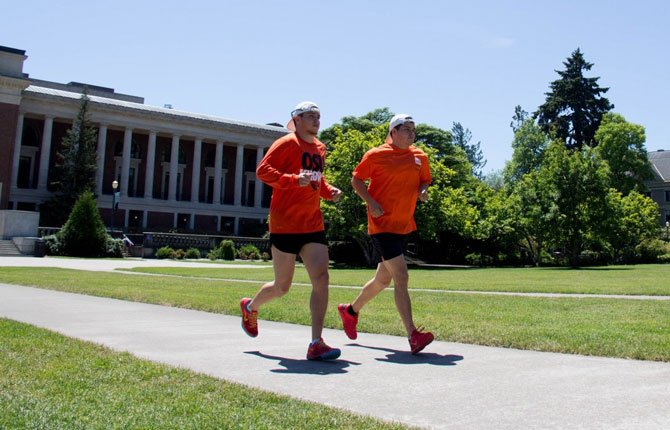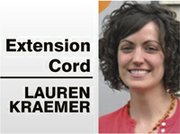 This past Monday at 9:30 a.m. Jeremiah and Isaiah Godby left Oregon State University's campus in Corvallis with much fanfare as they set off across the state of Oregon on foot.

The two OSU students, who are also brothers, are running across our grand state to bring awareness about the importance of physical activity in a healthy lifestyle. They will visit 30 of Oregon's 36 counties and run approximately 1,675 miles over their 61 day journey.

They plan to visit county Extension offices along the way and will be celebrating the recent accreditation of Oregon State University's College of Public Health and Human Sciences, the first nationally accredited school of Public Health in Oregon.
Each county is planning festivities to welcome or send-off the brothers for each leg of their journey.

Jeremiah and Isaiah will run through Sherman County to The Dalles between Sunday, Aug. 24 and Tuesday, Aug. 26. Both the Wasco and Hood River County Extension Offices are planning physical activity events on their waterfronts to highlight exercise opportunities in each community.

In The Dalles, we hope to have a Zumba class at the new Lewis and Clark Festival Park Tuesday morning and then bid the boys adieu as they head west. In Hood River, we hope to have Zumba again, down at the Waterfront Park Tuesday evening. Details are still being worked out in each county so stay tuned for future articles outlining specific event information or check online in mid-August for details at: http://blogs.oregon
state.edu/healthrun/events/.
The Godby brothers will also be blogging about their experience running around Oregon and you can tune in to their stories here: http://blogs.oregon
state.edu/healthrun/stories/.
Accreditation of the College of Public Health and Human Sciences is significant for Oregon State University for a number of reasons.
"This accreditation establishes our role as a credible leader in public health in Oregon and beyond," says Dr. Tammy Bray, dean of the College. "It comes at a time when a spotlight is on the public's health like never before, and we are uniquely positioned to work with our communities in creating healthy environments that enhance lifelong health and well-being."

That unique position is partially the result of the college's partnership with the Extension Service faculty and staff, which Bray says "have worked with their neighbors in every county in Oregon for 100 years to create local solutions to their health challenges. Of the nation's 50-plus schools of public health, we're the only one with that level of community outreach built in."
As a graduate of the now newly accredited College of Public Health and Human Science and an employee of the Extension Service, I see the importance of these connections clearly and hope that we can continue to highlight the importance of good health throughout the gorge and the state of Oregon. I hope you'll join me in cheering on Jeremiah and Isaiah as they make their way down the coast this month and head toward the gorge in August.

I also hope you'll help me welcome them as they reach The Dalles and Hood River by participating in the events planned for each community.
While only a select few will choose to run across the state this summer, all of us can use the reminder to get out and be active a little bit every day. Go Get Your Move On!
Lauren M. Kraemer, MPH, is Extension family and community health faculty for Oregon State University/Wasco and Hood River County Extension.